Label Profile: Faith And Hope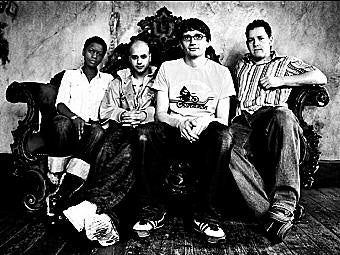 An evening of overindulgence can often end with drunken boasts, flights of fancy and grandiose business plans for global domination. But for frustrated musician Neil Claxton, his alcohol-fuelled rant with a friend about the state of the music business struck such a chord that, in the cold light of day, he phoned his friend David Wood with a proposition.
"I was working doing jingles at the time," Wood recalls. "I had previously taught Neil music for eight years and since then I'd opened a shop called Promenade Music in Morecambe.
"I'd got tired of doing stuff for TV and radio, while Neil had gone onto study music at Salford University. He'd then become a respected remix producer in the Nineties, working with people such as Gabrielle, Urban Cookie Collective and East 17."
So when a hungover Claxton called Wood suggesting that the pair form their own label, Wood leapt at the chance, and Faith & Hope Records was launched in Stockport on 11 November 1997. The following year they signed Birmingham indie band Subaqwa and released their first single, "Deadbeat" by Claxton and Baker's project Mint Royale.
The label's first success came in January 1999 when a remix of Terrorvision's paean to the joys of "Tequila" slammed into the charts at No 2. "Don't Falter" featuring one-time lead singer of Kenickie and now Culture Show presenter Lauren Laverne reached No 15 in February 2000.
Over the next few years the label expanded, signing a mix of indie and dance acts including electronica outfit National Forest, whose downtempo "Soda Lake" EP sold out on pre-sales, Budnubac, a collective that blended Cuban,dub and Latin beats,and Reading alt rockband Morning Runner.
This eclectic mix of label stablemates reflected Faith & Hope's founders' philosophy. "We weren't looking for five piece bands, we were looking for lo-fi creatives," recalls Wood. "We have an affinity with bedroom musicians and we wanted to make the label very independent and keep it down to earth."
Despite their independence, Wood and Coare also proud of the fact that they have done joint ventures with most of the major record labels. Morning Runner, for example, had a licensing deal with Parlophone before the band went their separate ways last year.
But while a number of their early signings have also since fallen by the wayside, the synchronising side of the business has continued to blossom. The label launched Areebo in 2007, a subsidiary company that links up signed and unsigned bands with people wanting to find music for use in film,TVshows, adverts or computer games.

Enjoy unlimited access to 70 million ad-free songs and podcasts with Amazon Music
Sign up now for a 30-day free trial
Sign up

Enjoy unlimited access to 70 million ad-free songs and podcasts with Amazon Music
Sign up now for a 30-day free trial
Sign up
"Luckily, in the advertising world and film world we are better regarded that in the fashionable world of music," jokes Wood. "But the backbone of our label remains Mint Royale with Neil's tracks and remixes appearing in Hollywood films such as Vanilla Sky, Serendipity and Get Carter, as well asTV shows such as Chuck and Grey's Anatomy. We also just had three tracks in the triple Bafta award winning Boy A."
Indeed it's through the use of the label's music as the background to a VW Golf advert – and the subsequent use of the same track on Britain's Got Talent – that has landed Faith & Hope's first No1.
Previously reaching No 20 back in 2005, Mint Royale's remix of "Singin' In The Rain" was re-released last month due to download demand after 14-year-old George Sampson won the ITV talent show breakdancing to the track. Eleven years on from Claxton's drunken idea, the long-range forecast for his and Wood's independent label is looking very bright indeed.
Introduction: Launched in 1997 after Neil Claxton and David Wood became disillusioned with the state of the music industry.
History: Faith & Hope's first hitwas when their remix of Terrorvision's "Tequila" reached No 2 in 1999. Mint Royale have just given the label their first No 1 with "Singin' In The Rain".
What they say: "We think that people who do music all the way from conception to the finished product have more of a vision." Neil Claxton, director.
Pub fact: Prince William is said to love Mint Royale track, "Sexiest Man in Jamaica".
Join our commenting forum
Join thought-provoking conversations, follow other Independent readers and see their replies