New music to listen to this week: Khruangbin
Now Hear This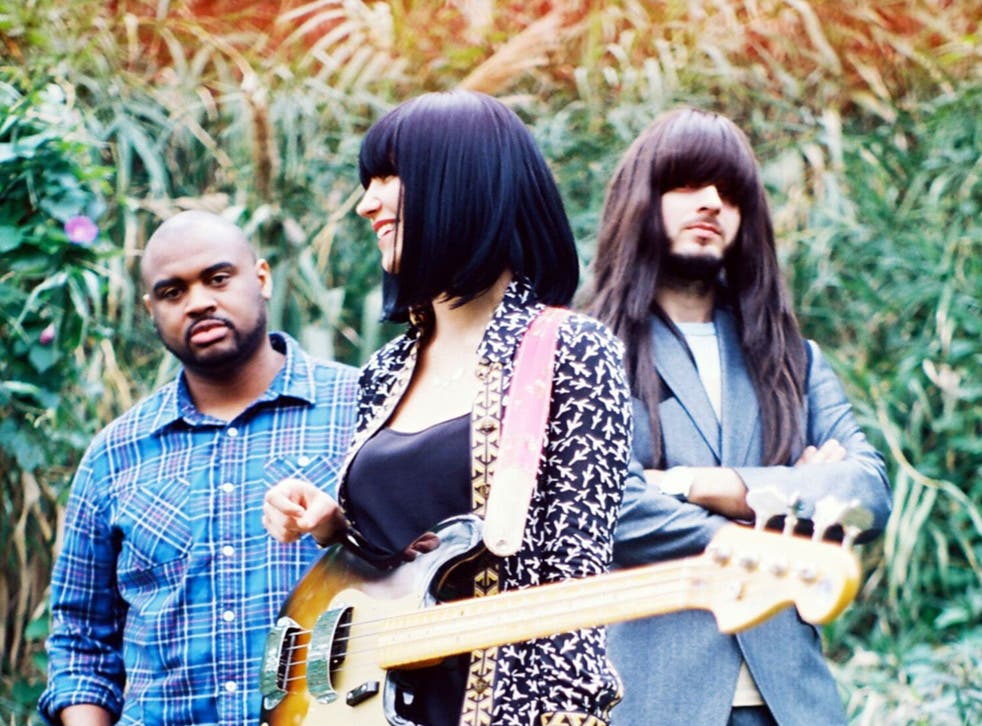 Khruangbin hail from Houston, Texas, and are made up of Laura Lee on bass, Mark Speer on guitar, and Donald Johnson on drums.
They have a cheerful, positive energy about them, often dreamy with a psychedelic vibe, and they've been garnering praise all over since they formed two years ago.
What really struck me about this band was how difficult it is find another artist to compare them to. The Thai-infused funk and bass along with twangs on the guitar recall a few Mr Scruff tracks, and also (as the Guardian's Paul Lester noted last week), a Quentin Tarantino-esque soundtrack.
Listen if you like: Curtis Mayfield, Mr Scruff, The Shadows
Q&A with Khruangbin
Who have you been listening to recently?
Collectively, we're all over the place. Between the three of us, we've been listening to the new Late Night Tales by Nils Frahm, old favourites Tim Maia and Sylvia Telles, swooning to the Narcos theme tune, echoing Bill Wynan's "French Cockney" accent in his 'Je Suis un Rockstar, celebrating Houston native Jason Moran's 'All Rise', putting Leon Ware's "Orchids for the Sun" on repeat, and daydreaming to Dorothy Ashby's album 'Afro-Harping'.
Which artists do you cite as main influences?
We love the otherworldly funk music of 60s-70s Thailand (as our name pays homage to), the playfulness of the Talking Heads, and the spaciousness of Ennio Morricone's collaborations with Sergio Leone.
Individually, influences vary between the band. For Mark, they stem from the guitar wizardry of players like Ernie Isley & Takeshi Terauchi, and Jean-Claude Vannier's arrangements with Serge Gainsbourg. For Laura Lee, bass inspiration comes from laid-back players like Flabba Holt & James Jamerson, and she's overall influenced by freakbeat and psych rock. For DJ, it's the tandem funk powerhouse of Clyde Stubblefield and Jabo Sparks, the space-funk of George Clinton, and the elegant arrangements of Marvin Gaye's iconic records.
What's your favourite film?
The Professional (LL)
The existentialist adventure comedy Joe vs. Volcano (Mark)
Beverley Hills Cop (DJ) especially the synth-funk soundtrack by Harold Faltermeyer
First gig, best gig?
Our first gig was opening up for Robert Ellis, our favourite Houston singer-songwriter. It was his record release show, and the very first Khruangbin appearance. Our best gig was playing upstairs at Helios in Houston, sharing the bill with our old friend (and guitarist extraordinaire) Kelly Doyle and our "fourth member" Will Van Horn. It's practically a living room, and all of our best friends were there. It felt like home.
Khruangbin are at the London Funk and Soul Club at Electric Ballroom on 23 October
Join our new commenting forum
Join thought-provoking conversations, follow other Independent readers and see their replies