Watch Lady Gaga perform 'Til It Happens to You' with rape survivors at Oscars 2016 before Brie Larson hugs them
Room actress Brie Larson hugged each member of the group as they came off stage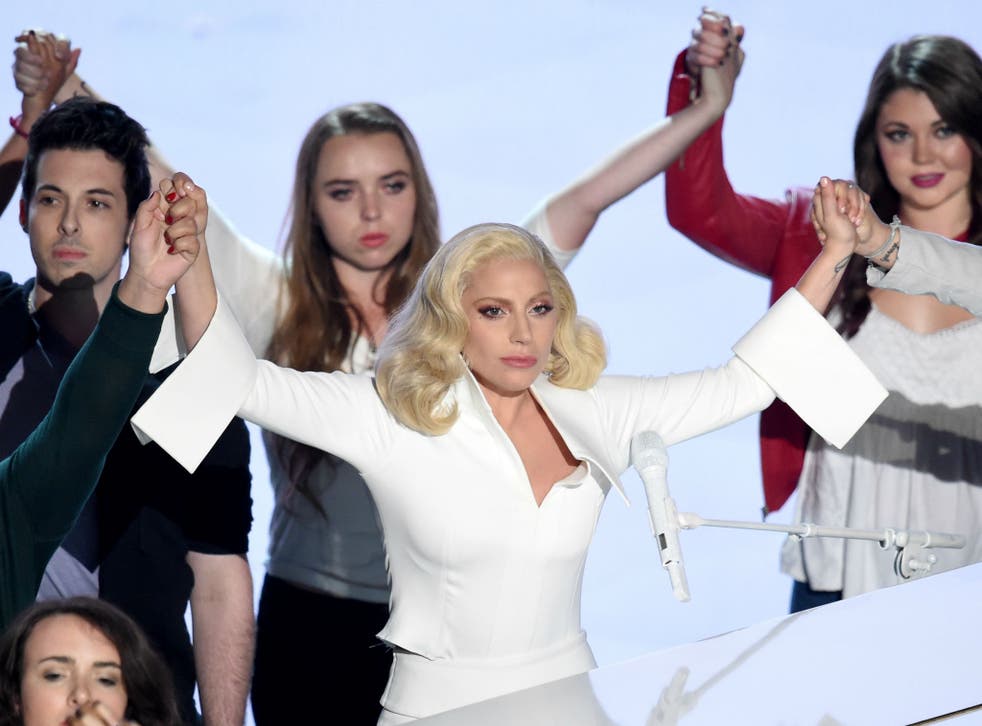 Lady Gaga was joined by a group of rape survivors for a powerful performance at Sunday night's Oscars.
The singer gave a rendition of her nominated song "Til It Happens to You" from documentary The Hunting Ground, an acclaimed expose of rape crime and cover-ups on US college campuses.
Gaga, who co-wrote the track with Diane Warren, was introduced by Vice President Joe Biden who spoke about The White House's It's On Us campaign to keep men and women safe from sexual assault.
The performance was bold and classy, featuring Gaga sitting at a white piano. During the final verses, the survivors gathered around her to a standing ovation from the audience. Towards the end, they revealed phrases such as "It happened to me" and "Not my fault" written on their forearms.
Lady Gaga was raped as a teenager and kept it secret for seven years. "I didn't know how to think about it," she said last December. "I didn't know how to accept it. I didn't know how to not blame myself or think it was my fault. It's something that really changed my life. It changed who I was completely. It changed my body, it changed my thoughts."
Kate Winslet and Rachel McAdams were among the high-profile stars to be visibly affected by the moving segment while Brie Larson, who won Best Actress for her role as a kidnap and rape survivor in Room, hugged every one of them as they left the stage.
Best Song ended up going to Sam Smith for his Spectre theme song "Writing's on the Wall" while elsewhere, Spotlight took Best Picture and Leonardo DiCaprio won Best Actor for The Revenant.
Join our new commenting forum
Join thought-provoking conversations, follow other Independent readers and see their replies