50 years of Quo - and still no fourth chord
As the band are celebrated in a new biopic, other music stars reveal the seminal rockers' wide influence
Jonathan Owen
Saturday 13 October 2012 22:55 Comments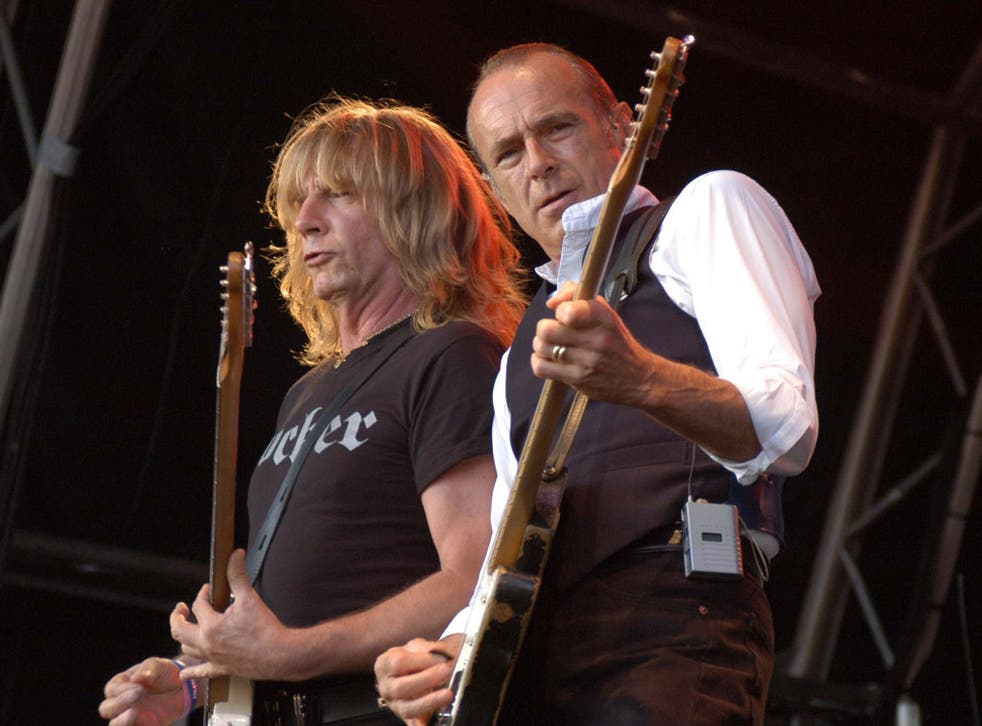 For decades they were prophets without honour in their own land. Status Quo, former three-chord wonders and the ultimate pub band, now find themselves the musical influence everyone wants to claim.
The band have never been accused of being "cool", nor cared very much. Yet this weekend songwriters as diverse as Paul Weller, Jeff Lynne, Noel Gallagher and Brian May queued up to heap praise on them. A new biopic which opens next week will cement the band's new-found respectability.
The band's apparently stubborn refusal to move with the times caused them to be viewed as little more than a novelty act. But their brand of "boogie rock" has been massively influential, according to the new documentary.
It profiles the eternal rockers – still playing 50 years after it all began back in 1962, when schoolfriends Francis Rossi and Alan Lancaster started the band as the Spectres. John Coghlan joined a year later and they became Status Quo when Rick Parfitt joined in 1967.
Perhaps their finest hour was opening Live Aid to an audience of hundreds of millions across the planet in 1985, with "Rockin' All Over the World". Since then they have toured almost non-stop, with albums – their latest Quid Pro Quo released last year – usually finding a place in the UK album charts. They have sold more than 120 million albums worldwide and had 64 British chart hits – more than any other band. Their lowest ebb came when Radio 1 blacklisted them in the mid-1990s, and they failed to get the decision overturned in the courts.
Now, according to the film, Hello Quo, they have become the band to name-check among the generations that followed. Paul Weller recalled how seeing the band in 1972 "was all the confirmation we ever needed about being in a band – we just thought it was amazing".
Joe Elliott, the lead singer of Def Leppard, added: "They were the relief from all the hippie overblown prog crap that was going off in the Seventies."
ELO's Jeff Lynne said: "Simplicity is a real hard thing to accomplish if it's not just bland or boring. They make it exciting and it's just three chords, you know."
Commenting on the praise now being heaped on Status Quo after so many years of ridicule, Tim Ingham, editor of Music Week, said: "It's too easy to associate Quo with chicken head-bobbing, ponytail naffness and that all too reliable rockin' riff, but they have a heck of a lot going for them as a musical outfit." Their first hit single, "Pictures of Matchstick Men", which reached No 7 in 1968, is "a solid gold classic record that's been cited by everyone from Noel Gallagher to Ozzy Osbourne and Kasabian as an influence", he added.
Enjoy unlimited access to 70 million ad-free songs and podcasts with Amazon Music Sign up now for a 30-day free trial
Sign up
The band's music is "a modern take on 12-bar blues", according to Adam Liversage of the British Phonographic Industry. "Plenty of bands have covered or referenced Quo, including Coldplay," he added.
Part of their enduring appeal is "a complete lack of pretentiousness", says Melanie Armstrong, head of music at HMV. Status Quo are "a people's band, with a natural working-class appeal".
Currently touring Europe, the band will return to play a string of Christmas shows in Britain later this year, finishing at the O2 arena in London.
There is also a film in the works: the band will feature in a comedy action movie called Bula Quo! to be released in cinemas next year. Asked the band's secret recently, Rossi was blunt: "Keep it simple."
Queen's guitarist Brian May summed it up almost as succinctly: "If I was in Status Quo, I'd be very proud of myself. It doesn't matter how many chords you use, and they have a great sense of humour, of course. They've always done that, and this great thing, you know, searching for the fourth chord."
Music makers
While some may not admit it, the list of bands influenced by Status Quo's rock sound is endless. "They've kept the most elementary form of blues-tinged rock'n'roll in the public's ear for decades, something for which any artist whose work is still deep set in those chord structures owes them," according to Tim Ingham, editor of Music Week. They are just one of a number of British bands to have given birth to musical offspring.
Guitar rock
The two biggest bands of the Sixties, the Beatles and the Rolling Stones, are the reference points for most, if not all, guitar-based pop and rock bands that have come since. Take the Beatles: with roots in skiffle and rock'n'roll, the band continually reinvented their sound, embracing everything from pop ballads to psychedelic rock. They have inspired everyone from the Monkees and Nirvana to Oasis. Meanwhile, the Rolling Stones, who like to be known as the "world's greatest rock'n'roll band", have also made their mark. Bands such as Aerosmith, Black Crowes, AC/DC, the Verve and Primal Scream are among those influenced by the Stones' blues rock.
The Floyd factor
Pink Floyd, with their understated and introspective mix of psychedelia and prog rock in the late 1960s, went on to become one of the world's biggest selling bands. A series of massively successful concept albums in the 1970s, including The Dark Side of the Moon, Wish You Were Here and The Wall, helped to propel Pink Floyd into a stadium act, with more than 250 million album sales worldwide. Their sound has been a major influence on acts ranging from Rush and Genesis to Talking Heads, Radiohead and Blur. Even David Cameron is a fan of the band, claiming earlier this year that The Dark Side of the Moon is his favourite album.
Jonathan Owen
Register for free to continue reading
Registration is a free and easy way to support our truly independent journalism
By registering, you will also enjoy limited access to Premium articles, exclusive newsletters, commenting, and virtual events with our leading journalists
Already have an account? sign in
Join our new commenting forum
Join thought-provoking conversations, follow other Independent readers and see their replies