The Independent's journalism is supported by our readers. When you purchase through links on our site, we may earn commission.
AC/DC and Axl Rose play first gig in Lisbon: Fans and critics cast their verdict
The concert has been called a 'triumph' by various media outlets
Jack Shepherd Comments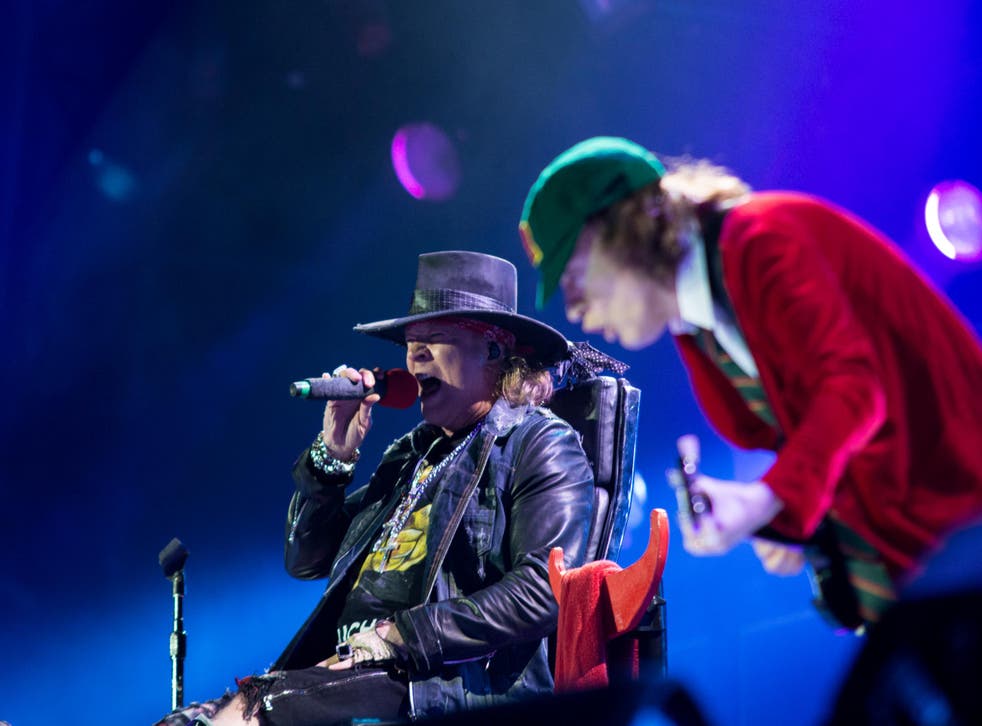 It has been a long time coming but finally Axl Rose joined AC/DC as the band's lead singer in Lisbon, kicking off the final stage of their Rock or Bust tour.
While over 7,000 fans have reportedly asked for refunds, the Guns N' Roses frontman has seemingly been a hit with both fans and critics alike.
Although he was confined to Dave Grohl's throne due to an injured leg, Rose powered through the band's classic hits, including "Shoot to Thrill", "Back in Black" and "Highway to Hell".
The Guardian has already heralded the performance as a triumph in a five-star review, as did Rolling Stone who said in their review "the new union's potential to be one of the touring hits of the summer".
Speaking to fans after the concert, Sky News were also met by an overtly positive response. "Axl Rose has a lot of respect for the group and he has the voice for it," said Paulo Dias told the broadcaster.
"Of course, he can't replace Brian Johnson, but Axl Rose is a good singer," agreed Francis Vega, who had flown in from the Canary Islands to see the supergroup play.
Music festivals guide 2016

Show all 20
However, there was one less positive response: "Axl Rose is nothing like Brian Johnson," Marcos Vizoso, who had brought his 10-year-old daughter to the show, said. "I wanted her to see the original band."
Brian Johnson had to leave the Rock or bust tour earlier this year due to hearing problems. The singer was "crushed" by the news. Several months were then spent looking for a new singer, until Axl Rose was confirmed to be joining the band. Axl recently admitted he was finding the vocals on some AC/DC songs difficult.
Slash and Axl Rose are 'cool at This Point' After Years of Ill Will
The full setlist in Lisbon as follows:
Rock Or Bust
Shoot To Thrill
Hell Ain't A Bad Place To Be
Back In Black
Got Some Rock & Roll Thunder
Dirty Deeds Done Dirt Cheap
Rock 'N' Roll Damnation
Thunderstruck
High Voltage
Rock 'N' Roll Train
Hells Bells
Given The Dog A Bone
Sin City
You Shook Me All Night Long
Shot Down In Flames
Have A Drink On Me
T.N.T.
Whole Lotta Rosie
Let There Be Rock
Highway To Hell
Riff Raff
For Those About to Rock (We Salute You)
Register for free to continue reading
Registration is a free and easy way to support our truly independent journalism
By registering, you will also enjoy limited access to Premium articles, exclusive newsletters, commenting, and virtual events with our leading journalists
Already have an account? sign in
Join our new commenting forum
Join thought-provoking conversations, follow other Independent readers and see their replies