American Music Awards 2013: Katy Perry accused of racism after dressing as geisha
The pop star shocked the audience with her Japanese-themed performance
Jess Denham
Monday 25 November 2013 14:47 Comments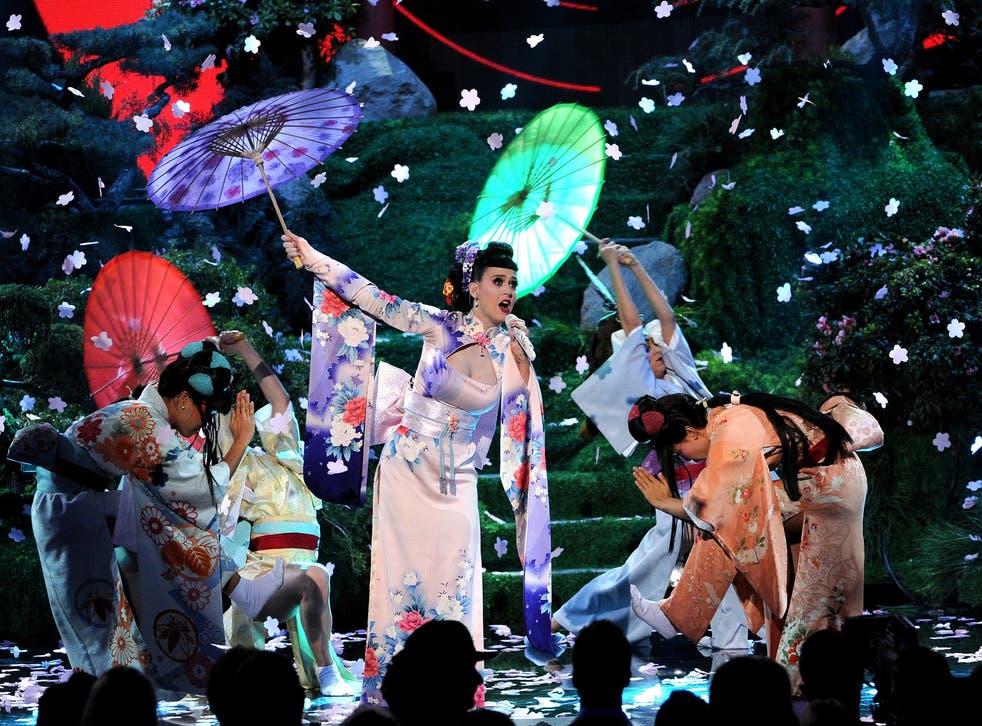 Katy Perry stole the limelight from Miley Cyrus to put on the most "outrageous" performance of the American Music Awards last night.
The US pop star opened the glamorous ceremony at Los Angeles' Nokia Theare dressed as a Geisha to sing her latest single "Unconditionally", surrounded by a Japanese-themed set complete with floating lanterns and kimono-clad dancers.
Perry emerged in a traditional satin dress and porcelain make-up, mimicked cultural prayer gestures and spun around with a purple parasol as petals fell from the ceiling.
Just minutes after her "offensive" spectacle began, viewers took to social media to voice their outrage at the singer's cultural "misappropriation".
Others tweeted: "Why are you dressed like a geisha Katy Perry? Horribly obviously racist", and: "Katy Perry channeling a geisha is RACIST. Stop using other people's culture for 'fashion'".
However, Perry's fans argued the singer was reaching out to her large Japanese fan base after she visited the country to promote her album Prism earlier this year.
Perry was accused of racism in June when she told chat show host Jimmy Kimmel that she was so "obsessed" with the Japanese race, she wanted to "skin" them and "wear [them] like Versace".
The 29-year-old singer is the most recent artist to have been publicly accused of racism.
Miley Cyrus was criticised for denigrating African culture after she twerked provocatively with Robin Thicke at the VMAs, while Lily Allen's music video for "Hard Out Here" was attacked for its use of black back-up dancers.
Before Sunday night's performance, Perry described "Unconditionally" as her favourite song from the album. "It's a beautiful narrative that I learned about upon my travels, actually - while I was in Japan," she told the Associated Press.
Register for free to continue reading
Registration is a free and easy way to support our truly independent journalism
By registering, you will also enjoy limited access to Premium articles, exclusive newsletters, commenting, and virtual events with our leading journalists
Already have an account? sign in
Join our new commenting forum
Join thought-provoking conversations, follow other Independent readers and see their replies