ArcTanGent Festival 2018: First 15 acts announced for the UK's premier math and post rock event
Bands announced for the sixth edition of the festival include And So I Watch You From Afar, Pianos Become the Teeth, Foxing and the debut European performance from Giraffes? Giraffes!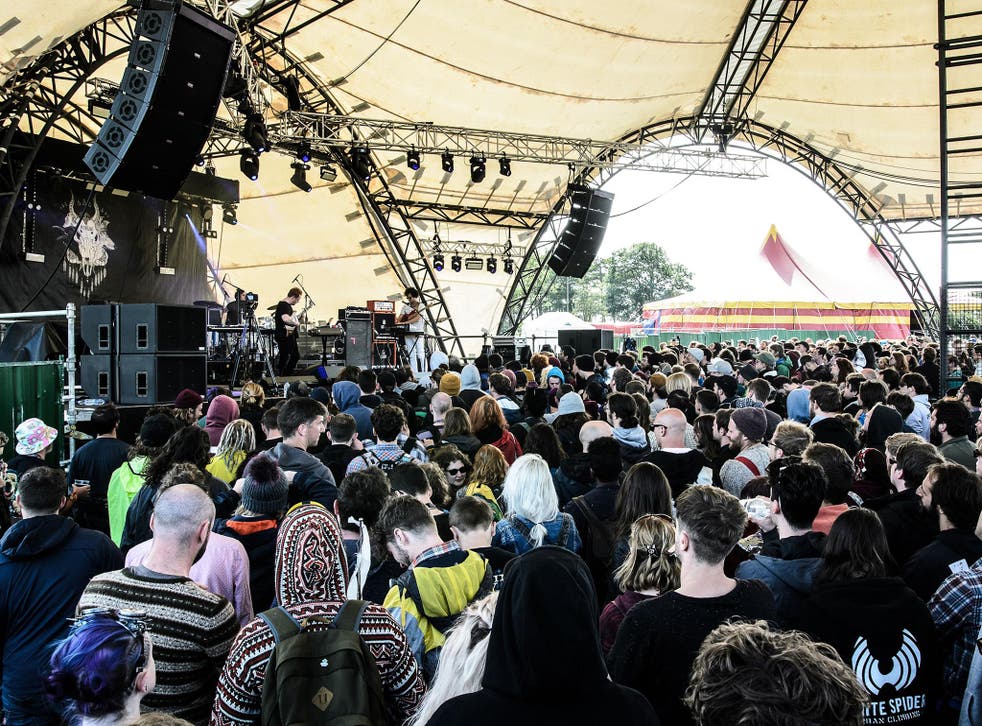 ArcTanGent Festival, the ultimate annual gathering for connoisseurs of leftfield, offbeat, idiosyncratic guitar-based music, have announced the first 15 acts to play their 2018 sixth edition.
Firm ArcTanGent favourites And So I Watch You From Afar will headline the Thursday night performing their fifth album, The Endless Shimmering in full. Of the festival, guitarist Rory Friers said "every year ArcTanGent makes a home for strange bands like us, our peers around the world and the amazing people who make it such a special scene to be a part of. We feel very lucky to be a part of that family and to be headlining the Thursday night is something very special for us."
Traditionally, the opening Thursday night of the festival has had just two of the festival's four stages open but ATG#6 will see the monolithic Arc stage open for the first time on a Thursday night as well as the usual Yohkai and PX3 stages.
Massachusetts experimental math rock pioneers Giraffes? Giraffes! are set to make their European debut at the festival and ArcTanGent will be the only place fans get a chance to see the duo in the UK. Guitarist Joseph Andreoli said "we are totally ecstatic about coming over to the UK for the very first time and especially to be playing at ArcTanGent. It's one of the raddest festivals out there."
Other bands making the trek from the US to the annual post and math rock mecca include Missouri indie post-rockers Foxing and Maryland's Pianos Become The Teeth who will be supporting the release of their long-awaited fourth album Wait For Love.
ATG#6 will also see two of the UK's best independent UK labels duke it out for the Holy Roar vs Big Scary Monsters takeover. "We've been at every single ArcTanGent and it's always one of the best weekends of the year" says Big Scary Monsters founder Kev Douch. "This is the first time we're putting our name to a stage though and the only shame is that we have to share it with Holy Roar."
Holy Roar founder Alex Fitzpatrick counters "Kev recently threatened to stab me in the eye with a fork because I asked him to share. Kev is mean. Mean Kev. Revenge will be sweet come ArcTanGent though, when Holy Roar will do battle with BSM across two stages. It's going to be epic and we are hugely excited to be given such a special opportunity by our friends at ArcTanGent."
Fighting in the Big Scary Monsters corner will be Jamie Lenman, Alpha Male Tea Party, Talons, Tangled Hair and Gulfer. "Whatever kind of record I'm making I'll always have a deep passion for heavy, technical music" says Jamie Lenman "and I love coming to ArcTanGent and flexing those muscles. I know the organisers very well and I have lots of pals in Bristol so it's always a good time, even if my suits get wrecked in the mud." Alpha Male Tea Party's Tom Peters adds "We've played ArcTanGent 3 times now and we can't wait to be back again in the Summer. It's our favourite festival by a country mile, crucially it feels like we're 3 nine year olds coming home for Christmas 4 months early and what better feeling is there in the world than that?"
Holy Roar have some heavyweight titans defending their honour in the shape of Rolo Tomassi, Bossk, Svalbard and Body Hound. James Spence of ArcTanGent veterans Rolo Tomassi said "Time and time again, ArcTanGent deliver with perfect curation that caters for a real alternative within rock music. It's always a pleasure to be at the festival both as an artist and spectator. A real one of a kind!" Svalbard's Serena Cherry adds "Two years ago, we played at ArcTanGent and it was one of the best nights of our lives. Now we get to do it all over again this year; It's an honour for us to be a part of this amazing festival."
Fans of the infamous Silent Disco are also in for a treat as experimental electronica noise rock trio Gallops will reveal an all-new live spectacular as guitarist Mark Huckridge explains. "We will be premiering an all-new live show for a unique 'live silent disco' set, remixing our tracks on-the-fly alongside warped visuals. We are aiming this one at the dancefloor. It's one for the wide-eyed dreamers."
The final band to be announced thus far are GUG, the new group featuring Alpha Male Tea Party's Tom Peters and former Cleft turbo-prog riff-wielder Dan Wild-Beesley will make their debut ArcTanGent performance after being forced to cancel their appearance last year. "I'm chuffed to bits to be asked to play ATG'18," says Dan "it's gonna be a total shit show, in a really good way! The past couple of years have been exceptionally challenging, medically speaking, so it's great to have literally my favourite festival offer us a slot this year. We were asked to play last year but I got diagnosed with a mystery illness (not really, it was stage 4 brain cancer ... again!) so I was pretty gutted to miss out on playing." If you'd like to support Dan's ongoing treatment, you can do so here.
James Scarlett, one of the festival's three organisers and the man responsible for booking all the bands, said of the 6th incarnation of the festival "we've spent the last few months curating some very special experiences for the ArcTanGent faithful... We've got Giraffes? Giraffes! playing their first ever European show, And So I Watch You From Afar performing their new album in its entirety for the first time and the madly bonkers idea to have Gallops playing a full band live set at the silent disco. Plus we're very happy to have Big Scary Monsters and Holy Roar doing a Thursday takeover. I can't breathe I'm so excited about all this! ATG #6 is going to be the best one yet for sure!"
ArcTanGent 2018 takes place 16th – 18th August at Fernhill Farm, Bristol. Tickets are available now. Day tickets will also be available for the Thursday, Friday and Saturday.
Join our new commenting forum
Join thought-provoking conversations, follow other Independent readers and see their replies