Beatles should have been appointed Poets Laureate, said Iris Murdoch
Letters reveal that the Booker Prize-winning novelist and philosopher went to Stones gigs and wanted the Fab Four to step into Tennyson's shoes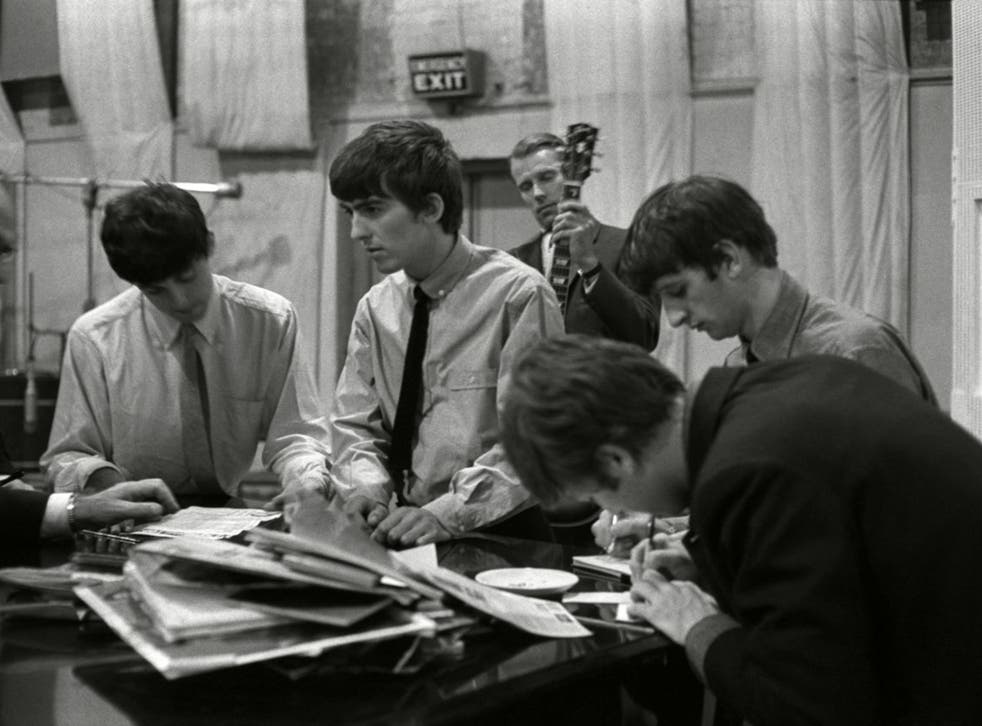 Iris Murdoch, the poet and Booker Prize-winning novelist was a secret fan of pop music who went to Rolling Stones concerts and believed the Beatles should have been appointed Poets Laureate, a cache of letters has revealed.
Murdoch was a prodigious correspondent, and more than 700 of her missives are published in Living on Paper: Letters from Iris Murdoch 1934-1995. The book's editors, Avril Horner and Anne Rowe, from the Iris Murdoch Archive Centre at Kingston University, told an audience at The Independent Bath Literature Festival last week that some of letters' contents had made them "sit up".
Two of the letters in which Murdoch talks about the Beatles are published in the book. In one, she writes: "I think the Beatles should be Poet Laureate."
"That was a real surprise," said Professor Horner. "Here's this philosopher writing these complex novels and yet she was really interested in this popular culture."
Murdoch's devastation over the murder of John Lennon in 1980 was also articulated in her letters, and she had expressed her admiration for the Rolling Stones in a letter to the author Brigid Brophy.
"She [Murdoch] wrote about going to a [Stones] concert and said something like, 'their appearance was sufficiently androgynous to please even me'," said Professor Horner.
The idea that the Beatles should have been installed as Poets Laureate met a mixed reception from contemporary writers and poets.
The poet and Liverpudlian Roger McGough, a "huge fan" of the band, said a more appropriate honour would have been Masters of the Queen's Music. The idea that John, Paul, George and Ringo should have been installed as Poets Laureate was "a playful suggestion", he said, but the Liverpool group would have been "embarrassed" by it.
The Independent on Sunday asked a diverse group of five poets and novelists to pick a favourite Beatles song and explain its appeal. Here are their choices:
Enjoy unlimited access to 70 million ad-free songs and podcasts with Amazon Music Sign up now for a 30-day free trial
Sign up
Andrew McMillan - judge of this year's Ted Hughes Award, which is backed by the Poetry Society, nominated 'Ticket To Ride' (1965)
"She said that living with me/ Was bringing her down, yeah/ For she would never be free/ When I was around, oh"
"I'm struck by its simple power, its layering of jaunty rhythm over something much sadder – the tension of what's being said and how it's being said, which is surely the tension in all poetry."
Sabrina Mahfouz - poet and playwright, chose 'I Am the Walrus' (1967)
"Sitting on a cornflake waiting for the van to come/ Corporation T-shirt, stupid bloody Tuesday/ Man you been a naughty boy"
"I have fond memories of this due to my friend in French class swapping the GCSE listening tape in the tape deck with this song and us always getting in trouble for singing it out loud instead of asking for directions to the train station in cockney French."
Ringo Starr's photos of The Beatles

Show all 7
Blake Morrison - poet and novelist, chose 'Eleanor Rigby' (1966)
"Eleanor Rigby picks up the rice in the church where a wedding has been/Lives in a dream/ Waits at the window, wearing the face that she keeps in a jar by the door"
"Other Beatles songs might work better musically, but none can match 'Eleanor Rigby' for poetry. The imagery is wonderfully economical: when Eleanor Rigby 'picks up the rice in the church where a wedding has been' that's enough to tell us she herself has never married)."
Jackie Kay - poet and novelist, chose 'The Fool on the Hill' (1967)
"The man of a thousand voices/ Talking perfectly loud/ But nobody ever hears him/ Or the sound he appears to make/ And he never seems to notice"
"I always loved [the song] when I was a teenager – the idea that there was someone outside of society who had a lot of wisdom. I guess that's the role of a poet in society: someone who might possess true knowledge and a curious vantage point."
Attila the Stockbroker, aka John Baine, performance poet, chose 'Taxman' (1966)
"Should five per cent appear too small/ Be thankful I don't take it all/ Cos I'm the taxman, yeah I'm the taxman"
"All hail the days of the 95 per cent tax bracket! This song comes from an age where the rich were taxed properly, until the pips squeaked. And my, how they moaned about it. Wouldn't happen now."
Join our new commenting forum
Join thought-provoking conversations, follow other Independent readers and see their replies