BET Awards: Joe Budden and Migos have tense confrontation over 'Bad and Boujee'
The altercation was sparked by a joke that Takeoff was left off Migos' mega-hit 'Bad and Boujee'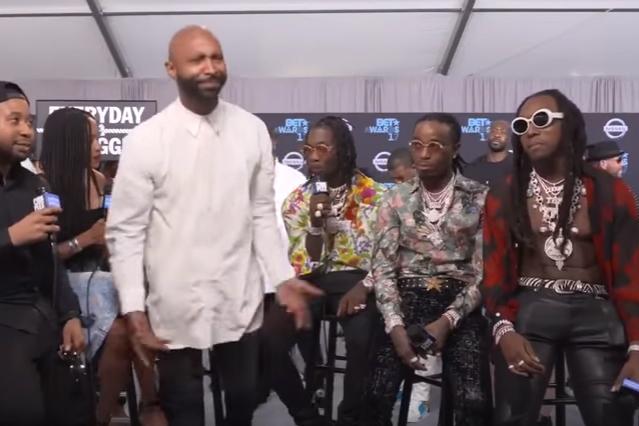 A fight nearly broke out between Joe Budden and Migos at the annual BET Awards.
The altercation was caught on film during a pre-show chat co-hosted by Budden for Complex's Everyday Struggle. The tension built after one of the hosts joked about Takeoff being left off Migos' mega hit "Bad And Boujee."
"You said I'm left off 'Bad and Boujee?' Does it look like I'm left off 'Bad and Boujee?'" Takeoff hits back before Joe sneers, "alright, we gotta wrap this up though."
Quavo responds, "well, wrap it up then," leading to Joe's co-host to praise the hip-hop group as being some of his favourite.
Budden drops his mic and storms off camera after this, causing both his and Migos' entourages to get into a heated altercation and security to be called to break them up.

According to reports the argument did not lead to violence, however, the Versace rappers - who won Best Group at the event - were said to have been involved in another fight after the awards show, this time with Chris Brown and his people.
TMZ claim a mate of Chris's pushed Quavo as they were leaving the Microsoft Theatre, so one of Migos' group jumped in and got hit. Brown - who was premiering his new music video 'Pie' at the awards show - is said to have steered clear of the brawl despite being allegedly followed by the rap group and their entourage to his car.
The Independent has contacted Migos and Chris Brown's reps for comment.
Join our commenting forum
Join thought-provoking conversations, follow other Independent readers and see their replies