Blur are back as Albarn and Coxon make up
Britpop group bury the hatchet seven years after guitarist quit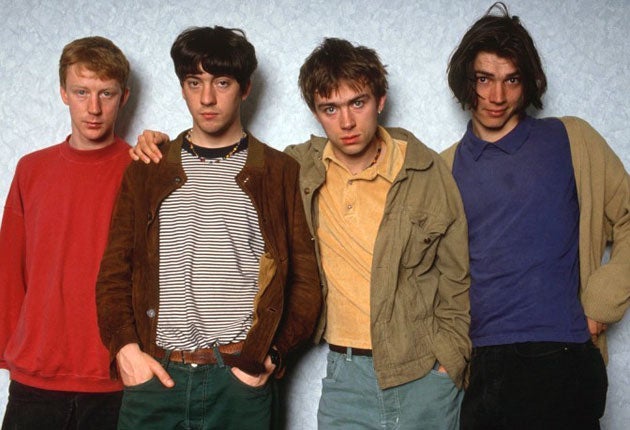 The last time they played together, the economy was booming, 'Britpop' had taken the music charts by storm and a fresh-faced Tony Blair still epitomised Cool Britannia.
Now, almost a decade on and in very different times, the alternative rock band Blur to is to reform for a Hyde Park gig next summer, nine years after their last concert.
Blur epitomised the era of Britpop, along with the Manchester group Oasis but broke up in 2002 when the lead guitarist Graham Coxon quit. Announcing plans for the show, Coxon and the band's singer-songwriter, Damon Albarn, spoke of the events that led to Blur breaking up and talked about their decision with fellow musicians Alex James and Dave Rowntree to reform for the concert on 3 July.
It will be the first time the band has played in public since performing at London's Royal Festival Hall in 2000.
In an interview with NME, Albarn said: "Ten years ago, Graham and I found ourselves very uncomfortable, very oversensitive with each other and it hasn't felt comfortable before now.
"Now it feels like we should be accountable for that stuff and not just have it as a burden. It was something that had to be sorted out between Graham and myself, it goes right back to childhood, but it's just really nice. It feels really comfortable doing this. We feel happy to play those songs together and that's exciting, it feels like a positive thing to do."
When asked if they had "buried the hatchet", Coxon said: "Although it's been a few years since the situation has been this way, emotionally it doesn't feel very long at all. We've both been doing other things that have been to the benefit of ourselves rather than the benefit of a band and now feel in ourselves that the band is appropriate".
He suggested that their earlier difficulties had been amplified by a reluctance to break up because they did not want to hurt each other's feelings.
"When things were getting very complicated, we were both carrying some troubles, but it was our group and we didn't want to hurt each other's feelings by saying 'Look, I need a break'. Because we didn't want to do that, it got even more complicated. But us not working together would have happened sooner or later, so actually I think it was a good thing that it happened then."

Enjoy unlimited access to 70 million ad-free songs and podcasts with Amazon Music
Sign up now for a 30-day free trial
Sign up

Enjoy unlimited access to 70 million ad-free songs and podcasts with Amazon Music
Sign up now for a 30-day free trial
Sign up
Albarn admitted he had missed Coxon's company and the musical chemistry they had shared. "I miss it! I miss that dynamic that Graham and I always had, it's great."
Coxon said he had missed Albarn's humour: "Damon's really funny though he doesn't know it himself and he doesn't know when he's being funny. There are certain little things that you miss about people." He hoped his guitar-playing had improved since his last performance with the group.
"I can play the guitar better but that might be a bad thing! When we started, I could hardly play," he said.
Meanwhile, in an interview with Absolute Radio, Alex James admitted being nervous about the reunion: "God, the thought of doing it again is a bit scary actually."
News of Blur's reformation has fuelled a rush of speculation that the band will also play at next year's Glastonbury Festival, which falls a week before the Hyde Park gig.
Whey they launched in the 1990s, they were hailed as the bright new sound of the Britpop genre, incorporating the music scene that was emanating from Manchester with "shoegazing" music.
They achieved mass popularity in Britain with hits such as "Park Life, "Country House" and "Song 2" and were aided by a famous chart battle with Oasis, a high-profile spat dubbed "The Battle of Britpop".
The band's interview is featured in full in this week's NME magazine.
What happened next? After the break-up
Damon Albarn, 40
The singer has enjoyed huge success since leaving Blur, notably with Gorillaz – a "virtual band" he set up in 1998 with the comic book artist Jamie Hewlett. Gorillaz' first album sold more than seven million copies. Albarn also set up the lauded Africa Express project to bring together African and Western musicians and wrote the score for the opera Monkey: Journey To The West.
Graham Coxon, 39
The guitarist left Blur in 2002 after a bitter row, and barely featured on their (most recent) 2003 album Think Tank. He subsequently concentrated on his solo career, releasing six albums. The most commercially successful to date is Happiness In Magazines, which reached No 19 in 2004.
Alex James, 40
Blur's bassist left rock 'n' roll behind him after the band broke up and now lives with his wife, Claire, and three children on an Oxfordshire farm where he makes cheese. A columnist for The Independent, James has fronted a BBC documentary about Colombia's cocaine trade and published his autobiography, Bit Of A Blur, last year.
Dave Rowntree, 44
The drummer joined the Labour Party in 2002 and unsuccessfully contested the safe Tory seat of Marylebone High Street on Westminster City Council last year. He also lost to a Tory in another seat this July. He has been selected by Labour to stand at the next general election in the Cities of London and Westminster, against the Conservative MP Mark Field.
Join our commenting forum
Join thought-provoking conversations, follow other Independent readers and see their replies