The Independent's journalism is supported by our readers. When you purchase through links on our site, we may earn commission.
Carrie Underwood tells fans she 'might look different' after suffering fall
Country music star reveals she needed '40-50 stitches in her face' after falling on steps outside her home
Roisin O'Connor
Music Correspondent
Tuesday 02 January 2018 15:11 Comments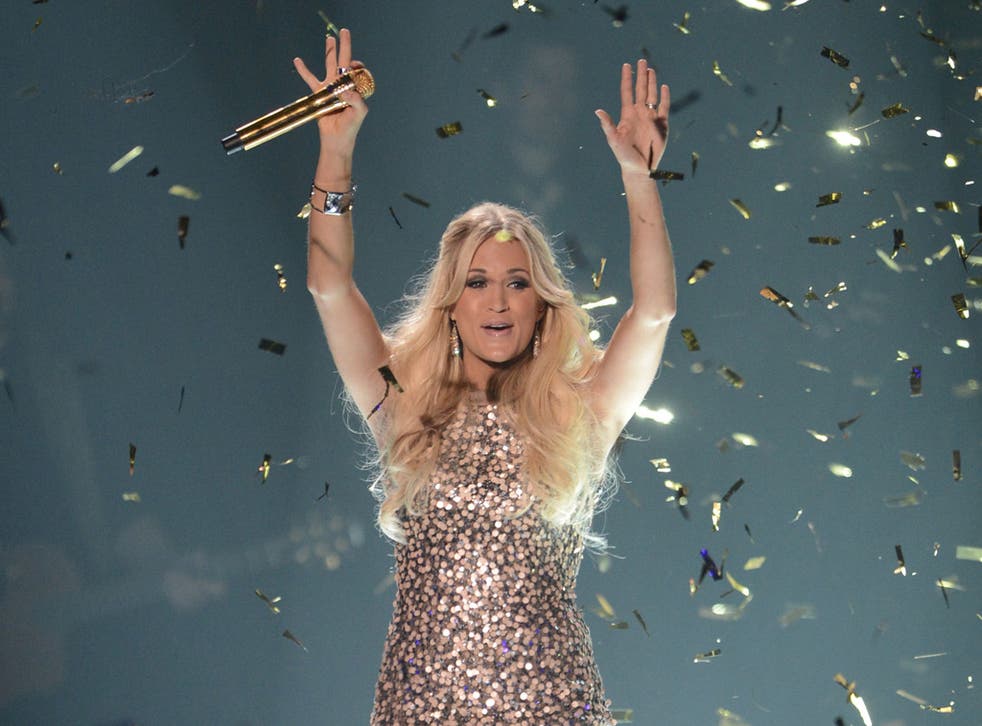 Carrie Underwood has told fans she may look "different" after surgery following injuries she sustained in a fall last year.
The country music star broke her wrist after falling on some steps outside her home in November, but has since announced that she also injured her face.
As a result from the accident she was forced to pull out of the Country Rising benefit show, which aimed to raise money for hurricane relief efforts as well as for victims of the Las Vegas shooting.
She had recently shared a photo on Instagram with the lower half of her face covered with a scarf, which prompted a flood of comments from fans wishing her well and telling her not to worry about potential scars.
After the incident an official statement read: "Carrie Underwood took a hard fall on some steps outside her home. While there were no life-threatening injuries, she was taken to the hospital to be treated. She sustained multiple injuries including a broken wrist and some cuts and abrasions from the fall."
In a newsletter to her fan members reported via People, Underwood has now revealed how she had struggled to reveal the extent of her injuries because she was not ready.
"There is also another part of the story that I haven't been ready to talk about since I have been living it and there has been much uncertainty as to how things will end up," she said. "It's crazy how a freak random accident can change your life.
"In addition to breaking my wrist, I somehow managed to injure my face. I'll spare you the gruesome details, but when I came out of surgery the night of my fall, the doctor told Mike [Fisher, Underwood's husband] that he had put between 40 and 50 stitches in.
She continued: "I honestly don't know how things are going to end up but I do know this: I am grateful. I am grateful that it wasn't much, much worse. And I am grateful for the people in my life that have been there every step of the way."
Underwood then explained to fans how she may look different due to the surgery.
"I am determined to make 2018 amazing and I want to share things with you along the way," she said. "And when I'm ready to get in front of a camera, I want you all to understand why I might look a bit different."
Register for free to continue reading
Registration is a free and easy way to support our truly independent journalism
By registering, you will also enjoy limited access to Premium articles, exclusive newsletters, commenting, and virtual events with our leading journalists
Already have an account? sign in
Join our new commenting forum
Join thought-provoking conversations, follow other Independent readers and see their replies