Dave Grohl brings fan on stage to play Foo Fighters track 'Big Me'
'I sure as hell hope this mother***** doesn't suck'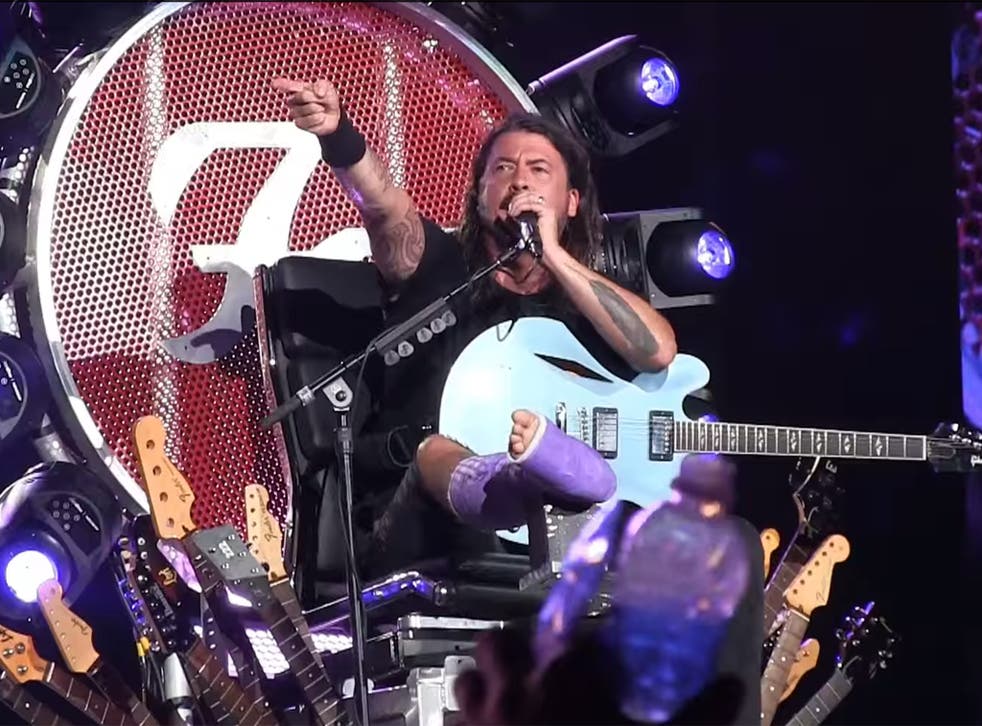 Even with a broken leg, Dave Grohl still knows how to put on an amazing show.
Not only was the Foo Fighters singer performing from a massive throne covered in guitars but half way through he decided to pull one lucky fan from the audience on stage to play drums with him.
After jumping on stage the fan hugs Grohl and drummer Taylor Hawkins while being warned: "If you suck on the drums, I will personally tar and feather you're a***, now get on those drums right now." Watch the clip below.
"I sure as hell hope this mother***** doesn't suck," Grohl says into the mic. "Do you know Foo Fighter's songs? No, we're not playing that one.
"We got a song called Big Me, do you know that song? It's the easiest one, if you f*** this one up you're going to look like a total f***ing a**hole."
Luckily, the chosen fan, whose name is Anthony, managed not to mess up and played a sterling rendition of the Foo Fighters classic track. According to the poster it was also his 18th birthday – has his adult life already peaked?
Grohl broke his leg last month, leading to the ex-Nirvana Sticksman having to cancel all Foo Fighter's European dates, including a headline slot at Glastonbury.
He had previously posted photos of his broken leg which you can see below.
READ MORE: FOO FIGHTERS CANCEL GLASTONBURY AND WEMBLEY PERFORMANCES AFTER DAVE GROHL BREAKS LEG
Register for free to continue reading
Registration is a free and easy way to support our truly independent journalism
By registering, you will also enjoy limited access to Premium articles, exclusive newsletters, commenting, and virtual events with our leading journalists
Already have an account? sign in
Register for free to continue reading
Registration is a free and easy way to support our truly independent journalism
By registering, you will also enjoy limited access to Premium articles, exclusive newsletters, commenting, and virtual events with our leading journalists
Already have an account? sign in
Join our new commenting forum
Join thought-provoking conversations, follow other Independent readers and see their replies