David Cameron's 'doo doo': Classic FM posts brilliant musical analysis of 'Cameron's Lament'
'It's easy to feel secure in 3/4'
Christopher Hooton
Tuesday 12 July 2016 09:30 Comments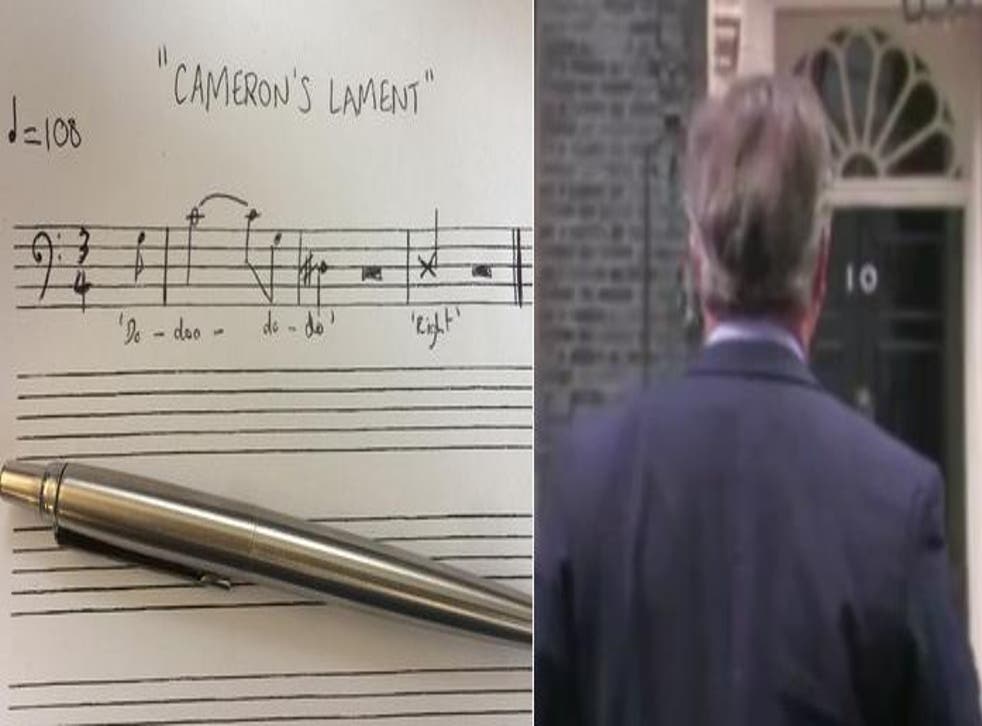 When David Cameron's lapel mic was accidentally left recording as he entered Number 10 yesterday after announcing his handover to new prime minister Theresa May, we were treated to a little song.
In the tradition of movie soundtracks, we christened it 'Cameron's Theme' and looked at its similarities with The West Wing title song, but props to Classic FM, which has gone for the more pejorative 'Cameron's Lament' and published a wonderfully detailed musical analysis of his four-note melody.
'A brisk 3/4, with a crotchet roughly equalling 108 a minute, suggests activity. Positivity, even,' Daniel Ross notes.
'But 3/4 is not the most immediately stable of signatures. It's easy to feel secure in 3/4, but for just a couple of bars it's disconcerting - especially when starting with an anacrusis.'
Cameron appears to hum West Wing theme tune as he finishes resignation announcement
The radio station goes on to suggest that rather than a US TV show, the tune is in the tradition of Classical greats.
'So, Wagnerian fanfare, Beethoven-esque harmonic doubt and then a strange contemporary flourish at the end,' it concludes, nodding at his spoken "Right".
'Does this composition demonstrate the unresolved nature of Cameron's swift departure from office? Is it perhaps a comment on what might be next for 10 Downing Street?'
You can read the full analysis here.
Theresa May arrives at Downing Street this morning for Cameron's final cabinet meeting before she takes over as PM.
Register for free to continue reading
Registration is a free and easy way to support our truly independent journalism
By registering, you will also enjoy limited access to Premium articles, exclusive newsletters, commenting, and virtual events with our leading journalists
Already have an account? sign in
Join our new commenting forum
Join thought-provoking conversations, follow other Independent readers and see their replies