Ed Sheeran domination of Singles Chart is 'one-off', OCC boss insists
Official Charts Company executive says success of singer-songwriter's new album is not a sign that charts are 'broken'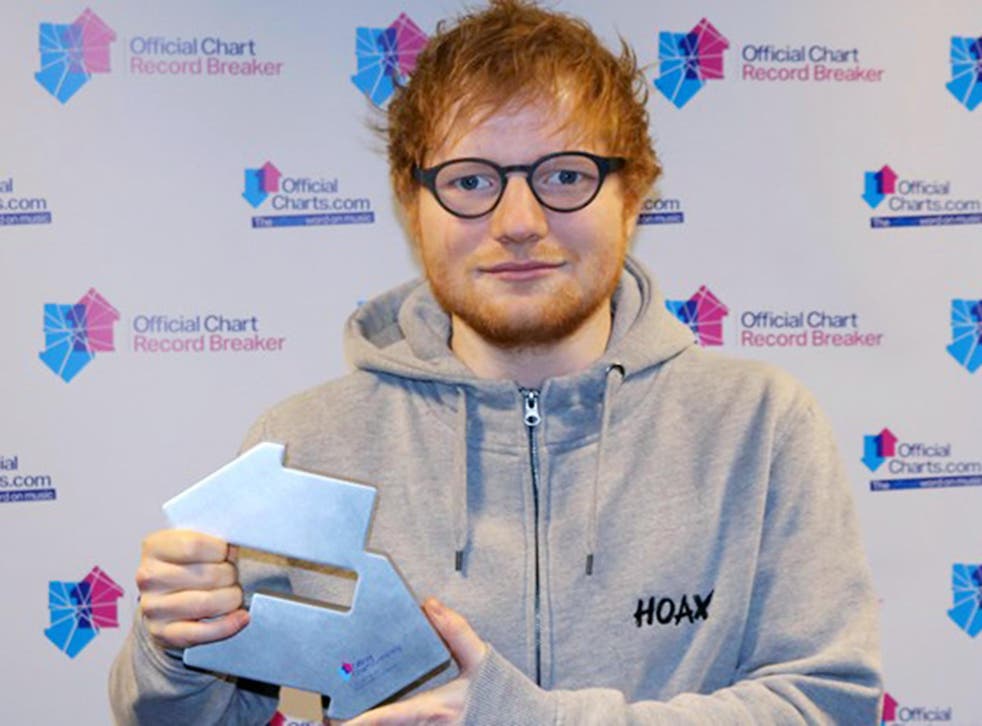 Fears that Ed Sheeran's almost-obscene domination of the official singles charts is a sign that the charts are "broken" have been dismissed by the Official Charts Company [OCC].
Figures for Sheeran's new album ÷ [Divide] released on Friday showed that the singer-songwriter's third album is the fastest-selling by a male artist in history, and the third fastest-selling since records began.
He became the first artist ever to have every song off their album enter the top 20, and managed to sell more records than the rest of the Official Album Charts' Top 500 combined.
OCC boss Martin Talbot observed that there have only been two other albums in recent years that have achieved similar feats on the UK charts: 25 by Adele and Be Here Now by Oasis.
Speaking to Music Week, he said: "There are so few records that have been of this scale that what we are seeing isn't typical.
"We should be celebrating the fact that Ed Sheeran has followed Stormzy and Rag 'n' Bone Man in doing so well on the chart. This time last year we were bemoaning the fact that it was so difficult to break British talent, but we are having a bit of a purple patch at the moment."
Apparently not content with obliterating competition from the UK charts this week, Sheeran has also scored a number one album in Australia, with all 16 tracks cracking the Australian Top 40.
It is the first time any living artist has had more than 14 singles in the Top 100 at the same time. Sheeran is also sitting at the top of the charts in Germany, Ireland, Italy, New Zealand, Sweden and the Netherlands.
"We'll review the methodology and discuss it internally and with the industry as we always do," Talbot said. "We are constantly evolving the chart rules because the industry is constantly evolving."
Sheeran himself has said that he wondered if "there's some weird thing that Spotify and Apple Music are going to have to change now with streaming".
"I never expected to have nine songs in the top 10 ever in my life," he told Radio 1's Official Chart show. "I don't know if something has gone wrong, but I'm definitely very happy about it."
Register for free to continue reading
Registration is a free and easy way to support our truly independent journalism
By registering, you will also enjoy limited access to Premium articles, exclusive newsletters, commenting, and virtual events with our leading journalists
Already have an account? sign in
Register for free to continue reading
Registration is a free and easy way to support our truly independent journalism
By registering, you will also enjoy limited access to Premium articles, exclusive newsletters, commenting, and virtual events with our leading journalists
Already have an account? sign in
Join our new commenting forum
Join thought-provoking conversations, follow other Independent readers and see their replies