Eight seconds of white noise is top of the Canadian iTunes chart because people love Taylor Swift that much
A bold new musical direction?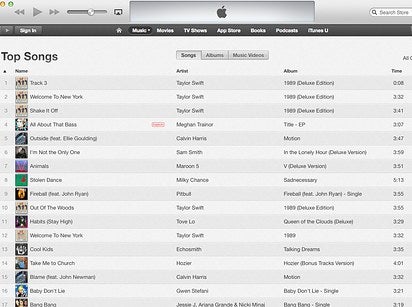 A piece of performance art about the state of modern pop iTunes glitch has caused an eight-second track purportedly by Taylor Swift featuring nothing but hissing noises to rise to the top of Canada's iTunes chart.
The file appears to have found its way onto the iTunes store by accident, claiming to be "Track 3" off the singer's upcoming album 1989.
Given that Swift did release an actual single from the LP yesterday, "Welcome To New York", many fans presumed this to be her next offering and went straight to downloading it without playing the sample of the track first.
They are now all the proud owners of eight seconds of white noise for the price of $1.29 CAD.
Taylor has yet to tweet about the incident, but I'm still holding out hope that this isn't a mistake but a new musical direction that will see her make exclusively industrial noisecore.
Join our commenting forum
Join thought-provoking conversations, follow other Independent readers and see their replies