Eurovision 2014: Raunchy milk maids, giant hamster wheels and child abuse – the most memorable moments of the night
From milk maids to hamster wheels, there were a fair few moments from this year's song test that will go down in Eurovision history
Neela Debnath Comments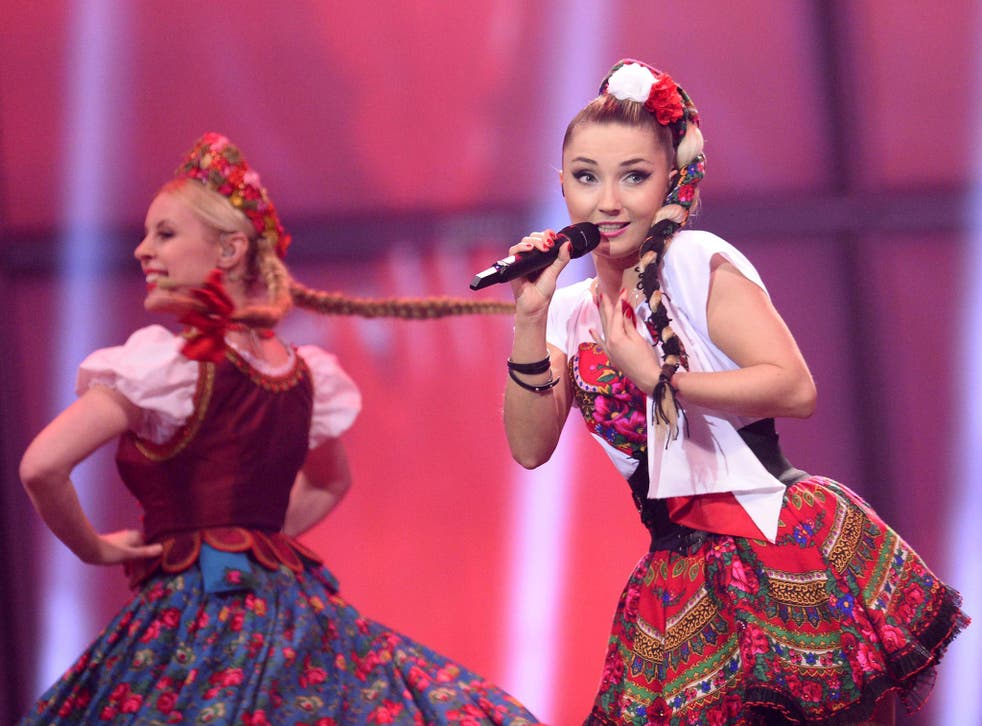 It was a night of thrills and spills and plenty of weird performances and even weirder outfits.
The 59th Eurovision song contest at the B&W Halls in Copenhagen, Denmark saw 26 countries compete in the Grand Final, with Austria's Conchita Wurst winning with 290 points. The Netherlands and Sweden came second and third respectively.
Here are our top moments from the evening.
1. Conchita Wurst's wins the Eurovision song contest
The star of the night and now the "queen of Europe" won the hearts across the continent with her haunting ballad 'Rise Like A Phoenix'. Austria's entry, Conchita Wurst, was praised for her stirring performance on Twitter and even compared to Shirley Bassey for her Bond-esque song.
Conchita's acceptance speech is likely to have left some with teary eyes. As she accepted the Eurovision trophy, she said ""This is for all those who believe in the future of peace and freedom – you know who you are. You are unity and your are unstoppable."
2. Russia booed
Eurovision has always been political but it was even more so this year. While countries crossed the traditional political voting lines to crown Conchita Wurst the queen of the night, there was plenty of politics at play.
Given the current tensions and violence between Ukraine and Russia, there was much anger directed at the latter. When Russia "phoned in" to share the voting results for its nation, the audience could be heard loudly booing as the countries spokeswoman delivered its top points. The Russian entry, the identical Tolmachevy twins were also booed during their performance.
3. The Hungarian entry about child abuse
The Hungarian entry for this year's competition was always going to be controversial. Andras Kallay-Saunders's song 'Running' referred to the abuse suffered by one of his friends when they were children. It was moving performance and has undoubtedly shed light on the issue of child abuse and domestic violence.
4. Graham Norton's box
Who didn't love the moment when Eurovision cameramen burst into Graham Norton's box and covered him with ticker tape? The commentator who was sat in a tiny studio at the back of the auditorium was startled when Denmark decided to "bring Eurovision to him". Norton offered some excellent commentary on this year's competition and confirmed everyone's confusion at the China references – but we'll come to that.
5. China references
Was anyone left confused the hosts talking in Chinese? It seems that everyone was.
The half-time entertainment sought to clarify why Eurovision hosts Pilou Asbaek, Lise Ronne and Nikolaj Koppel kept talking about China and speaking in Chinese but we were none the wister by the end of it. The entertainment also included a song about the number 12 – it is the highest number of points that can be awarded, after all - that would have been perfect for Sesame Street.
6. The Polish entry featuring a group of raunchy milk girls
Each year there is always plenty of skimpy outfits and raunchy if cringeworthy performances. This year's prize for the most sexy-bizarre Eurovision entry goes to Poland's Donatan and Cleo with their song 'My Slowianie - We Are Slavic'. The women dressed in low-cut milk maid outfits paired with short tartan skirts suggestively churned butter and poured water in buckets as they threw come hither looks at the camera coupled with some lower lip biting. Miley Cyrus would be proud.
Enjoy unlimited access to 70 million ad-free songs and podcasts with Amazon Music Sign up now for a 30-day free trial
Sign up
7. Ukraine's giant hamster wheel
You can't make this stuff up. The most impressive stage performance of the evening came from Ukraine's Mariya Yaremchuk with her song 'Tick Tock'. Ukraine kicked off the Eurovision with a man in a giant hamster wheel.
We're looking forward to more of the same next year.
Register for free to continue reading
Registration is a free and easy way to support our truly independent journalism
By registering, you will also enjoy limited access to Premium articles, exclusive newsletters, commenting, and virtual events with our leading journalists
Already have an account? sign in
Join our new commenting forum
Join thought-provoking conversations, follow other Independent readers and see their replies