Eurovision 2014: Voting controversy after UK public revealed to have voted Donatan & Cleo first – but jury placed them last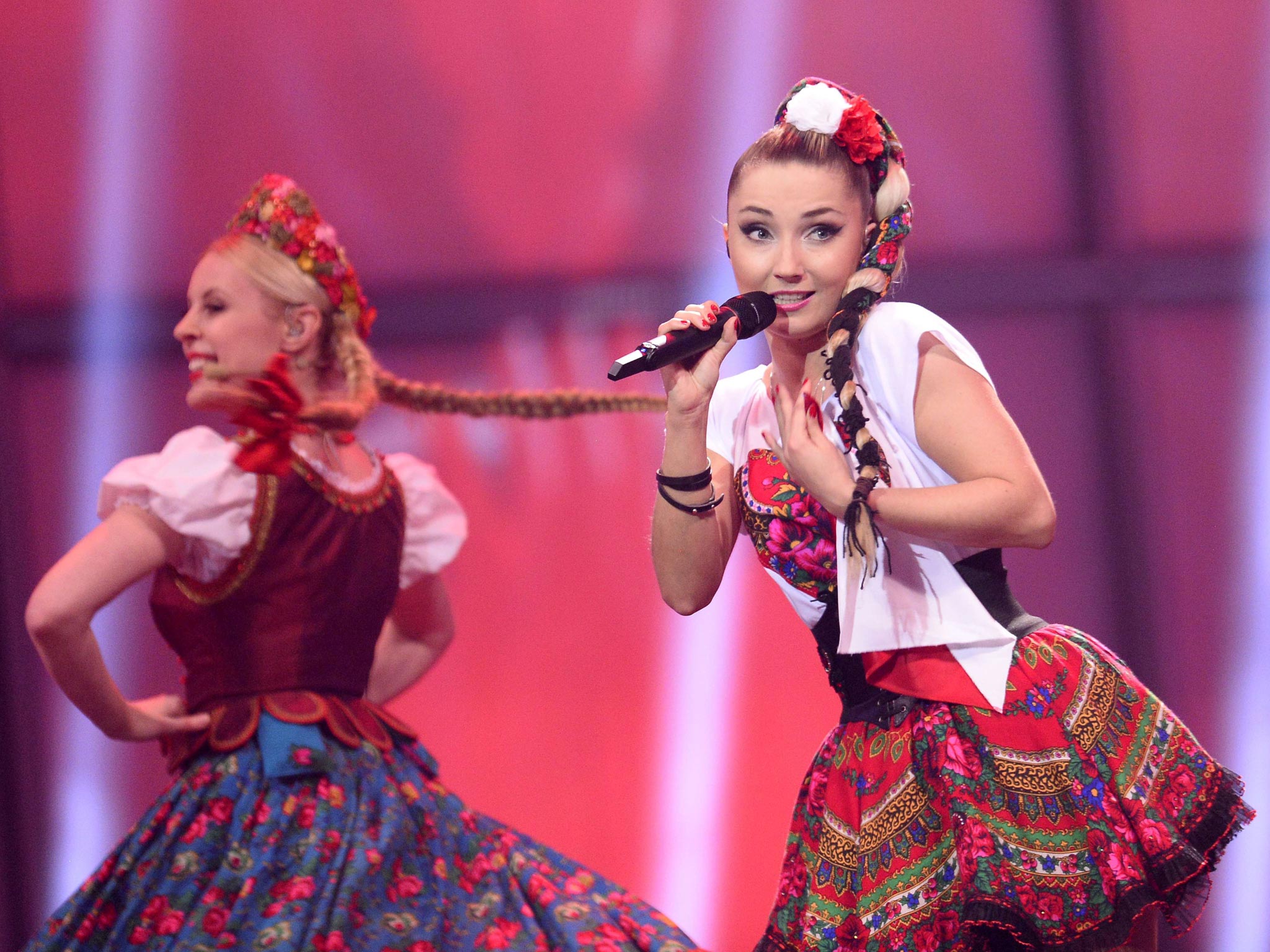 It has been hailed as victory for tolerance and a counterblast to a creeping tide of homophobia.
But, it seems, the Great British public was less enamoured by Austria's 'Bearded Lady', Conchita Wurst, who swept to Eurovision victory preaching a parable of trans-continental camp, than they were by the amply displayed décolletage of the group of rustic milk churners that accompanied Poland's 14th-placed entry.
For the first time yesterday Song Contest organisers revealed both the public and the jury votes for each act.
Yet whilst the official UK panel gave the maximum 12 points to the disarmingly hirsute cross-dressing Conchita, it relegated Polish duo Donatan & Cleo to the lowest place in the order.
By contrast the tele-vote result in the UK saw the Poles named as runaway winners. Ireland also followed suit, with the public similarly awarding first place to We Are Slavic compared to the last position given by its panel.
The Norwegian and Ukrainian public were also impressed by the Polish entry voting it their favourite song again contradicting the findings of their national juries which placed it 19th and 25th respectively.
In pictures: Eurovision 2014
Show all 32
Tele-votes in the Netherlands and Iceland ranked the Poles in second place whilst Austria, Macedonia, France, Germany and Sweden put them third.
A Eurovision spokesman denied this was evidence of a cultural disconnection between the popular winner and that favoured by the official judges in what has become an increasingly fractious and politicised contest which saw teenage Russian entrants booed by sections of the audience.
"These are the rules of the game. Of course sometimes there are discrepancies between the jury and tele-vote but this is what makes the whole process even more exciting," he told The Independent.
The UK panel was headed by TV vocal coach and former Fame Academy judge Carrie Grant and included soprano Laura Wright, music producer Steve Allen, DJ Candice McKenzie and writer/composer Gus Gowland.

Enjoy unlimited access to 70 million ad-free songs and podcasts with Amazon Music
Sign up now for a 30-day free trial
Sign up

Enjoy unlimited access to 70 million ad-free songs and podcasts with Amazon Music
Sign up now for a 30-day free trial
Sign up
Even before a note was sung in Copenhagen on Saturday night's final, the YouTube video of My Slowianie or We are Slavic had been viewed more than 40 million times on the internet – helped no doubt by it being described as "nearly pornographic" by critics following its release last year.
It also features similarly buxom young women in revealing frocks participating in wholesome pursuits such as baking, washing and the now infamous butter-churning.
Donatan is one of Poland's most famous hip hop producers with more than 50 album credits to his name. Real name Witold Czamara, he is half Russian and has courted controversy in the past extolling the virtues of pan-Slavism and the achievements of the Red Army. He has also been accused of supporting Satanism in the devoutly Catholic country.
Singer Cleo has been described as "the Slavic blond girl with the Polish charm and a black voice".
BBC host Graham Norton likened the Polish entry to "Carry on up the Eurovision" lampooning it as a "feminist anthem". As it was about to start he warned viewers: "If granddad has fallen asleep you might want to wake him. I've a feeling he will enjoy this." When it concluded he added: "I've never seen butter churning get a reaction like that before."
Conchita Wurst said a "dream had come true" after winning with Rise Like a Phoenix performed in high heels, butterfly eyelashes and a dazzling ball gown – as well as trademark beard.
"But for our society, it just showed me that there are people out there who want to go into the future and go on, you know, not stepping back or thinking in the past."
Her victory came after on-line petitions in Belarus, Armenia and Russia - whose government passed a law last year banning "gay propaganda" among children - to have Wurst edited out of broadcasts in their countries. Tolerance had been the theme of the Danish hosts with gay pride flags flying in the capital for much of the week.
The UK's Molly Smitten-Downes came 17th despite high hopes that she would end the country's recent poor showing with her song Children of the Universe.
Join our commenting forum
Join thought-provoking conversations, follow other Independent readers and see their replies