Eurovision 2019: Iceland performers hold up Palestinian flag in protest during final
Eurovision 2019: Iceland entry may be punished for displaying Palestinian flags during count
Organisers says Hatari's display of flags during live broadcast breaks 'non-political event' rules
Iceland's Eurovision act could face punishment after displaying Palestinian flags during Saturday night's live television broadcast, organisers said.
Leather-clad bondage punk trio Hatari held up banners bearing the word "Palestine" and the colours of the flag while their vote was announced, before cameras cut back to hosts Bar Refaeli and Ezra Tel.
Band member Stefan Agustsson later shared video on Twitter showing security officials demanding the group hand over the flags following the protest.
Hatari had been critical of Israel before the grand final, even challenging the country's prime minister Benjamin Netanyahu to a "friendly match of traditional Icelandic trouser grip wrestling".
In a statement, Eurovision organisers said the "consequences of this action" would be discussed by the contest's executive board. "The Eurovision Song Contest is a non-political event and this directly contradicts the contest rule," they stated.
The Eurovision final 2019 – in pictures

Show all 38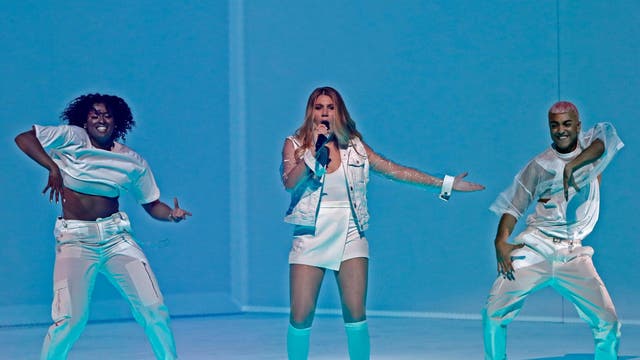 Organisers added: "The banners were quickly removed and the consequences of this action will be discussed by the reference group [the contest's executive board] after the contest."
Hatari's gesture did not impress the Palestinian Campaign for the Academic and Cultural Boycott of Israel (PACBI), which had demanded all acts pull out of the event.
In a statement, PACBI said: "Palestinian civil society overwhelmingly rejects fig-leaf gestures of solidarity from international artists crossing our peaceful picket line."
Although the annual song contest is supposed to be "non-political", this year's build-up was marred by controversy and calls for a boycott by pro-Palestinian activists.
Madonna's performance saw her backing dancers display both Israeli and Palestinian flags on their backs.
"This element of the performance was not part of the rehearsals which had been cleared," said competition organisers. "The Eurovision Song Contest is a non-political event and Madonna had been made aware of this."
The star had earlier defied calls from pro-Palestinian activists to cancel the show, saying beforehand that she wanted to create "a new path toward peace".
Small pro-Palestinian protests were held outside the Expo centre in Tel Aviv, while in Jerusalem, clashes broke out between the security forces and ultra-Orthodox Jews protesting against Eurovision's desecration of the Sabbath.
Join our new commenting forum
Join thought-provoking conversations, follow other Independent readers and see their replies