Even by Ronnie Wood's standards, this is one hell of a bender
Holed up in Ireland with an 18-year-old cocktail waitress, the ageing rocker is so drunk he doesn't remember anything or know where he is, his wife says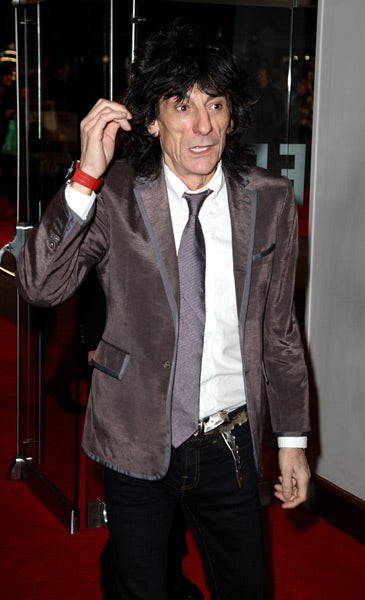 He may be old enough for a free bus pass and a place on a Saga holiday, but Ronnie Wood shows no signs of ditching the rock'n'roll lifestyle. The 61-year-old Rolling Stone has reportedly spent a fortnight on a vodka binge in Ireland holed up with a Russian cocktail waitress less than a third his age.
The ruse for the trip to his Ireland home was said to be to work on his painting, but the presence of 19-year-old blonde Ekaterina Ivanova at his retreat in County Kildare has thrown the thought of such innocent pursuits into question.
Reports that Wood is drinking two bottles of vodka a day, and has run away from his family for fear they would try and stop him, complete the picture of a man unable to shake off the hallmarks of his rocker youth. And now rumours that his teenage companion has boasted that the geriatric rocker is her boyfriend have moved the tale into the realms of the absurd.
Wood's wife Jo, 53, is said to be incensed by the claims. She told The Sun: "She is mad – she is a terrible alcoholic."
The circumstances of the unlikely pair's first meeting are suitably seedy, or perhaps merely nostalgic. It was said to be after the premiere of Shining Light – a documentary on the past excesses and lavish lifestyle of the Rolling Stones – that Wood came across the then 18-year-old Miss Ivanova at an escort bar.
The waitress, who is younger than any of the guitarist's daughters, has told tales of an ugly confrontation with his wife as they left for Ireland. According to Ms Ivanova, Mrs Wood pleaded with the teenager not to take away her husband, to which she replied: "I am not taking him: he is leaving." The guitarist's wife says that such an exchange is entirely fictitious, adding that the girl had only accompanied him to Ireland to model for his paintings.
While this has all the qualities of a tragic late-life crisis, for Mrs Wood the cause for greatest concern is the quantity of alcohol her husband might be consuming. "It's all connected with his drinking," she said.
"Each time Ronnie falls off the wagon it gets worse, and he's been on a bender for the past two weeks. He doesn't remember anything or know where he is. It looks like he's risking his life."
"Mick, Keith and Rod have been calling, saying 'What the hell are you doing?', but nothing's getting through. Ronnie is adamant this girl is just a friend, but he's not thinking rationally. His family just want him to get better and come home."

Enjoy unlimited access to 70 million ad-free songs and podcasts with Amazon Music
Sign up now for a 30-day free trial
Sign up

Enjoy unlimited access to 70 million ad-free songs and podcasts with Amazon Music
Sign up now for a 30-day free trial
Sign up
Wood's relationship with the bottle has been long and fraught. Checking in and out of the Priory six times in five years, his tumbles off the wagon are meteoric, rarely resulting in anything less than major scandal.
The hilarity of such absurd behaviour masks a darker question: what are the health risks for a man so tied to the booze in his twilight years? Not to mention what his wife and four children go through every time they have to watch it.
Just four weeks ago, Wood was giving his 29-year-old daughter Leah away at her wedding, but it seems that, even for the most ageing rock stars, an ordinary family life does not last long. This is not the first time Wood has taken an interest in a much younger woman; in his heyday in 1964 he began a relationship with his first wife, Krissy, when she was still a 16-year-old schoolgirl.
Join our commenting forum
Join thought-provoking conversations, follow other Independent readers and see their replies