Exclusive: Jimi Hendrix's experience - the records that inspired a genius
New exhibition of his music collection reveals the influences that made him great
Paul Bignell
Saturday 14 July 2012 23:25 Comments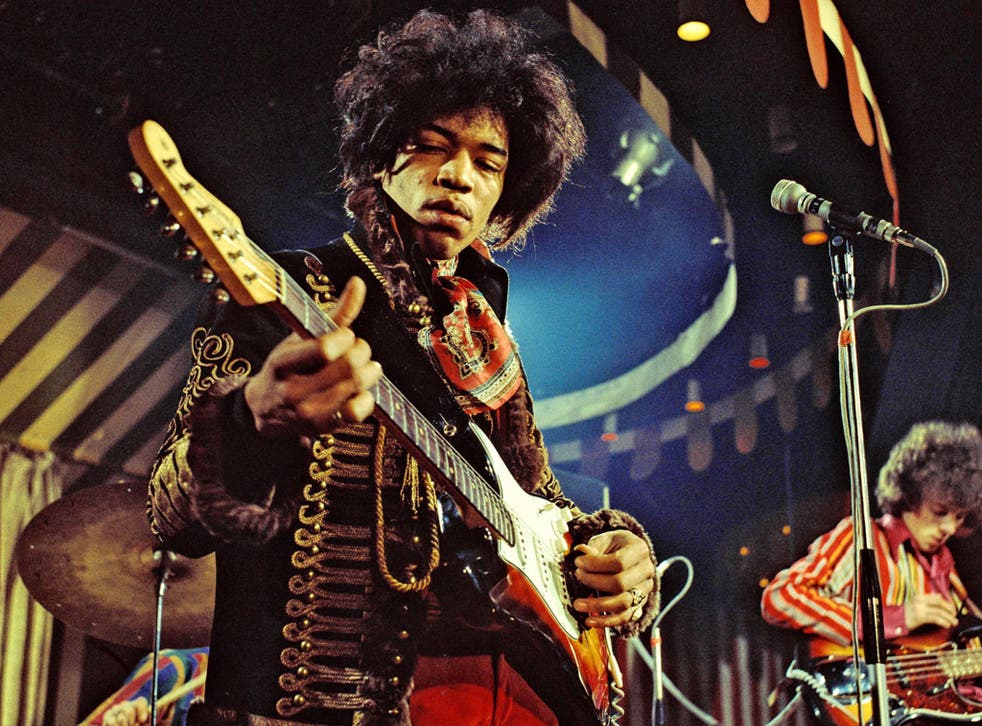 Some of the music that inspired Jimi Hendrix and helped to mould one of the most influential performers in history can be revealed today. Fans will be able to see for the first time later this month some of the albums in Hendrix's personal record collection.
The musician, who would have turned 70 this year had he not choked to death on a cocktail of drugs and alcohol when he was just 27, was a voracious collector of vinyl, buying anything and everything that might expand his musical horizons.
The IoS has been given exclusive access to Hendrix's collection of 200 albums, now owned by the Microsoft billionaire Paul Allen, ahead of a selection of his bluesier favourites going on show to the public on 27 July.
Jacob Murray, a Hendrix expert and curator at the Experience Music Project Museum, founded by Allen in Seattle, said: "He had a very wide interest in all sorts of different music. He was a huge Bob Dylan fan. There are a number of records by contemporaries of his in the London scene, such as John Mayall and Cream. He also has a number of records by American groups who were coming up around then, such as The Band and Frank Zappa. But then there's also a lot of stuff you wouldn't really expect, such as Ravi Shankar, Johnny Cash and Bill Cosby, as well as avant garde recordings such as a [spoken word version of the] Tibetan book of the dead. Then there's a number of classical records – most notably Handel's Messiah."
Most of the albums were bought by Hendrix during his time in London, between 1965 and 1968.
Mr Allen said: "What we're bringing to London are key items from his time as well as the record collection. They're particularly interesting as I had some people go back and look at the wear on the records and you could tell what he listened to the most by which records are the most worn, which are basically all the blues records, as well as the Beatles and Bob Dylan."
The exhibition, "Here My Train a Comin' – Hendrix Hits London", which also features clothing and guitars, is at the Hospital Club in Covent Garden, London, from 27 July. Here we looks at 10 albums owned by Hendrix, and Jacob Murray names the songs or styles they influenced.
Django Reinhardt Europe's Greatest Contribution to Jazz
Features the fast finger-picking style of a self-taught Romany master of the guitar. Hendrix named his group 'Band of Gypsys' in Django's honour.
The 5th Dimension Up, Up and Away
A Jimmy Webb-written song from soulful pop and R&B vocal group, who influenced Jimi's poppier sound.
'The Wind Cries Mary' Little Richard – Vol 2
The second gospel album by the singer/pianist from 1958. Richard is considered the link between R&B and rock and roll. Hendrix was influenced by Richard's dance moves and stage presence.
Enjoy unlimited access to 70 million ad-free songs and podcasts with Amazon Music Sign up now for a 30-day free trial
Sign up
Bob Dylan John Wesley Harding
Dylan returned to an acoustic sound, after three electric albums, with this 1967 record. Hendrix was a well known Dylan fan. Covered 'All Along the Watchtower' a year after he heard this album.
Howlin' Wolf More Real Folk Blues
Blues compilation highlighting one of Chess Record's stars, whose real name was Chester Burnett. Hendrix covered Wolf's 'Killing Floor' at the Monterey festival.
The Beatles Sgt Pepper's Lonely Hearts Club Band
Often described as the greatest album ever recorded, heralding psychedelic music. Hendrix was so enamoured with the lead song that he covered it only a couple of weeks after it was released.
Handel Messiah
The German-born classical composer's best known work. Hendrix was excited to be living in the house where Handel once lived, in London. '1983 … (A Merman I Should Turn To Be)' has many symphonic qualities.
Muddy Waters Electric Mud
A concept album in which Waters, a famous blues guitarist, turns to psychedelic music. 'Voodoo Chile' evolved from 'Catfish Blues', a homage to Muddy Waters.
Ravi Shankar The Sound of the Sitar
Spiritual album by Hindustani classical musician from 1965. In 'Love or Confusion' Hendrix replicates the droning sound of the sitar on his guitar.
E Power Biggs Bach on the Pedal Harpsichord
British-born US concert organist performs Bach on the harpsichord. Hendrix uses the harpsichord to great effect on 'Burning the Midnight Oil' on the album Electric Ladyland.
Register for free to continue reading
Registration is a free and easy way to support our truly independent journalism
By registering, you will also enjoy limited access to Premium articles, exclusive newsletters, commenting, and virtual events with our leading journalists
Already have an account? sign in
Join our new commenting forum
Join thought-provoking conversations, follow other Independent readers and see their replies