Ex-Drive-by Trucker Jason Isbell interview: 'I have a hard time accepting Taylor Swift as a sexy adult, which might be misogynistic of me'
'She's still the lanky very white teenage girl from three years ago'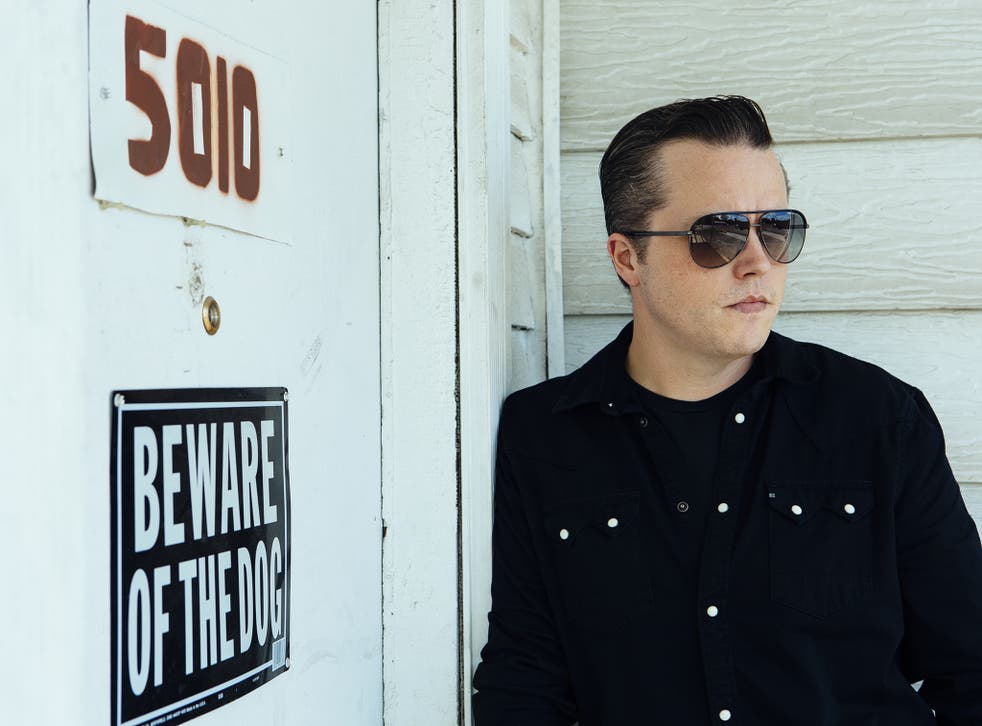 "There was a point when I told my daddy I didn't want to go hunting anymore," maintains Jason Isbell, sitting across from me in his plush tour bus, parked in a field in North Carolina's remote Black Mountain. "But I do think if you're going to eat meat you've got to be willing to kill it, just to keep you from being a hypocrite," the American singer continues.
Isbell, who resembles a young Dickie Attenborough (and Level 42's Mark King), is a forthright interviewee with no topic off-limits, be it his hunting years, as a child in Green Hill, Alabama, not digging Taylor Swift ("I can't get into it") or his alcoholism. He no longer hunts ("I don't necessarily need a dead deer") and he has been sober for more than three years ("it's a test, it's a hard thing"). More on Swift later.
The intense 36-year-old is in a good place and has a child, with his wife, fellow musician and support act Amanda Shires, on the way. Moreover, crucially, he hit pay-dirt with his last, critically praised album, 2013's Southeastern, and his latest one, Something More Than Free (released on 17 July), is even better. Both records flag up a gifted lyricist who tackles murder ("Live Oak"), broken soldiers ("Tour of Duty") and alienation ("Seven-Mile Island") and bears comparison with Springsteen and Johnny Cash, and an alt-country sound that recalls John Cougar Mellencamp and Ryan Bingham.
Sometimes US country music doesn't translate over here but Isbell's lilting, sometimes belligerent material should. His thunderous, five-star performance, alongside his band the 400 Unit (named after a psychiatric unit in Florence, Alabama) in front of 2,000 craft-beer-swigging punters at Pisgah Brewery's pretty site, confirms that his time has come.
Nashville-based Isbell, who spent six years as a guitarist and songwriter with raucous Southern rockers Drive-by Truckers, grew up within a "very open-minded" household. His father was a house painter, his mother hung wallpaper, and for a period of time he lived in a trailer in his grandmother's backyard. His grandfather was an accomplished musician and Pentecostal preacher, but Isbell is not "particularly religious at this point" and if he was it wouldn't be Pentecostal as it's pretty "hard core". This Democrat-voting liberal is more concerned with the Southern working class.
"I think I'm a common man for the most part, but I don't work as hard as most people that I know," he stresses. "The idea of growing up in the South and being a man is an interesting thing; there's a lot masculinity involved, with hunting, fishing and playing sports that rural people take pride in, but at the same time I grew up really not wanting to hate anybody.
"I saw a lot of people around me who struggled with that [hatred], a lot of people who would have been great people if they had been a little more open-minded, but those one or two little character flaws can really ruin your entire opinion of someone." Isbell, who studied creative writing at Memphis University in order to enhance his songwriting (and storytelling) skills, "pays close to attention to people's behaviour; it's part of my job" and crafts songs that are as "personal as possible". His songs are small in scope but feature "a pretty heavy commentary" on a system of an individual.
"It's important not to be biased and it's a balancing act," he emphasises. "Sometimes a song becomes rhetoric, but you have to really empathise, you also have to leave room for both sides of the argument, even if you're not telling the other side, you have to put that part in parenthesis and make sure it's understood."
The evocative "Live Oak", from Southeastern, is a prime example of Isbell's deft lyricism: "There's a man who walks beside me he is who I used to be/ And I wonder if she sees him and confuses him with me/ And I wonder who she's pining for on nights I'm not around/ Could it be the man who did the things I'm living down."
Enjoy unlimited access to 70 million ad-free songs and podcasts with Amazon Music Sign up now for a 30-day free trial
Sign up
"'Live Oak' is a fictional story and a murder ballad for the most part, but on a second level it's about me," Isbell claims. "It's about change and becoming a different person and asking: 'Will I still be effective, will I still be attractive, will I still entertaining, will I still be intelligent in the same way? Or will my wits suffer?'"
The new album, which feels more joyful, more upbeat, kicks off with the perky, throwback country number "If It Takes a Lifetime" and rockier "24 Frames", which sounds like a hit. Does the record reflect a calmer time?
"There's not as big a body-count on this album," he quips. "I believe that albums should be records of time, documents, and I've been a good place now for a few years. Not creatively satisfied but personally satisfied."
That's quite a big admission and an odd one given his last two albums are certainly his best.
"It's easier to write happy if you are happy," he continues, sort of contradicting himself. "I put the work in, that's the trick. I gave up on being divinely inspired a long time ago. I just sit down and do the work."
Isbell emerged from rehab in 2012, after a "12-step related" programme, and thus far it has worked for him ("I don't want a drink right now") but he admits "it's tough, man, because I think sometimes people need a drink". However, sobriety gave him "so much more time" to craft songs and led to the acclaimed Southeastern, which won album of the year at the 2014 American Music Awards and features the romantic ballad and big US hit "Cover Me Up" ("a very direct song that I wrote to my wife"), which was Song of the Year at the same awards.
"Southeastern got a lot more people to the shows and made travelling a lot more comfortable," says the fiercely independent Isbell, who releases albums on his own record company. "I've made a pretty good amount of money for an independent musician, more than lawyers and doctors make where I come from."
Not as much as Taylor Swift, however, whom Isbell gives short shrift.
"I have a hard time accepting her as a sexy adult, which might be misogynistic of me. It's just too obvious to me that she's trying to change from a teenager singing about heartbreak and romance into being a grown sexy woman; she's trying a little bit too hard. No, she's still the lanky very white teenage girl from three years ago, that's just my take on it. The songs are good but they're committee songs." Whereas Isbell's songs and opinions defiantly aren't. He rails, for example, against homophobia from the American Right.
"The gays-getting-married thing should have been dealt when we ran across the first homosexual people," he maintains. "Let's see how we're going to treat these folks, I tell you what, let's treat them the same. We should have started from that standpoint. We have real problems in this country that we should be channelling our energy into, rather than who can get married and who can smoke pot, that's stupid shit man, I'm so tired of non-issues."
Isbell's own "issues", namely his alcohol addiction, seem firmly under control; he's "happy, comfortable and safe" in America and looking forward to fatherhood.
"I don't concern myself so much now with the endgame and what's the point of all this," he says. "Now I have a point and that's good to know."
'Somewhere More Than Free' is out now
Register for free to continue reading
Registration is a free and easy way to support our truly independent journalism
By registering, you will also enjoy limited access to Premium articles, exclusive newsletters, commenting, and virtual events with our leading journalists
Already have an account? sign in
Join our new commenting forum
Join thought-provoking conversations, follow other Independent readers and see their replies