Faithless tune in to new way to go 'prommercial'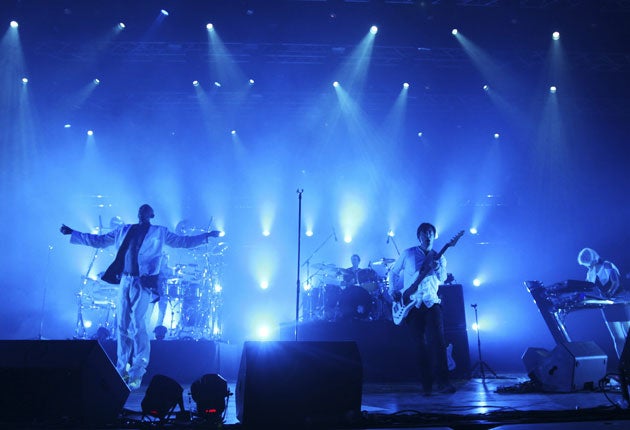 It is being heralded as the first "prommercial" and will be proclaimed as the future of the music industry. It may also help rescue the tattered reputation of television advertising. Not bad for a 15-year-old British electronica band without a record label.
Faithless have struck a deal with Fiat which could transform the way music is funded. This Sunday, during Big Brother on Channel 4, an entire three-minute advertising break will be given over to the video for the dance band's new single "Feelin' Good". There is no sloganeering in the film, despite the Italian car giant paying for it.
The only clue will be the presence of a blue Punto Evo car, a cameo character in a nightlife tale backed by the sound of Dido singing "Feelin' good, feelin' good..." over a thumping Faithless dance beat.
Next week, 30-second edited versions of the same "Feelin' Good" video will be shown as part of a conventional Fiat advertising campaign. A sporty special edition of the car, called the Feelin' Good, is to go on sale. Faithless, who split with their record label Sony BMG, got no money for the Fiat project but enjoyed being able to make a big-budget video in Prague followed by intense television promotion for "Feelin' Good" during the ad campaign.
"They want to sell cars and we want to sell music, it's getting that symbiotic relationship to work, which is interesting and challenging," said Sister Bliss, founder member of Faithless. "They wanted us to be involved in the creative process, check the script and the director and be totally involved in every way."
Elena Bernardelli, marketing director for Fiat UK, said she was "quite surprised" that the band allowed the car to be featured so heavily in the video, which includes shots of the Punto Evo's steering wheel and dashboard as puppets of Sister Bliss and the Faithless vocalist Maxi Jazz dance manically on strings hanging from the car's rear-view mirror. "The idea of dolls and rear-view mirrors was a fantastic way to show the interior of the car," Ms Bernardelli said.
Sister Bliss said Maxi Jazz was a "complete petrolhead", referring to his collection of sports cars. "We don't feel any great antipathy to being part of a car ad, especially one that has been done in a creative way. It doesn't mean that our music has any branding on it; it's not crude like that, it's more of a clever association. Machines and cars and electronic music seem to go hand in hand, and technological development is part of what makes Faithless music of the future."
Faithless have attracted criticism for using Tesco as the distribution vehicle for their new album The Dance. Sister Bliss, from her tour bus in Germany, said such relationships were important. "You do what you can to get your music out there," she said. "People who get up in arms about these things obviously have no idea about how desperately difficult it is to put records out now and make any sort of living out of it, especially in this period of excessive [free] downloading."
She said record companies could afford to give only limited attention to a release before switching to something else. The Fiat project ensures that The Dance will get sustained promotional support equivalent to the "spend on a major album campaign". The idea for the "prommercial" collaboration came from the advertising agency Krow Communications. "There are lots of financial and creative synergies that make this a win-win for both parties," said Jason Knight, Krow's head of branded content and entertainment partnerships.

Enjoy unlimited access to 70 million ad-free songs and podcasts with Amazon Music
Sign up now for a 30-day free trial
Sign up

Enjoy unlimited access to 70 million ad-free songs and podcasts with Amazon Music
Sign up now for a 30-day free trial
Sign up
Faithless share the same management team – ATC Courtyard – as Radiohead, who have been at the forefront of revolutionising music distribution since cutting ties with their label EMI and offering downloads of their 2007 album In Rainbows for whatever fans were prepared to pay for it.
Previous relationships between artists and brands have included Groove Armada and Bacardi, Shakira and Seat, and David Bowie and Nokia. All met with limited success.
The changing relationship between music and brands is to be discussed at this month's Edinburgh International Marketing Festival.
Join our commenting forum
Join thought-provoking conversations, follow other Independent readers and see their replies