Glastonbury 2017: What the Foo Fighters have in their rider
Rock band are headlining the Saturday night of the festival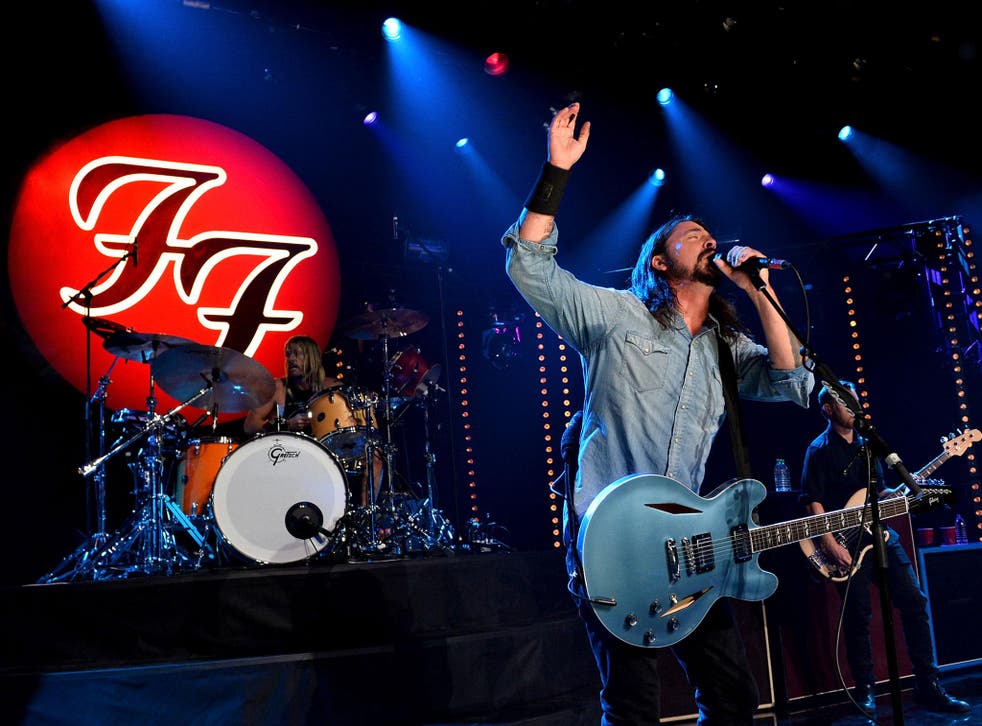 Ahead of their headline slot on the Pyramid Stage you may be interested to know what the Foo Fighters have in their Glastonbury rider.
Ed Sheeran's recently did the rounds and proved that he's just as down to earth as he seems.
Foo Fighters have been known to try and sneak jokes via their rider backstage, most memorably in 2011 when a 52-page, laminated booklet was revealed during a world tour.
"Our tour manager, Gus Brandt, has always been the one to write the rider," frontman Dave Grohl told Rolling Stone at the time.
Glastonbury 2017

Show all 48
"That's his personality and sense of humour – he's a wicked smartass. And after the last rider gained so much positive attention, we were all very proud that someone got it."
"The first idea was to make the rider look exactly like a laminated Waffle House menu, with, like, suggested servings and s*** like that."
One page of the catering section helpfully depicted the difference between a "LAME ENTREE" (sandwich with a side of rocks) and an "AWESOME ENTREE" (steak with a baked potato).
However in the 2011 interview Grohl denied being a picky eater himself.
The most recent rumoured rider doing the rounds ahead of their Glastonbury show is far less demanding.
The Jeremy Corbyn chant sweeping the nation
The band, who will headline Glastonbury on Saturday night, have requested items including crunchy peanut butter, chocolate bars, and "31 pieces of fruit".
The whole list consists of 92 items, according to NME:
1 x Fiji water
1 x Schwepps soda water
1 x Coconut water
1 x Pom Juice
1 x 12 pack of Diet Coke
1 x Fresh orange juice
1 x Ocean Spray cranberry juice
1 Case of Vitamin Water
1 Case of Red Bull
1 Case of Gatorade
1 Pack of Starbucks coffee beans
1 x Fat free organic milk
1 x Edensoy milk
1 Pack of avocados
1 Pack of tomatoes
1 Dark chocolate bar
1 Pack of bananas
1 Pack of apples
1 Pack of pears
1 Pack of kiwi fruit
1 Pack of seedless grapes
1 Jar of peanut butter
Grohl recently teased that the band have something 'special' planned for their Pyramid Stage slot.
For information about how to watch their set from home, read here. Make sure you keep up with the latest Glastonbury updates.
Register for free to continue reading
Registration is a free and easy way to support our truly independent journalism
By registering, you will also enjoy limited access to Premium articles, exclusive newsletters, commenting, and virtual events with our leading journalists
Already have an account? sign in
Register for free to continue reading
Registration is a free and easy way to support our truly independent journalism
By registering, you will also enjoy limited access to Premium articles, exclusive newsletters, commenting, and virtual events with our leading journalists
Already have an account? sign in
Join our new commenting forum
Join thought-provoking conversations, follow other Independent readers and see their replies