Gay rights charity attacks 'outdated and offensive' lyrics in Eminem's Rap God
The rapper has previously said he supports gay marriage, but Rap God contains the words 'faggots' and 'gay-looking boy'
Liam O'Brien
Wednesday 16 October 2013 16:40 Comments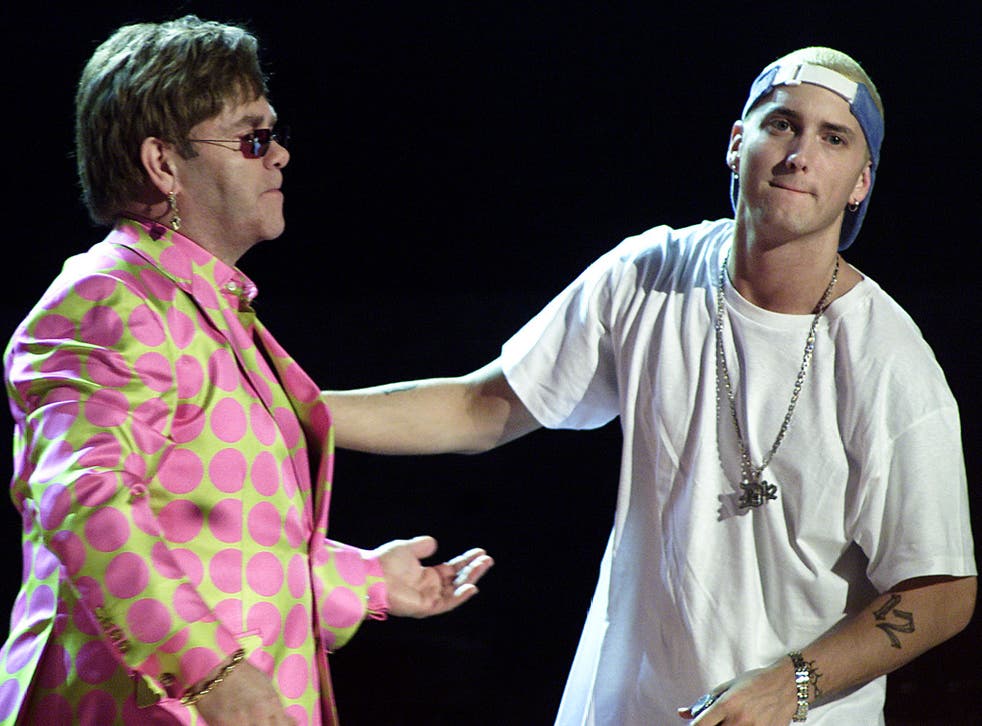 Eminem's new single "Rap God" has been praised as a sign that the rapper is still relevant in today's music industry, but its lyrics appear to be a bizarre throwback to the homophobic lyrics sung by an alter ego in one of his earlier releases.
Gay rights charity Stonewall said the song's content was "outdated and deeply offensive", and claimed the rapper was "stuck in the last century".
"Rap God" is currently top of the UK and US iTunes charts, and has earned positive write-ups from esteemed publications such as Time and Rolling Stone. MTV lauded its "expertly laid verses".
It is not as though the homophobic phrases in question are particularly subtle. The first verse contains lyrics about breaking "a mother******* table over the back of a couple faggots and crack it in half," and, "You fags think it's all a game."
The second verse continues: "Little gay-looking boy / So gay I can barely say it with a straight face-looking boy / You witnessing massacre like you watching a church gathering taking place-looking boy / 'Oy vey, that boy's gay,' that's all they say looking-boy."
The rapper is aware that the lyrics would be controversial, saying in one part of the song that he wouldn't have gotten away with saying, "I'd take seven kids from Columbine, put 'em all in a line, get an AK-47 a revolver and a nine," when his fame was at its height.
Richard Lane, media manager at Stonewall, said: "Compared to inspirational modern artists like Frank Ocean and Macklemore, who have vocally supported tackling homophobia, Eminem seems stuck in the last century with these outdated and deeply offensive lyrics."
"Rap God" is one of the songs on Eminem's new album, The Marshall Mathers LP 2. It deliberately harks back to his third studio album, released in 2000, which while controversial, was a critical and commercial success.
However, the lyrics to the song "Criminal" provoked a storm of criticism. He sang, as one of his many rap personas: "My words are like a dagger with a jagged edge / That'll stab you in the head / Whether you're a fag or a lez."
Enjoy unlimited access to 70 million ad-free songs and podcasts with Amazon Music Sign up now for a 30-day free trial
Sign up
He later performed with Elton John at the Grammys, which outraged the Gay and Lesbian Alliance Against Defamation.
In 2010, Eminem made it clear that he did not personally condone homophobia. He told the New York Times Magazine that he was in favour of gay marriage, saying: "Everyone should have the chance to be equally miserable."
He added: "I think I've calmed down a bit. My overall look on things is a lot more mature than it used to be."
Register for free to continue reading
Registration is a free and easy way to support our truly independent journalism
By registering, you will also enjoy limited access to Premium articles, exclusive newsletters, commenting, and virtual events with our leading journalists
Already have an account? sign in
Join our new commenting forum
Join thought-provoking conversations, follow other Independent readers and see their replies