Glastonbury 2014 alternative round-up: From surprise success to best political statement
Dolly Parton stole the show from the headliners but who were the winners and losers at this year's Somerset extravaganza?
Jess Denham
Monday 30 June 2014 23:05 Comments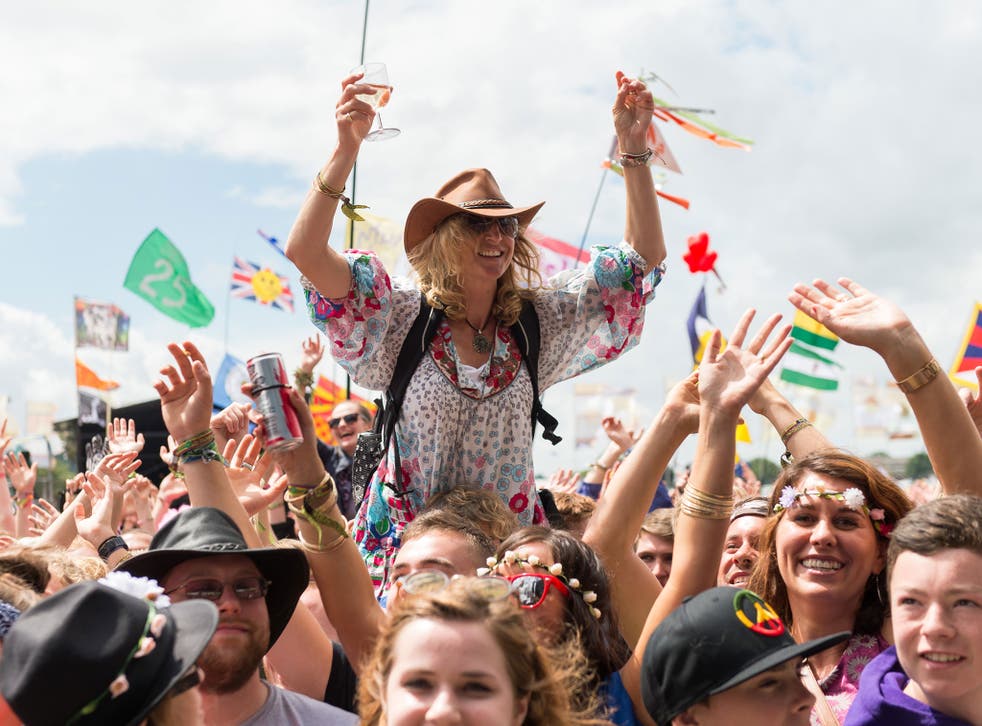 So that's it folks, Glastonbury is over for another year and some 175,000 festival-goers are making their way back home leaving a trail of litter and tent pegs in their muddied wake.
Arcade Fire, Kasabian and most of all, Metallica, have been lauded for their headline sets, with Dolly Parton hailed as the biggest attraction since The Rolling Stones last year.
Then we had Lily Allen swearing like a trouper and bringing the Pyramid Stage back to life after an hour's power outage, Lana Del Rey depressing and uplifting everyone in equal measures and Ed Sheeran and Paulo Nutini breaking teenage girls' hearts (and don't we know about, thanks for that Twitter).
But how will we remember this past Worthy Farm weekend? Here is our own, alternative Glastonbury round-up, from the oddest stage entry (clue, it involves a fox hunt) to the best political statement.
Surprise success: Metallica
The heavy metallers had there doubters, including Arctic Monkeys' Alex Turner and Pulp's Jarvis Cocker, but the sheer energy of their Saturday night set stopped most haters in their tracks.
Best of all, they took the piss out of the criticism with awesome t-shirts emblazoned with some of the negative comments they received.
Most challenged by the weather: Rudimental
Thunder and lightning cut the dance collective's Friday evening set short as organisers pulled the plug on all outside stages as a temporary safety precaution. Fans were deprived of "Feel the Love" so burst into their own rendition instead, while others took to Twitter to bemoan their disappointment.
Glastonbury 2014 live shots

Show all 50
Most obscene performance: Lily Allen
Shortly after the sky rained on Rudimental's parade, the "Smile" singer burst onto the Pyramid Stage and began dancing around giant milk bottles, swearing every other word and complaining about her "camel-toe" and "wedgie".
Most punished by the crowd: The 1975
These indie boys played a secret set on Thursday night, only for punters to start chucking cans at them. "I won't have people fighting at my Glastonbury," pleaded floppy-haired frontman Matthew Healy. Bless.
Enjoy unlimited access to 70 million ad-free songs and podcasts with Amazon Music Sign up now for a 30-day free trial
Sign up
Oddest stage entry: Metallica
In a nod to a petition demanding the band be removed from the line-up over singer James Hetfield's hunting activities, Metallica came on stage following a bizarre video involving fox hunters being shot with rifles by the band members, dressed as bears.
Most pointless on-stage prop: Lana Del Rey's cigarette
Newsflash Lana – smoking's not cool, it hasn't been for a while now, and it's certainly not going to help with your vocal abilities.
Silliest Glastonbury-related fake story: Nude hippie picture on Twitter
That photo of a little boy's horrified face having come face-to-groin with a stark naked older man that's been doing the rounds on social media. It's actually at least four years old, but funny none the less.
Best political statement: Lily Allen dedicating "F**k You" to Fifa president Sepp Blatter
Huge cheers went up around the Pyramid Stage when Allen dropped the c-word on the football supremo.
"The next song is dedicated to possibly one of, actually not, the most corrupt, annoyingly corrupt person there is in the world, Sepp f**king Blatter, you c**t," she said. Told.
Best surprise: Dolly Parton bringing out Richie Sambora
As if the crowd could love Dolly more, when she brought out Bon Jovi guitarist Richie Sambora for a duet on "Lay Your Hands On Me", they were eating from the palm of her hand.
Best on-stage banter: Dolly Parton
The 68-year-old country music legend introduced her hit song "Jolene" with the following little story, proving she still has 'oomph' in bucketloads:
"I wrote that song years ago when my husband was spending a little more time with Jolene than I thought he should, so I put a stop to that. I got rid of that red-headed woman in a hurry.
"Something good can come from everything though. Had it not been for that other woman I never would have written Jolene and I wouldn't have made all that money so thank you Jolene!
"But every now and again, I have to tell you, I look at him sleeping over there in his lazy boy chair, him snoring and that hair turning grey at the temples and I think, I wonder, if that Jolene is still around. I wonder if I can call her up and say, 'Come and get him now!'"
Register for free to continue reading
Registration is a free and easy way to support our truly independent journalism
By registering, you will also enjoy limited access to Premium articles, exclusive newsletters, commenting, and virtual events with our leading journalists
Already have an account? sign in
Join our new commenting forum
Join thought-provoking conversations, follow other Independent readers and see their replies