Glastonbury 2016: The 'stop Coldplay headlining' petition is inevitable - and pointless
Come that Sunday night, tens of thousands will be singing along with Chris Martin just as they were the last three times
Jess Denham
Wednesday 17 February 2016 11:30 Comments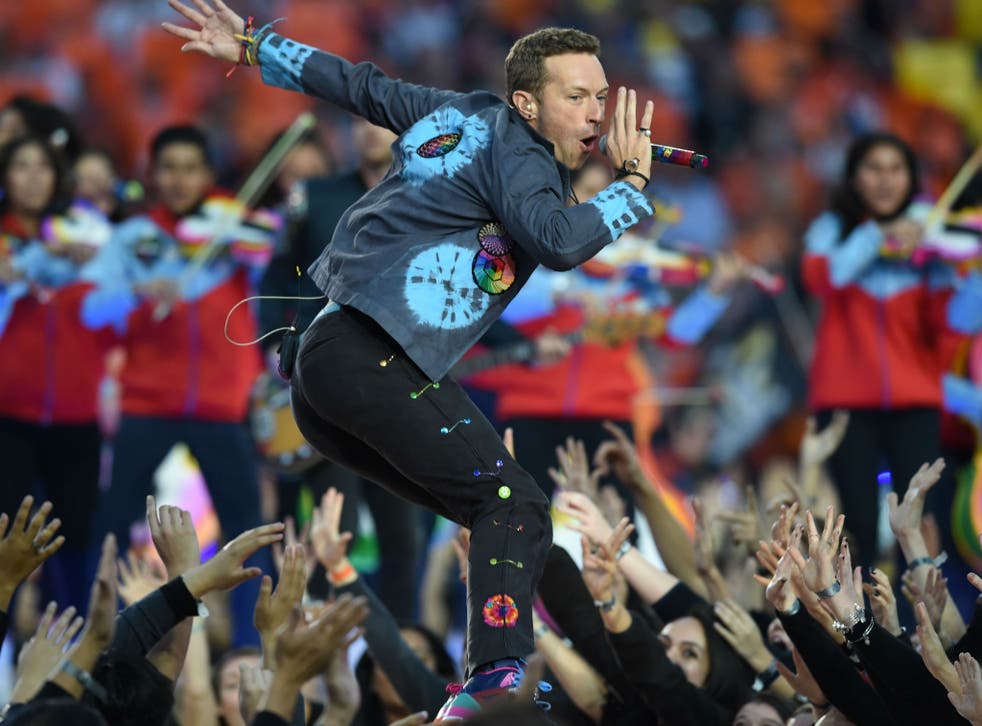 Coldplay are headlining Glastonbury and, inevitably, an online petition has already been launching calling on the organisers to cancel the booking and "get a rock band instead".
Last year, the target was Kanye West, because rap apparently never has and never will have a place on the Pyramid Stage. Nearly 150,000 people signed a petition set up by a bloke from Norfolk who had never been to the festival, because god forbid the Stone Circle be graced by anyone other than white rockers with flowers in their hippy hair.
Felicity Martin is behind the latest Change.org attempt to free Glastonbury from the horrors of popular modern music. So intent is she on stopping Chris Martin and co in their welly-clad tracks that she's recycled the rallying call of Neil Lonsdale's Kanye petition, word-for-word:.
"Coldplay are an insult to music fans all over the world. We spend hundreds of pounds to attend Glasto and by doing so, expect a certain level of entertainment. Let's prevent this musical injustice now!"
Of course this could all be one big mocking laugh at the annual fiasco over headliners, in which case kudos to you Felicity for highlighting how silly it all is. Judging by the comments on the petition, however, those taking the time to sign are deadly serious in their quest to ban your mum's favourite band from Somerset.
Update: Felicity has got in touch to confirm that yes, it was all a big joke. Phew. Here's what she had to say:
"The petition was set up as a joke, to make fun of that Kanye one last year which received 130,000 signatures, and reduced someone who's been a constant innovator in music over the last decade to ' talentless'. I copied and pasted the words from it, assuming that people would make the link. Although I'm not personally a fan of the band, Glastonbury is a festival which has over 100 stages, and each to their own - if people enjoy it, who cares? I've closed it now, as the Coldplay bashing was getting a little excessive and that wasn't my original intention. Hopefully it's the last headliner-related petition we ever see!"
Some people really hate Coldplay, as evidenced by the angry reactions flooding Twitter shortly after that fateful photo of the band's hot air balloon graphic taking up residence on a Worthy Farm sign popped up on on social media. But a ton of others love them, which must in part explain Michael and Emily Eavis' decision to make them the first act to top the bill four times.
Petitions over Glastonbury headliners are pointless for one main reason: there are hundreds of bands to choose from. Music lovers could easily spend zero time at the Pyramid Stage and still have a brilliant weekend, with nearly 100 stages and tents to explore.
Glastonbury describes itself on its official website as "loads of different festivals converging on the same gorgeous countryside". Plenty of the best performances will be found away from the hype of the main areas and there is always something for everyone, whether you like rock, dance, indie, jazz or music from outer Mongolia.
In pictures: Glastonbury highlights

Show all 25
Coldplay might not be a subversive group, but they sell out stadiums worldwide and have established a solid live reputation. Come Sunday night at Glastonbury, tens of thousands of festival-goers, some of whom probably signed the petition, will be singing along, cider in hand, to the dulcet tones of "Yellow" just like they did in 2002, 2005 and 2011.
If you can't beat 'em, join 'em. Or simply rock on down to the Other Stage instead.
Glastonbury takes place from Thursday 23 June to Sunday 26 June. The full line-up is expected sometime in the spring.
Register for free to continue reading
Registration is a free and easy way to support our truly independent journalism
By registering, you will also enjoy limited access to Premium articles, exclusive newsletters, commenting, and virtual events with our leading journalists
Already have an account? sign in
Join our new commenting forum
Join thought-provoking conversations, follow other Independent readers and see their replies