Glastonbury Festival issues statement over 'zero hours' contract controversy
Response comes after The Independent revealed how hundreds of European workers were fired after just two days of working on-site at Worthy Farm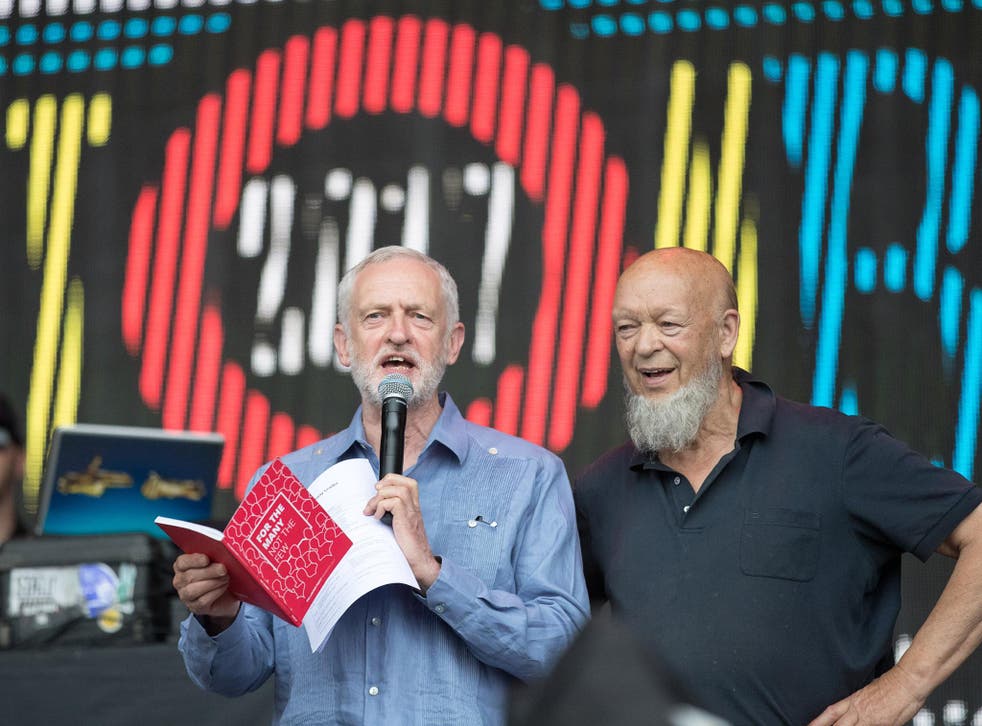 Glastonbury Festival has issued a statement responding to criticism over its treatment of European workers who travelled to assist with the traditional post-event cleanup.
The Independent revealed last week that hundreds of workers, allegedly on zero hours contracts, had been fired after being told that there was not enough work to go around, leaving many stranded in the Somerset countryside.
Many had travelled from countries including Czech Republic, Poland, Spain and Latvia, and had expected up to two weeks of paid work on-site at Worthy Farm.
But around 600-700 people were apparently laid off after a combination of good weather and clean-up efforts while the festival was taking place meant that there was not as much rubbish left after the event.
On-site protests were held over the treatment of the workers, who asked organisers to be provided with food during the weekend where they were unable to find work or transport.
Video footage obtained by The Independent showed a man, understood to be a supervisor, telling workers they should be "grateful" for two days work and stating that he did not think it was the festival's responsibility to feed them after they were no longer employed.
Glastonbury workers protest at Worthy Farm
Many workers said they had been stranded after being fired because they had booked return flights for a specific date, or had not earned enough money to recoup their expenses on travel, food and accommodation.
Simon Kadlcak, from Czech Republic, told The Independent that he had arrived at Worthy Farm on Monday 26 June, after the festival had finished, and started working the next day.
"We found out quite soon that there was not as much garbage as usual, so there was less work," he said. "Rumours were being spread about what would happen and there was no proper information."
Enjoy unlimited access to 70 million ad-free songs and podcasts with Amazon Music Sign up now for a 30-day free trial
Sign up
After two days of work, Mr Kadlcak said many people were told there was not enough work for them, with only about 100 people being kept on.
"There are people without work still sleeping in tents here because they have nowhere to go, they were expecting two weeks of work," he said. "One person tried to find us other jobs in the area and get food for us for the weekend.
"The organisers have to have known that there was not enough work for that amount of people. No one spoke to us before, there were these rumours and people are quite nervous about it. No one let us know until yesterday afternoon, they just put up a list of the 100 people who were able to keep working."
In a statement, Glastonbury festival has since said: "In response to recent stories in the media, we would like to state that Glastonbury festival's post-event litter picking team are all given temporary worker agreements for the duration of the clean-up.
"As well as being paid, they are provided with free meals and access to on-site facilities. The length of the clean-up varies considerably from year to year, based largely upon the weather conditions before, during and after the festival.
"This is something the litter pickers - many of whom return year after year - are made aware of in their worker agreements (which assure them of a minimum of eight hours' work).
"This year was an unusually dry one for Glastonbury. That, coupled with a fantastic effort from festival goers in taking their belongings home, meant that the bulk of the litter picking work was completed after 2.5 days (in 2016, a very wet year, the equivalent period was around 10 days).
"All but a core crew of litter pickers were advised that there was no further work available after Friday (June 30). Those who weren't able to leave the site over the weekend were given further meals, plus assistance with travel to nearby towns with public transport links.
"We'd like to thank the litter pickers for their work on the clean-up, which was - as always - hugely valued by the festival."
Glastonbury 2017 clean-up

Show all 10
Jeremy Corbyn condemned reports that the festival employed workers on 'zero hours' contracts, saying there has been an "explosion" of insecure employment
The Labour leader was one of the most talked-about "acts" at Glastonbury Festival this year, and made a powerful speech on the Pyramid Stage where he received cheers for saying young people should not have to "accept low wages and insecurity as just part of life".
"We are opposed to [zero hours contracts], and in our manifesto we made clear that a Labour government will legislate across the board to reform the labour market and ensure that there's a floor under conditions at work that have been savagely undermined," his spokesman said.
Asked whether Corbyn would raise the issue with Glastonbury founder Michael Eavis if he attends the next festival in 2019, the Labour spokesman added: "I think he's happy to raise it right now."
Join our new commenting forum
Join thought-provoking conversations, follow other Independent readers and see their replies