Grenfell Tower: Adele hugs and comforts people at the scene of the London fire
She appeared to be wearing a simple abaya
Christopher Hooton
Thursday 15 June 2017 08:18 Comments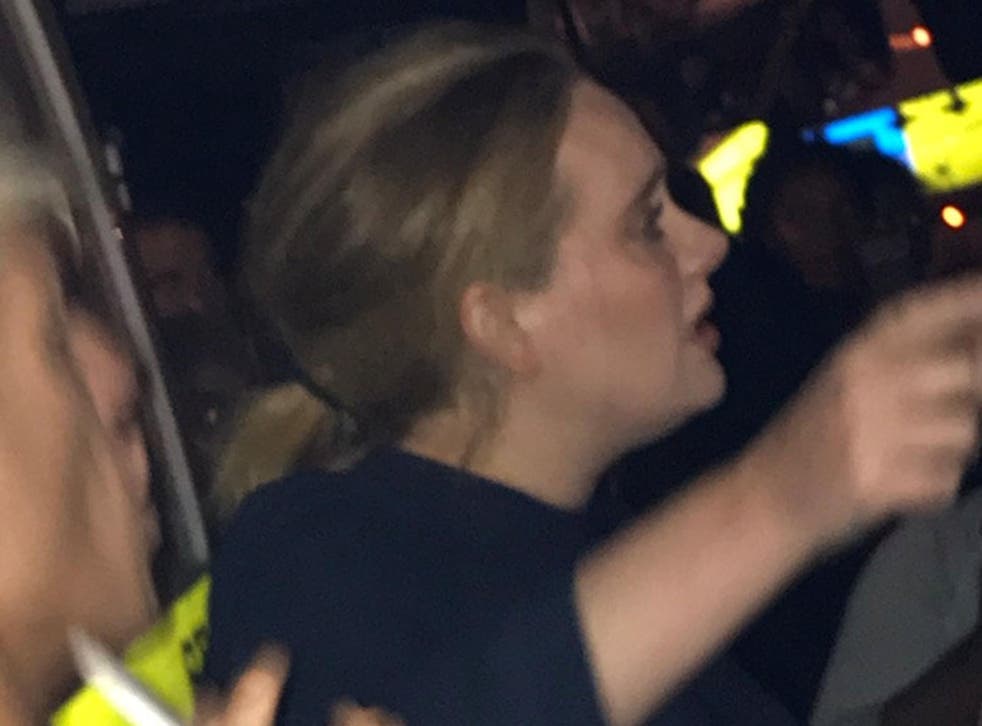 Less than 24 hours after a blaze ripped through west London's Grenfell Tower, a tearful Adele subtly showed up at the scene, apparently "going around and hugging everyone she could to comfort them".
A Tottenham native and passionate Londoner, the 29-year-old was only photographed with her husband by a handful of Twitter users, apparently not wanting to draw attention to herself.
@FourMee noted that she was wearing a black abaya, a simple, robe-like dress, worn by some women in parts of the Muslim world.
12 people are confirmed to have died in the fire that broke out around 1am on Tuesday night, with this number set to rise and scores more injured.
Adele "was going around and hugging everyone she could to comfort them" according to a fan account, showing up in person instead of tweeting about the incident.
"The fact that Adele has gone to Grenfell tower and not said a word about it just proves how amazingly sincere she is," a commenter wrote.
Grenfell Tower fire: How the community responded
The singer previously paid tribute to the victims of London's Westminster attack while performing in Auckland, telling the crowd: "Today there was a terror attack in my hometown of London. I'm literally on the other side of the world and I want them to see our lights and to hear us.
"It's very strange not being home, all I want to do today is be at home with my friends and family. All of them are fine but there are four people the death count was four at the time who aren't fine so let's dedicate this to them tonight."
The Grenfell Tower blaze was particularly personal to fellow musician Rita Ora.
"This is my neighbourhood, I can't believe this is happening," she posted.
"My prayers are with everybody involved my heart is beating so fast. I used to play in that block - I want to do all I can do to help."
Emergency services worked through Tuesday night and the following day to rescue survivors and extinguish the large flames, which were still alight in parts of the building 18 hours later.
Grenfell tower fire

Show all 42
Firefighters were called to the 24-storey block in Latimer Road, near Notting Hill, at 12:54am and arrived to find the blaze spreading at a rate "greater than expected", prompting early calls of a major incident, which saw 250 firefighters tackling the flames at the height of the inferno and the rescue of 65 people.
Sixty-eight people were taken to six hospitals across the capital and 10 made their own way there, according to the London Ambulance Service, which had more than 100 clinicians and specialist teams working on site throughout the day. Eighteen of those in hospital were critically injured.
Register for free to continue reading
Registration is a free and easy way to support our truly independent journalism
By registering, you will also enjoy limited access to Premium articles, exclusive newsletters, commenting, and virtual events with our leading journalists
Already have an account? sign in
Join our new commenting forum
Join thought-provoking conversations, follow other Independent readers and see their replies