Johansson hopes world will now fall for her voice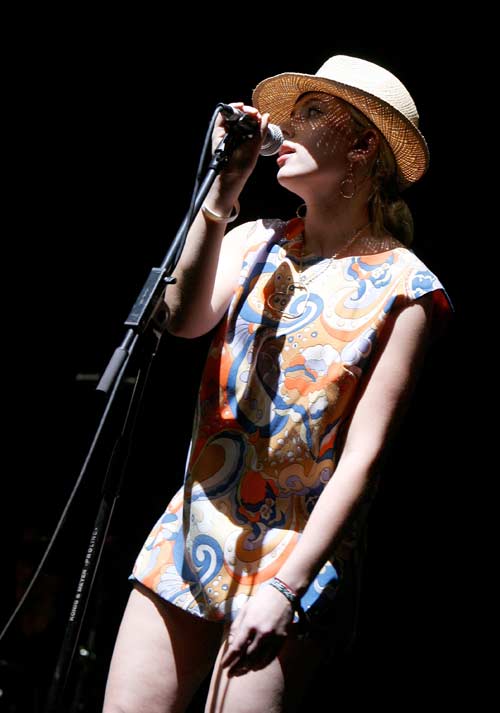 She has just returned from visiting American troops in the Middle East and has announced her engagement – in jest – to her favourite Democratic presidential runner. Now she has told the world the release date of an 11-track music album. And we thought she was just a Hollywood actress...
This is the packed schedule of Scarlett Johansson, who already has two films slated to reach cinemas later this year, The Other Boleyn Girl and He's Just Not That Into You. Now she has confirmed that her album, Anywhere I Lay My Head, will hit shops on 20 May.
If the title sounds familiar, it is because it is. It is taken from the 1985 Tom Waits track of the same name. Indeed, the album will feature 10 covers of songs by Waits , the grainy voiced balladeer, and one original song.
Telling reporters the album would have a dreamy, other-worldly feel, the woman the tabloids like to call "Scar Jo" had no trouble explaining her sudden departure into music-making. "It was a really, really sort of inspired process, and it was something I'd never done before," she said.
The album was recorded in studios in Louisiana with collaboration from established stars of the music scene including members of the Yeah Yeah Yeahs.
It's not quite her first foray into song. The 23-year-old actress recorded one track, Summertime, on a 2006 charity album, Unexpected Dreams: Songs from the Stars, which featured performances by Ewan McGregor and Teri Hatcher.
She also surfaced last year in a music video for Justin Timberlake and sang on stage with The Jesus and Mary Chain. Diminutive of stature, Johansson first attracted the attention of Hollywood with her performance as Grace in the 1998 film The Horse Whisperer. Nominated since for four Golden Globe awards, she also took leading roles in Lost in Translation and Woody Allen's Matchpoint.
There is a long tradition, of course, of Hollywood actors and actresses swapping back and forth between the screen and the turntable, going back as far as Sinatra and Streisand. The grizzle-faced Waits has himself also appeared in several independent films.
Grilled by reporters on her return from visiting military bases in Kuwait on rumours of an impending engagement to Ryan Reynolds, an ex-fiance of singer Alanis Morissette, she responded artfully by speaking of her passion not for him but for Democratic presidential hopeful, Senator Barack Obama.

Enjoy unlimited access to 70 million ad-free songs and podcasts with Amazon Music
Sign up now for a 30-day free trial
Sign up

Enjoy unlimited access to 70 million ad-free songs and podcasts with Amazon Music
Sign up now for a 30-day free trial
Sign up
"I am engaged ... to Barack Obama," Johansson joked in an interview with The Associated Press.
"My heart belongs to Barack, and that is who I am currently, finally, engaged to. Yes."
Michelle Obama has yet to respond to this news – or whether she intends to buy or boycott Johansson's debut album.
Join our commenting forum
Join thought-provoking conversations, follow other Independent readers and see their replies