Joy Villa returns to the Grammys with anti-abortion protest dress
She's back...
Ilana Kaplan
New York
Monday 29 January 2018 00:18 Comments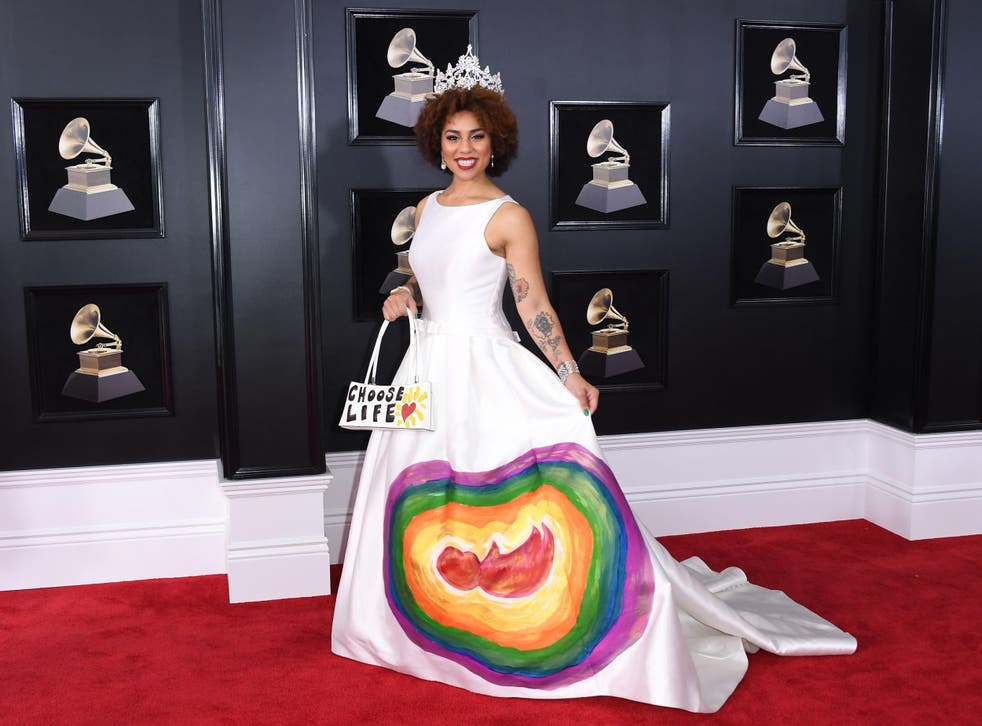 Joy Villa once again made a political statement at the Grammys with a dress with a painted fetus and a purse that says "Choose Life."
The singer came under fire at the 2017 Grammys after wearing a pro-Trump dress to the ceremony.
For the 2018 Grammys, the 26-year-old once again brought attention with her wardrobe with a white Pronovias wedding dress with a rainbow painting of a skirt and a purse embellished with the words "Choose Life."
"I'm a pro-life woman," Villa told Fox News. "This year I chose to make a statement on the red carpet like I always do. I'm all about life."
Her dress was inspired by her own experience giving up her child for adoption at 21 because of her anti-abortion beliefs.
Villa's 2017 Grammys dress was deemed controversial for its flaunting of Trump's campaign statement "Make America Great Again."
The singer recently claimed that Trump's former campaign manager, Corey Lewandowski, slapped her on backside multiple times after she asked for him to stop.
Just like 2017, Villa's dress will likely be the talk of the ceremony.
She definitely succeeded in making a "statement."
Register for free to continue reading
Registration is a free and easy way to support our truly independent journalism
By registering, you will also enjoy limited access to Premium articles, exclusive newsletters, commenting, and virtual events with our leading journalists
Already have an account? sign in
Join our new commenting forum
Join thought-provoking conversations, follow other Independent readers and see their replies