Chance the Rapper defends Kanye West: 'He thinks about how people will view things 300 years in the future'
West's friend and frequent collaborator admitted: 'I think also a lot of times the attention that he may be seeking is at the immediate detriment of people that may need it more'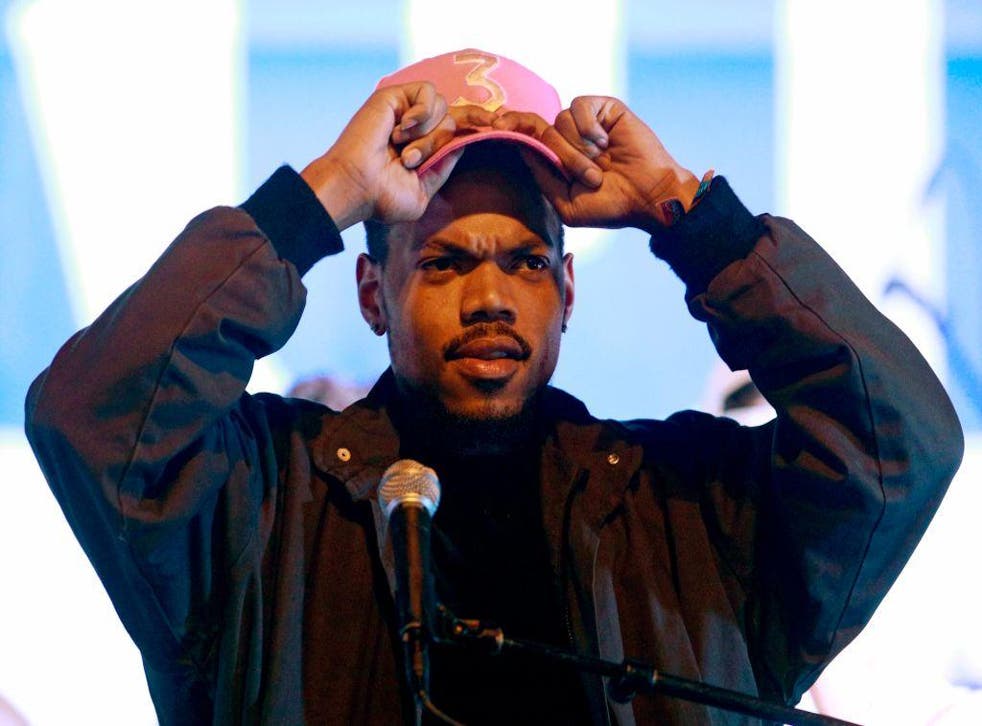 Kanye West's controversial political speeches and tweets seem to have lost him a fair few friends and collaborators over the past year, but Chance the Rapper is standing by his fellow Chicagoan, for the most part.
Chance was the guest on the latest episode of The Joe Budden Podcast this week, and was asked about Kanye's recent political activity and continued use of Donald Trump merchandise.
"What do we with this 'MAGA hat with the Kaepernick sweatshirt' [Kanye], it seems like it totally contradicts everything you stand for?" he was asked.
"Yeah," Chance responded, to laughter from the hosts who seemed to be expecting the rapper to evade the question.
Attempting to explain Kanye's actions, however, and paint them as more than just "trolling", Chance continued: "I think Kanye thinks – with every move at least for the past few albums – he thinks about himself like 300 years in the future and how people will read things. And figures himself as trying to create a bigger blip on the long timeline, whereas a lot of the people will be stuck in a very small space of where their art reaches, or where their thoughts reach, after they've died."
Kanye has been using every platform he has to warn against, as he sees it, the homogenisation of black thought, although he recently deleted his Twitter and Instagram accounts (again).
"Black people don't have to be Democrats," he tweeted in April, which Chance retweeted and later apologised for.
Kanye West goes on political rant about Democrats after Saturday Night Live performance
Chance, who is currently working with Kanye on a new album entitled Good Ass Job, didn't endorse his producer's behaviour however.
"I think he does a lot of stuff for the attention of the masses, to get that stuff documented and made into history, but I think also a lot of times the attention that he may be seeking is at the immediate detriment of some people that may need the attention more," he said.
Budden asked him: "Do you have those conversations?" To which Chance replied: "Hell yeah...Definitely in these past few weeks since he's been back in Chicago, that's what it is: hard conversations."
Over the weekend, Saturday Night Live cast member Pete Davidson criticised Kanye's post-filming political speech, stating that "being mentally ill is not an excuse to act like a jackass".
Register for free to continue reading
Registration is a free and easy way to support our truly independent journalism
By registering, you will also enjoy limited access to Premium articles, exclusive newsletters, commenting, and virtual events with our leading journalists
Already have an account? sign in
Register for free to continue reading
Registration is a free and easy way to support our truly independent journalism
By registering, you will also enjoy limited access to Premium articles, exclusive newsletters, commenting, and virtual events with our leading journalists
Already have an account? sign in
Join our new commenting forum
Join thought-provoking conversations, follow other Independent readers and see their replies