Keaton Henson: The 'British Jeff Buckley' steps out of shadows for classical gig at Meltdown festival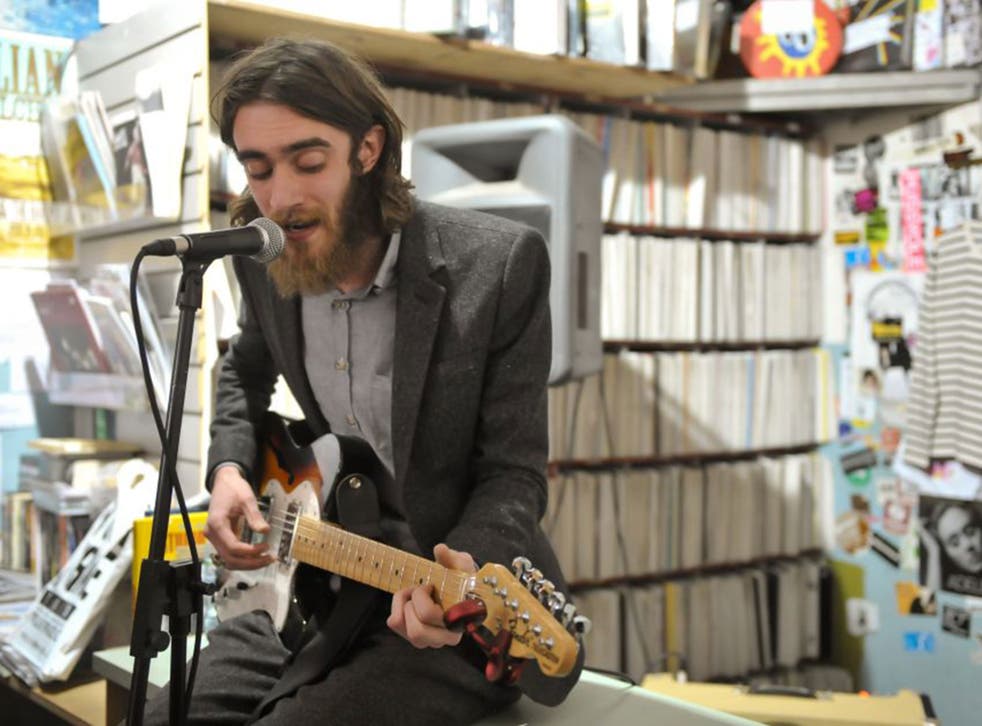 It's four years since Keaton Henson released a debut album of sad, spartan ballads which earned him comparisons to Jeff Buckley.
Despite being hailed as an "extraordinary" new talent, the London songwriter retreated from the spotlight, as he struggled to cope with crippling stage fright.
In his absence the mystique surrounding the 26-year-old grew, as he occasionally issued further examples of the introverted folk recorded in his Richmond bedroom.
But on Monday night Henson will delight his dedicated cult following when he re-emerges with a sold-out concert at the Royal Festival Hall, in which he will perform a musical suite detailing his stage anxiety.
The reluctant balladeer has, until now, withheld details of the concert, part of the Meltdown festival. However, Henson told The Independent that he will unveil a radical change of direction by performing compositions from Romantic Works, a new classical piece written for cello, woodwind and piano released as a download from today.
Recorded entirely in Henson's bedroom, the wholly instrumental Romantic Works opens with "Elevator Song", inspired by an episode of pre-performance anxiety in a lift.
Debuting this new work on the South Bank is a daunting prospect. "I feel as scared, if not more, than any show preceding this and, if I'm totally honest, my main aim is to get through it so I can go back to writing songs and making art," Henson, who rarely conducts interviews, told The Independent in an email exchange.
"The live performance element of what I am doing is still a huge struggle for me, but I am told it's a necessary step to maintaining some kind of fiscal living in this industry."
Henson, the son of actor Nicky Henson and ballet dancer Marguerite Porter, hopes his audience will accept the shift to classical. "Some will enjoy it and others won't, some may be frightened of it. I saw it more as teaching myself a new way of building a song.
Enjoy unlimited access to 70 million ad-free songs and podcasts with Amazon Music Sign up now for a 30-day free trial
Sign up
"The pieces on it are the in-between moments when I found it all too much to write a clever rhyme. It started with "Elevator Song", which I wrote while daydreaming and thinking about a breakdown I had in an elevator in Glasgow."
Henson will also perform songs from his debut album, Dear..., and its follow-up Birthdays, which prompted such critical rapture.
Radio 1 DJ Zane Lowe described his song "You Don't Know How Lucky You Are" as "one of the most special pieces of music I've heard in a very, very long time". One reviewer said Henson had achieved "genuine greatness".
But the solitude-craving musician's inhibitions left him unable make the leap to mainstream success. "As someone who writes songs about my own experience, as honestly as I can, I find myself looking for new emotional wells to draw from all the time. But over the years I have found there are certain subjects I have been unable to mine," Henson said.
"The fear I deal with is one of them. Fear, by definition, is incapacitating – it strips you of your learned skills and leaves you naked. This ... is a hard place to write from, especially when writing verse or lyrics."
Out of the spotlight: Reclusive stars
Scott Walker
The US singer was repelled by screaming teenagers who latched on to The Walker Brothers' ballads, and decamped to England where he recorded a series of solo albums. He hasn't performed live for 35 years.
Syd Barrett
The drug-addled and mentally unstable guitarist was discarded by Pink Floyd in 1968. He released two solo albums but retired from music, moving back in with his mum in 1978. He died in 2006, at 60.
Kate Bush
Her last concert was in 1979. Bush now opts for domesticity and intermittent but well-received studio albums. She stunned fans by announcing she will play 15 shows at London's Hammersmith Apollo in August and September.
Join our new commenting forum
Join thought-provoking conversations, follow other Independent readers and see their replies