The Independent's journalism is supported by our readers. When you purchase through links on our site, we may earn commission.
Watch Kim Petras' glass fairytale in video for 'Heart To Break' - premiere
Exclusive: International pop star Kim Petras unveils her latest music video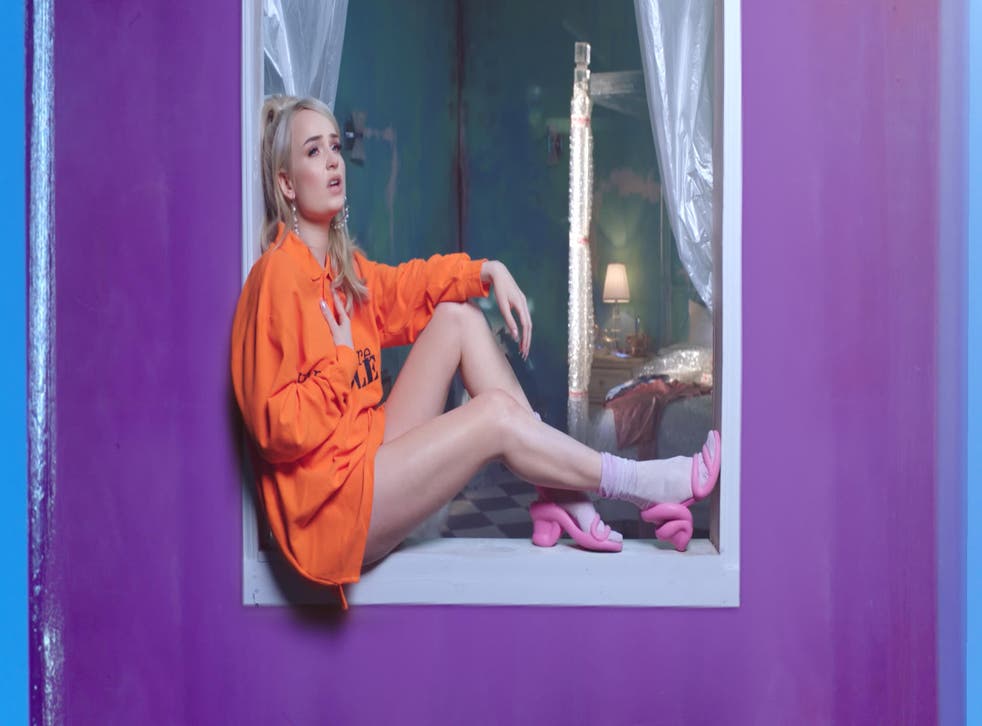 Kim Petras first gained recognition from her 2017 pop track "I Don't Want It At All" with a 00s video fairytale: shopping at the mall and finding a shrine of Paris Hilton.
Now the 25-year-old poptimist is back with the video for her latest bubblegum single, "Heart To Break."
The song - which chronicles the push and pull of relationships and her own heartbreak experiences - feels like it fell right out of Charli XCX's future pop universe.
It's no surprise: Petras was featured on Charli's triumphant mix tape Pop 2 earlier this year on "Unlock It."
With Petras' latest music video for "Heart To Break," she riffs on the classic fairtytale idea, lounging in her purple crystal castle in a room filled with a bubble wrap bed.
In the visual, she eventually transforms into glass herself, shattering on the floor.
She's also shattering stereotypes as an openly trans woman - something she translates into her latest music video.
"This is the biggest music video I've done," Petras said. "It has choreography, painted back drops, CGI - it has all that good stuff. My creative director Nick Harwood and I were looking on twitter, laughing at comments, and noticed somebody said "there should be a trans Disney princess movie." We totally agreed, and thought about what that would look like if we did it as a music video. So we just did it."
She further explained, "We informed ourselves about a lot of glass fairy tales, and even found a real story from the 1800's, where there was a king in Europe who was really scared of being made of glass and of breaking. I think it was called the glass illusion or something. So we just got obsessed with the idea of a princess who is afraid of breaking into a million pieces if she falls in love with somebody. We just fused all of those things together to make the video. I think its really great for the song because the song is such a "hopeless romantic" song, so going fairy tale-ly with the video made sense. I think it turned out really cool, and I'm so excited to share it."
Watch the video for "Heart To Break" below.
Kim Petras just announced her first UK show at The Courtyard Theatre, London, on Friday 25 May. Tickets will be on sale tomorrow via livenation.co.uk.
Join our new commenting forum
Join thought-provoking conversations, follow other Independent readers and see their replies