Led Zeppelin copyright trial: Jimmy Page denies stealing 'Stairway to Heaven' riff
Page drew laughs from the court when he confirmed having a 'gift for the guitar'
Jess Denham
Thursday 16 June 2016 08:21 Comments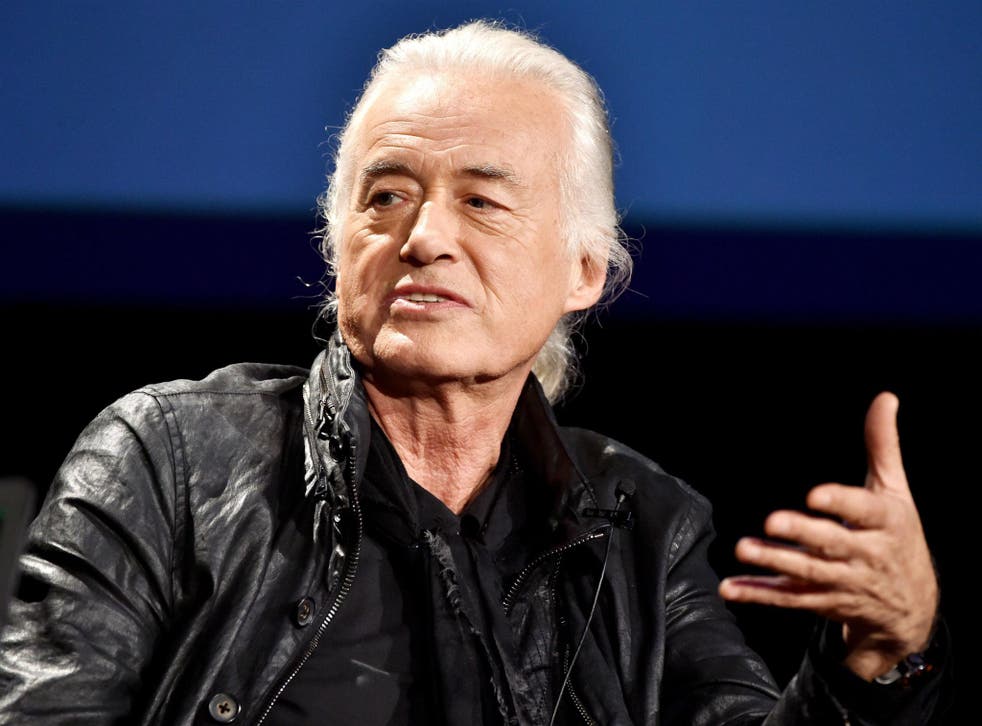 Led Zeppelin guitarist Jimmy Page has denied copying the band's iconic song "Stairway to Heaven" at their ongoing copyright trial in Los Angeles.
Both Page, now 72, and frontman Robert Plant are accused of stealing key notes from a instrumental track called "Taurus" by Spirit. US District Judge Gary Klausner ruled in April that "Stairway to Heaven" bore "substantial" similarities with "Taurus" after Michael Skidmore, a trustee for Spirit guitarist and composer Randy California, real name Wolfe, filed a lawsuit alleging that Page had been inspired to write his hit after touring with Spirit in the late Sixties.
Page, however, told the court on Wednesday that he first heard "Taurus" two years ago when his son-in-law alerted him to the comparisons with "Stairway to Heaven" that were emerging online. "Taurus"It was released in 1967, four years before "Stairway to Heaven". "Something like that would stick in my mind. It was totally alien to me," he said, adding that although he "rather enjoyed Spirit", he could not remember ever seeing them play live and owned just five vinyls by the band in his collection of more than 10,000.
Page acknowledged that Led Zeppelin used to play a riff from Spirit's song "Fresh Garbage" as part of a medley during their early late Sixties shows. "We didn't have a lot of material in those days," he said in written evidence read out in court, admitting that the band would "wink to music that was hot at the time".
Laughs were heard when the plaintiff's lawyer Francis Malofiy asked Page, dressed smartly in a black three-piece suit with his grey hair tied up in a ponytail, if he had a "gift of playing the guitar". "Well, yeah," Page said with a grin.
Former Spirit bassist Mark Andes also testified, stating that the riffs from both songs were the same. He also claimed that Led Zeppelin opened a Denver concert where Taurus played "Spirit" in 1968 and that he once "had a blast" playing snooker with Plant after a 1970 Spirit gig in Birmingham. Andes added that Led Zeppelin and Spirit had shared music festival bills in Texas, Atlanta, North California and Seattle.
Best guitar riffs of all-time

Show all 10

Klausner has ruled that any testimony relating to Led Zeppelin's reputation as "serial plagiarists" will be banned. The group have previously been ordered to pay portions of the royalties for songs like "Whole Lotta Love" and "Boogie with Stu" to other writers, and forced to add credits to several other tracks. The plaintiff is also forbidden from using band members' alcohol and drug use as evidence when arguing against the defence's claim that Led Zeppelin had not heard "Taurus" before composing "Stairway to Heaven".
Plant, Skidmore, Led Zeppelin bassist John Paul Jones, Spirit bassist Mark Andes and music producer Lou Adler are all expected to testify.
The trial continues today.
Register for free to continue reading
Registration is a free and easy way to support our truly independent journalism
By registering, you will also enjoy limited access to Premium articles, exclusive newsletters, commenting, and virtual events with our leading journalists
Already have an account? sign in
Join our new commenting forum
Join thought-provoking conversations, follow other Independent readers and see their replies