Led Zeppelin 'Stairway to Heaven' trial: Copyright case could be declared a mistrial after just one day
There is a dispute over the plaintiff's lawyer showing videos not listed in the case exhibit list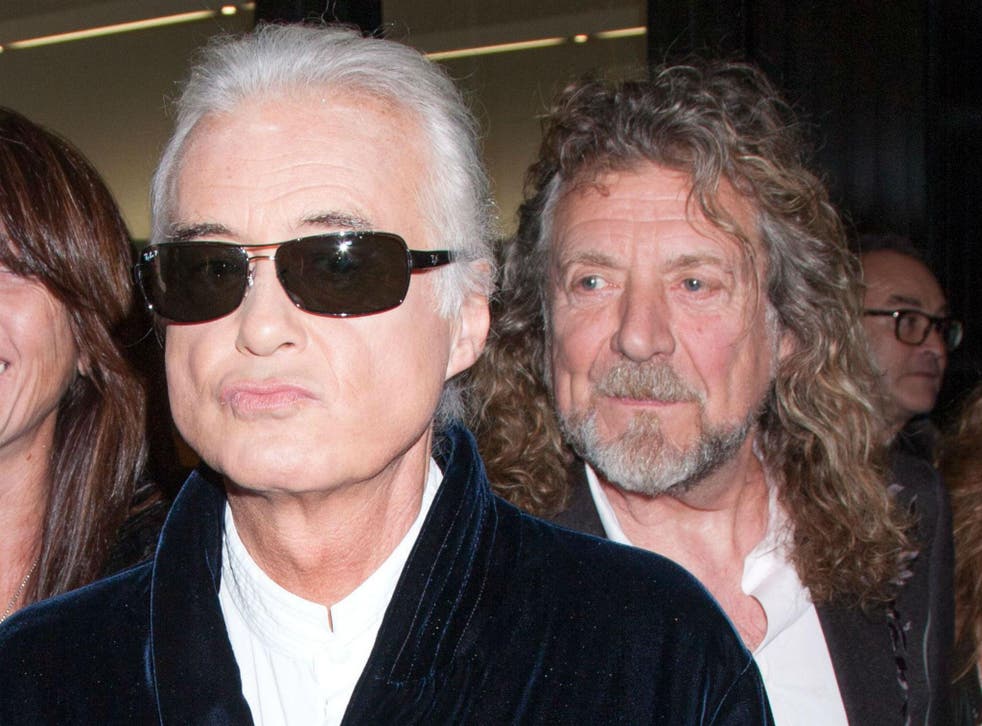 Led Zeppelin's "Stairway to Heaven" copyright trial got underway in Los Angeles on Tuesday but already there has been a dispute over whether a video played as evidence had been properly submitted to the case, sparking debate about a possible mistrial.
Frontman Robert Plant and guitarist Jimmy Page are facing a jury over claims they stole their iconic 1971 song's intro from Spirit's 1967 instrumental track "Taurus", with the plaintiff's lawyer Francis Alexander Malofiy previously confirming that the case is about "credit where credit is due" rather than winning damages. He is seeking a mere $1 settlement along with a writing credit for Spirit guitarist and composer Randy California, real name Wolfe. California's trustees would then receive future profits from "Stairway to Heaven".
US District Judge Gary Klausner ruled in April that "Stairway to Heaven" bore "substantial" similarities with "Taurus" after Michael Skidmore, a trustee for California, filed a lawsuit alleging that Page had been inspired to write his hit after touring with Spirit in the late Sixties.
Malofiy is citing a 2014 copyright law change as the reason why the case has been brought to court more than 45 years after "Taurus" was released, along with repeated indications that Led Zeppelin were fans of the band and their music. He said in his opening statement that while Plant and Page were "incredible performers, incredible musicians", they "covered other people's music and tried to make it their own".
However, Malofiy hit a stumbling block on the trial's opening day when he tried to play a video of an acoustic session musician performing "Taurus" and "Stairway to Heaven" first separately. Defence lawyer Peter Anderson objected, claiming that the video had not been noted in the case exhibit list. "If it's not been received in the evidence, it's the basis of a mistrial," Klausner said, according to US music magazine Rolling Stone, which had reporters present in court. Malofiy proceeded to play the video anyway, followed by Page and Plant playing the opening 2.14 minutes of "Stairway to Heaven" in contention.
Best guitar riffs of all-time

Show all 10

Anderson claims Wolfe's trust does not own "Taurus", which he alleges has been introduced into the lawsuit by "unclean hands" after royalties were secretly denied to Wolfe's son (whom California tragically drowned saving from a riptide in 1997). He also argues that evidence shows the descending chromatic line has been a "commonplace" feature of songs since the 1600s, noting that Spirit failed to credit "Michelle" by The Beatles on "Taurus". Anderson insists that even if the jury does hear similarities between "Stairway to Heaven" and "Taurus", it will likely be a result of Led Zeppelin using musical elements that cannot be copyrighted. He also claims that Plant and Page "created 'Stairway to Heaven' independently without resort to Taurus or without copying anything in Taurus".
Listen to the two songs here:
"Stairway to Heaven"

"Taurus"

Klausner has ruled that any testimony relating to Led Zeppelin's reputation as "serial plagiarists" will be banned. The group have previously been ordered to pay portions of the royalties for songs like "Whole Lotta Love" and "Boogie with Stu" to other writers, and forced to add credits to several other tracks. The plaintiff is also forbidden from using band members' alcohol and drug use as evidence when arguing against the defence's claim that Led Zeppelin had not heard "Taurus" before composing "Stairway to Heaven".
Plant, Page, Skidmore, Led Zeppelin bassist John Paul Jones, Spirit bassist Mark Andes and music producer Lou Adler are all expected to testify. It is not yet known whether Anderson will argue for a mistrial.
Join our new commenting forum
Join thought-provoking conversations, follow other Independent readers and see their replies