Lionel Richie hits big time again… as an Iraq 'n' roll star
Soul legend's songs such as 'Hello' have taken the Arab world by storm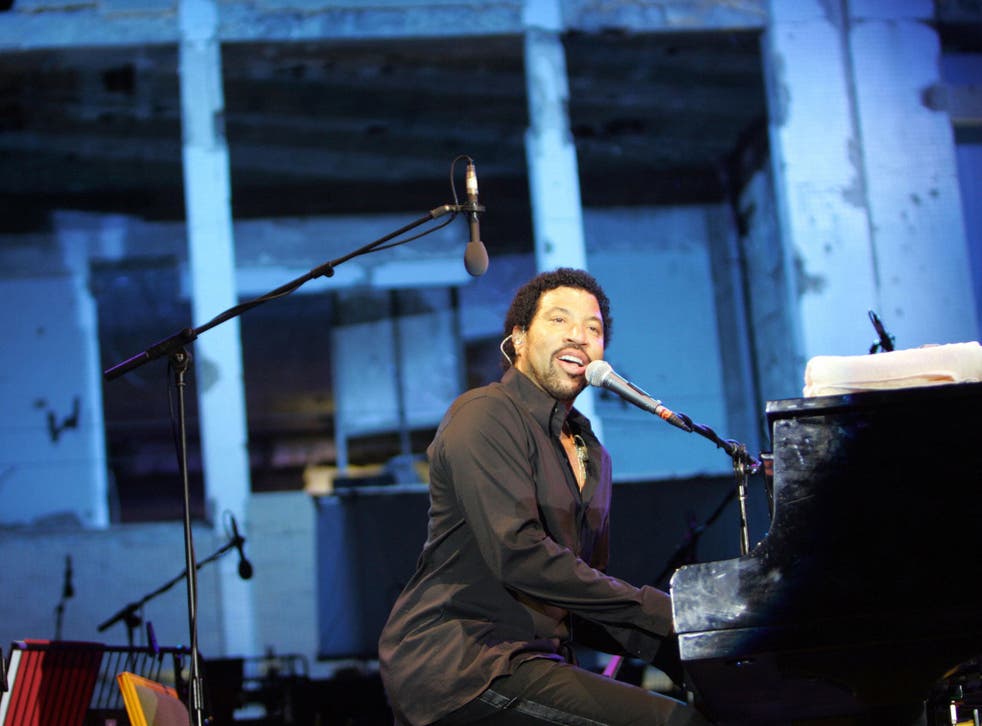 Historically, Iran and Iraq have had their differences. But both nations are united in rapture over the love songs of Lionel Richie, to the astonishment of the soul legend.
Over the past decade, the "Hello" singer has become a phenomenon across the Arab world. Iraqis blasted out "All Night Long" on the night in 2003 when US tanks invaded Baghdad. Iraqis who speak no English can still sing the entire Richie songbook.
In the Kurdistan city of Erbil, authors read their poetry to interpretations of songs by Richie at a literary festival held this year, designed to bring Arabic, Kurdish and British writers together.
His popularity extends from Iran to Libya, where Richie performed for Colonel Gaddafi, and the Gulf states, where Saudi royals frequently invite the star to sing at private parties.
"This is the probably the most fascinating experience of my career," the artist who has sold 100 million records, told The Independent. "The music has found its way to the Middle East. It's enjoyed by the Shi'ites in Iran and it's popular in Libya."
Richie, 63, believes a universal message is the key. "It's a region that has an amount of restrictions in how much you can say but it comes down to 'I Love You'. That crosses every border. It's a part of everyone's life."
A large number of London Arabs are expected at Richie's Hyde Park British Summer Time concert on 14 July, where Jennifer Lopez will also perform. The former Commodores star would like to play a show in Baghdad. "The region is opening up and they really want me to come there. It makes me very proud," he said. "I get direct invitations from the Saudi royals."
Richie was paid $250,000 (£165,000) to sing for Prince Azim, the son of the Sultan of Brunei. He was criticised for appearing at a 2006 concert in Tripoli with Colonel Gaddafi marking the 20th anniversary of the US bombing raids on Tripoli and Benghazi.
Richie described the concert as a "peace" event, honouring the death of Gadaffi's adopted daughter, Hanna.
Enjoy unlimited access to 70 million ad-free songs and podcasts with Amazon Music Sign up now for a 30-day free trial
Sign up
However Richie, who was told by Nelson Mandela that his songs had given him strength during his prison ordeal, cannot dictate how his songs are employed. An elevator version of "Hello" formed the backdrop to an oil and gas auction held in Baghdad's Ministry of Oil, staged in front of an honour guard carrying Kalashnikov rifles fixed with bayonets.
Richie paid a flying visit to Iraq last year when he dropped in on the Iowa National Guard's Bravo Company. The unit, which operated at night to use darkness as a cover, adopted his "All Night Long" as their motto and produced merchandise depicting the lyrics and Richie's face.
Britain's got talent: Playing away
Chris de Burgh
The "Lady In Red" singer is adored in Lebanon. As the people of Beirut sheltered in bunkers during the civil war, they took their minds off their dreadful situation by listening to music. De Burgh was a popular choice and he still has legions of Lebanese fans.
Sir Norman Wisdon
During the dictatorship of Enver Hoxha, the only Western films allowed to be shown in Albania were those starring Sir Norman Wisdom. Albanians knew him as "Pitkin", a character in his slapstick comedies, and Prime Minister Sali Berisha sent a letter of condolence to his family following his death in 2010.
Samantha Fox
The former Page 3 pin-up and occasional pop singer was invited to perform at a festival in the Serbian city of Cacak in 2007. There were plans to erect a life-size marble statue in her honour but these were scrapped when Fox stormed off stage after fans demanded to see her assets rather than hear her sing.
Liam O'Brien
Register for free to continue reading
Registration is a free and easy way to support our truly independent journalism
By registering, you will also enjoy limited access to Premium articles, exclusive newsletters, commenting, and virtual events with our leading journalists
Already have an account? sign in
Register for free to continue reading
Registration is a free and easy way to support our truly independent journalism
By registering, you will also enjoy limited access to Premium articles, exclusive newsletters, commenting, and virtual events with our leading journalists
Already have an account? sign in
Join our new commenting forum
Join thought-provoking conversations, follow other Independent readers and see their replies