Industry figures warn of 'serious' problems facing UK live music scene
Experts warn Britain could lose its reputation for music if nothing is done to support the industry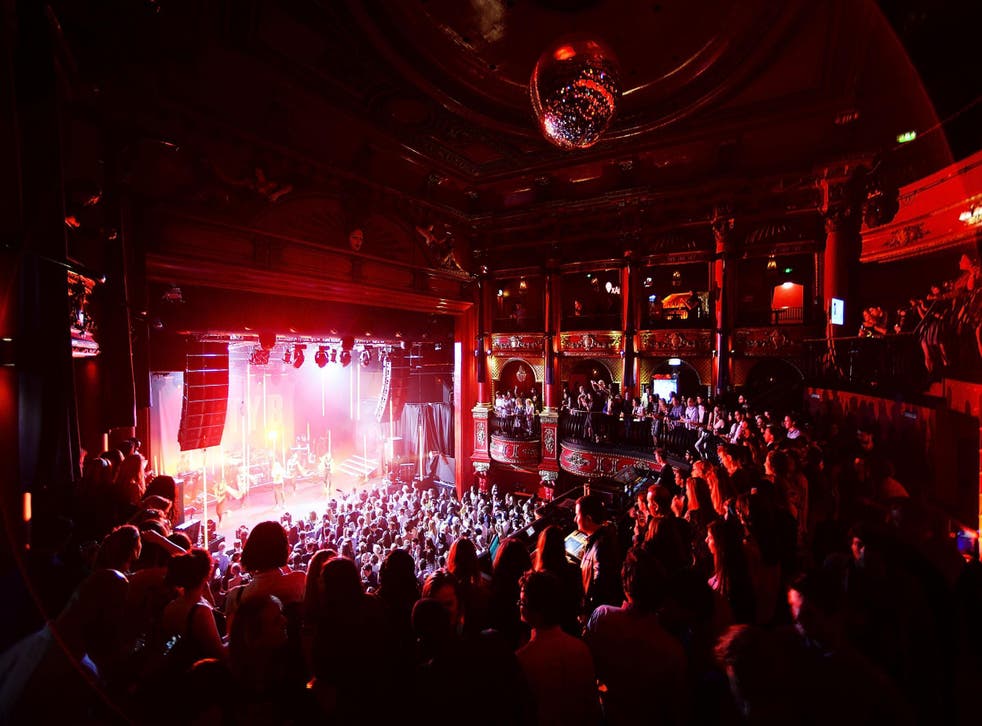 Famous artists and senior music industry figures have called for action to help the UK's struggling live music scene.
Giving evidence to the Digital, Culture, Media and Sport Committee, experts warned that live music venues need support to soften negative effects they are likely to face over the next decade.
The live music industry in Britain attracted more than 30m music fans in 2016, with live music tourism contributing £4bn to the UK economy that same year.
However, the number of grassroots music venues in the UK has declined drastically, causing concern over issues such as finding future festival headliners, boosting tourism, and furthering Britain's cultural reputation around the world.
The UK's first live music census, which was published in February this year, showed how Britain's small venues are struggling due to increased business rates and property development.
It was suggested that a third of small venues had issues with property development and complaints over noise pollution – which often arise when tenants move into new buildings next to established music venues.
Twenty-nine per cent of small venues, and 27 per cent of all venues, reported experiencing problems with property development around their premises, which can provoke complaints from nearby residents.
Award-winning rapper ShaoDow was among the figures to speak about their experience at the committee meeting, where he explained how live music venues are essential for emerging artists.
"You hone your craft, you get good at what you're doing and move up to bigger venues, but it also gives a massive community feel that allows you to connect with your fans," he said.
Enjoy unlimited access to 70 million ad-free songs and podcasts with Amazon Music Sign up now for a 30-day free trial
Sign up
"Some of my favourite performances have been in small music venues. Having booked a tour this year I struggled to find venues of a certain capacity to meet my needs."
Ben Lovett of the band Mumford & Sons, who founded the London venue Omeara and also runs the music company Communion, told the committee it was important to "get ahead of the issue".
"It might not seem to prevalent now but when we strip out the roots of our culture, it's 10 years, 20 years from now that we'll feel the downside of that," he said.
Mark Davyd, chief executive of the Music Venue Trust, added: "It is a problem everywhere. When a music venue on the touring circuit closes down, it's extremely unlikely it's coming back under the current economic circumstances."
Among the UK venues highlighted in the evidence was the iconic 100 Club in London, which is the longest-running live music venue in the world.
Owner Jeff Horton, whose family has run the venue for decades, explained one of the reasons behind the 100 Club's longevity was history itself, which attracted potential sponsors. He pointed out that other, younger venues would not be given the same opportunities.
"One of the things I came across in the report is that in 2014, something like 70 per cent of headline acts at British festivals had played the 100 Club at some point in their careers," he said.
"I think there's an impact here on everybody. It's going to be very difficult if the current closures continue, to say who will be a headliner at the next Glastonbury, if there's nowhere for these bands to play.
"There could also be a huge impact on tourism. Music is what we do, and we're still brilliant at it. [But] if this continues, I think the impact will be for everyone, not just for small or even large music venues."
UK news in pictures

Show all 50
Much of the emphasis was on how important live shows are to an emerging artist. ShaoDow compared small music venues to "primary or secondary in your education, for a new musician's career".
"You can't just skip those steps," he said. "For the majority of artists in this country, it's off our own backs and we do it because we love it. With the closure of so many small music venues, it becomes more difficult.
"In an age where streaming has taken governance over the way music is consumed, as artists our income has taken a massive hit. To supplement that, you have to do other things such as live shows. It's still a very integral part of our revenue stream.
"Without it, it's going to get to a point where musicians cannot afford to live and create. I live entirely off my music, and it's something I want to continue doing, but it's becoming increasingly difficult."
Lovett pointed out that Mumford & Sons performed around 40 to 50 shows in small London venues before branching out to the rest of the UK: "I'd say 20 per cent of venues those exist today, and that was only 10 years ago. That's a crying shame," he said.
Davyd said that London has "50 per cent of the number of venues that New York does".
"Countries and cities that we like to think we're on a par with… we're actually a long way off the mark," he added.
All the evidence presented at the evidence session can be found on the Committee's website.
Join our new commenting forum
Join thought-provoking conversations, follow other Independent readers and see their replies