Martin Shkreli 'lists unreleased Wu-Tang Clan album on eBay', bids reach $1m
Disgraced and convicted businessman appears to be selling the album and has pledged to donate half the money to a non-for-profit charity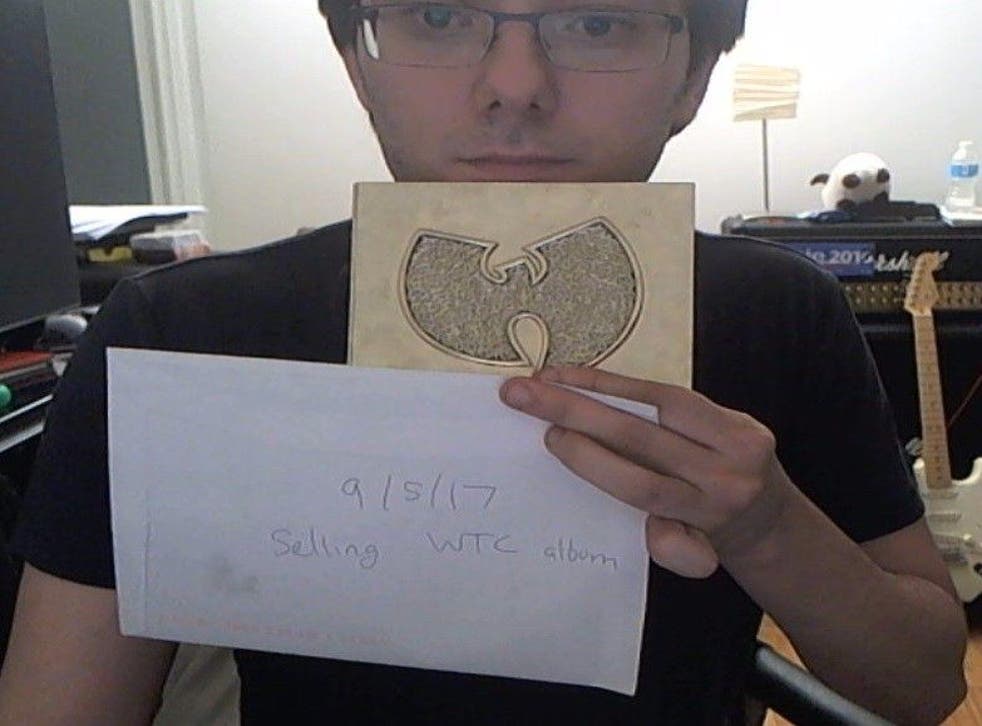 Martin Shkreli appears to have listed the sole existing copy of Wu-Tang Clan album Once Upon a Time in Shaolin on eBay.
The former CEO of Turing Pharmaceuticals, who was last month convicted on two counts of securities fraud, was revealed as the winner of an auction for the CD in 2015, with a winning bid of $2 million.
On 5 September he put the album back up for auction on eBay for $1 - the current bid at the time of writing was $1,000,100.
Shkreli wrote on the description: "This is the one and only Wu-Tang clan album.
"I decided to purchase this album as a gift to the Wu-Tang Clan for their tremendous musical output. Instead I received scorn from at least one of their (least-intelligent) members, and the world at large failed to see my purpose of putting a serious value behind music.
"I will be curious to see if the world values music nearly as much as I have. I have donated to many rock bands and rappers over the years to ensure they can continue to produce their art when few others would.
"At any time I may cancel this sale and I may even break this album in frustration. I will donate half of the sale proceeds to medical research. I am not selling to raise cash - my companies and I have record amounts of cash on hand. I hope someone with a bigger heart for music can be found for this one-of-a-kind piece and makes it available for the world to hear."
He added: "Upon sale, I will represent & warranty any copies of the music I have will be destroyed. I have not carefully listened to the album, which is a double CD. There is also a finely crafted booklet which you can read about elsewhere. I will pay legal expenses for the buyer up to $25,000 to ensure the final purchase details are mutually agreeable."
On 6 September Shkreli also updated the sale information with the following [emphasis Shkreli's own]: "I WILL NOT BE DONATING UNTIL I GET CONFIRMATION FROM THE RECEIVING NON-FOR-PROFIT CHARITY THAT THEY WILL ACCEPT THE DONATION."
Some fans have questioned whether the sale is legal, due to the limitations placed on the album by the Wu-Tang Clan.
Enjoy unlimited access to 70 million ad-free songs and podcasts with Amazon Music Sign up now for a 30-day free trial
Sign up
There are strict limitations on the distribution of the 31-track double album, with a statement from the band reading: "It can be exhibited publicly and it can be given away for free. But it cannot be commercialised as a conventional album release until 2103. Even then, it will be the owner's decision to release it or keep it as a single unit, not the Wu-Tang."
Responding to one user, Shkreli, who leaked parts of the album online after Donald Trump became US President, responded: "The sale is legally allowed. The buyer may not commercialise the work for 86 further years. The buyer may sell the CD to another buyer, however. The buyer may also release the music for free or play it publicly for free. I believe a public performance for a fee is also allowed. Legal documents will be provided to serious bidders."
The Independent has reached out to a representative of the Wu-Tang Clan for comment.
Register for free to continue reading
Registration is a free and easy way to support our truly independent journalism
By registering, you will also enjoy limited access to Premium articles, exclusive newsletters, commenting, and virtual events with our leading journalists
Already have an account? sign in
Register for free to continue reading
Registration is a free and easy way to support our truly independent journalism
By registering, you will also enjoy limited access to Premium articles, exclusive newsletters, commenting, and virtual events with our leading journalists
Already have an account? sign in