Meet AKB48: Pop, sex and schoolgirl schtick make for controversial success
The group is one of the world's most successful acts  – but they are steeped in controversy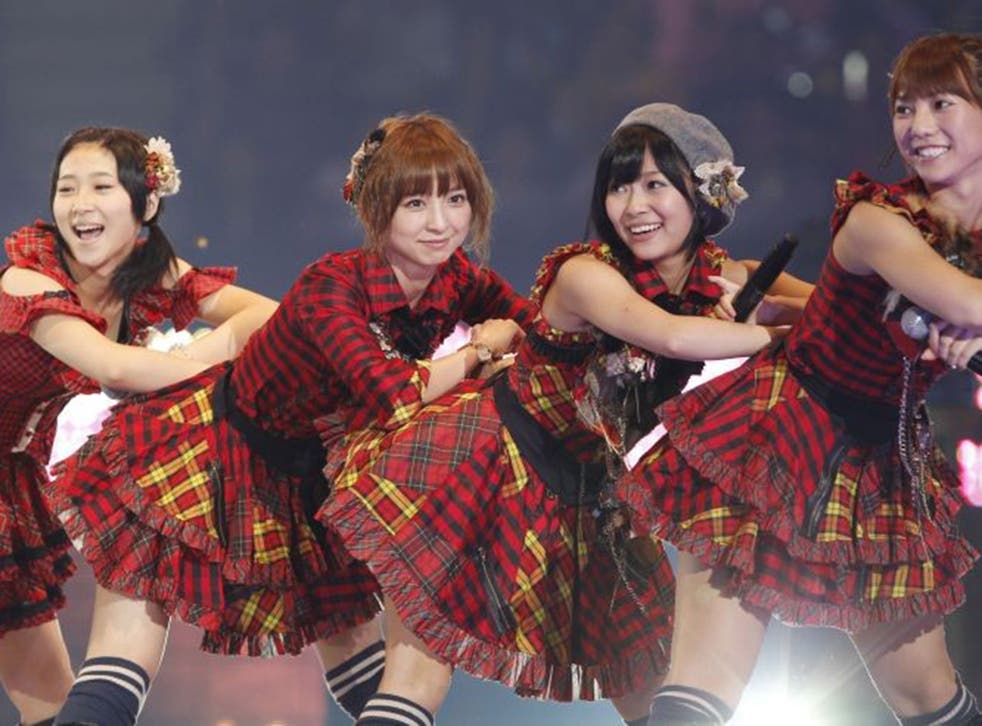 It's a weekday evening in Tokyo and high-octane J-pop bounces off the walls of a crowded club.
On stage, 18 teenage girls wearing pink pyjamas and fixed smiles rattle through a series of synchronised dance steps belting out songs like a well-drilled, if risqué school choir.
"S-U-G-A-R," they chorus, pumping the air with their fists. "Jump into your racing car; SUGAR RUSH SUGAR RUSH, HEY! The audience, students, office workers and middle-aged men, sing along, cheer and wave light sticks – 95 per cent are male.
The music stops and each girl performs a monologue and then it's back to the jackhammer soundtrack and a series of eye-melding costume changes: tartan skirts and schoolgirl uniforms. Welcome to the world of AKB48.
AKB48 is one of the world's most-successful pop acts, with over a dozen chart-toppers and annual CD and DVD sales of over $220m (£128.5m).
Among the Guinness world records they hold is one for most number of appearances in different television commercials in a single day (90). AKB48 have their own manga series, monthly newspaper and a string of best-selling video games. The Japanese government has even put them on a postage stamp and enlisted them to sell state bonds.
The band are known for holding "handshake events" where fans can meet their idols, but they were halted after an attack at an event in May where two members were assaulted by a man with a saw. They began again just over a week ago in Tokyo –with each member shadowed by security guards.
The AKB48 monster (the "48" is supposed to stand for the number of regular members) was born nearly a decade ago in Akihabara, Tokyo's capital of geeky cool.
Record producer Yasushi Akimoto hit upon the idea of an all-girl group that would perform daily in its own exclusive theatre, above a department store, drawing in customers off the street. Thousands of girls were auditioned and eventually a team of 24 was formed.
Today, ABK48 are an institution, commanding the nation's attention for weeks during the lead up to an annual live "election" at Tokyo's Nippon Budokan concert hall to elect the most popular members. The public can only vote by buying a copy of the group's latest single – priced ¥1,200 yen (£6.90) – and some have been reported buying dozens of copies. The election is broadcast live on national television, complete with polling updates and expert analysis.
Enjoy unlimited access to 70 million ad-free songs and podcasts with Amazon Music Sign up now for a 30-day free trial
Sign up
But all that success is steeped in controversy. There is the group's flirtation with underage sexual imagery and themes. In "My School Uniform Is Getting in the Way," the girls sing: "I want to take off my school uniform, I want to misbehave, you can do whatever you like, I want to experience adult pleasure."
In an interview with CNN in 2012, the producer defended charges of sexual exploitation, saying he was depicting the realities of teenage life in his lyrics and images.
"I'm not forcing them. I'm picturing their private lives, partly based on my imagination or newspaper articles or television news. I watch what their generation is doing."
Mr Akimoto is now trying to export his empire abroad. AKB48 has sister groups in China, Taiwan and Indonesia. He believes the "idol you can meet" formula might even work in the US or Europe.
But not everyone is convinced. Steve McClure, a former Asia bureau chief for Billboard magazine and the executive editor of online music-industry newsletter McClureMusic.com says the group cannot escape its Japanese moorings. "The AKB48 phenomenon says a lot about Japanese society. Their music, with its emphasis on group vocals and lack of harmony, ironically reflects the premium placed on group harmony and non-threatening mediocrity by Japanese society and the mass media."
"Labrador Retriever", AKB48's last single, sold around 1.8 million copies. Tickets for those concerts at the Akihabara theatre, where AKB48 perform every day, are oversubscribed by 100 to one. Hundreds of disappointed fans watch on a video screen outside the theatre.
Yuta Kato, a 26-year-old office worker travelled from the other side of the country to see the group.
"The appeal for me is that they are all individuals and you see each one grow," he says. "The more you follow them the more interested you become in their lives."
Like most male fans he denies any sexual attraction.
"They're more like little sisters than potential girlfriends," he insists.
Back in the theatre, the girls are nearing the end of their routine. A business man, jacket on his arm, tie undone, stares up, eyes wide, a serene smile on his face.
"Because I LOVE you," the girls sing in unison. Then, after final squeaks and thumps from the speakers, they're gone.
Join our new commenting forum
Join thought-provoking conversations, follow other Independent readers and see their replies