PonoMusic: Neil Young reaches Kickstarter target to fund new music player within a day
Musician has exceeded $800,000 target with 34 days to go
Adam Sherwin
Wednesday 12 March 2014 14:46 Comments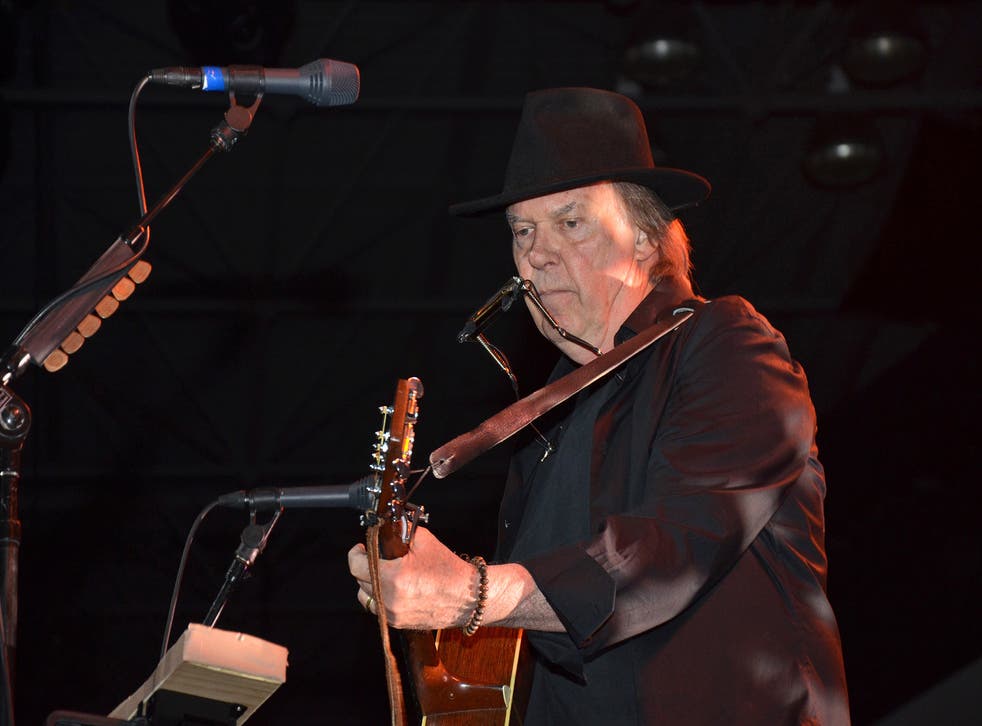 Neil Young has secured more than $1.5 million in Kickstarter pledges to launch PonoMusic, the singer's new high-fidelity music store and player which promises to deliver studio-quality sound quality to audiophiles.
Backed by endorsements from Sir Elton John, Bruce Springsteen and Sting, Young, 68, unveiled Pono at the SXSW music convention in Texas.
The performer, a long-term critic of MP3 files which he believes have degraded the music listening experience, launched a crowd-funding appeal for his new start-up company.
Young's Kickstarter target, of $800,000, was exceeded with 34 days to go. After more than 4,000 backers pledged their support, Young was on course to double his initial target by Wednesday evening.
PonoMusic, an "end-to-end ecosystem for music lovers," will sell high-resolution audio digital tracks, through an Apple-style online store.
They are played on the portable PonoPlayer, a potential rival to the iPod and its successors, which will be able to store up to 2,000 digital albums and initially costs $399 (£240).
Digital albums downloaded via PonoMusic are expected to cost between $14.99 and $24.99.
"This is rescuing music," Young told the convention. "It's an artist-driven movement to take it back."
Sir Elton, appearing alongside Springsteen, Dave Grohl, Arcade Fire and other artists in a video, said: "I haven't heard a sound like that since vinyl. It was wonderful."
Kickstarter backers pledging $300 will receive a discounted first edition PonoPlayer, a prism-shaped 128GB device that specialises in premium-quality FLAC (Free Lossless Audio Codec) music files.
Enjoy unlimited access to 70 million ad-free songs and podcasts with Amazon Music Sign up now for a 30-day free trial
Sign up
For $400, they can secure an "artist signature series", which include laser-engraved signatures and music picks from artists including Beck, Patti Smith and the Foo Fighters. For $5,000, backers can attend a VIP dinner and listening party with Young.
Young said that his high-quality music files will contain "about 30 times more (sound) data" than the average MP3. They will offer the studio-quality resolution the artist originally intended, at up to 9,216 kilobits per second versus the iTunes/industry standard of 256 kbps.
"So now you'll hear the nuances, the soft touches, and the ends on the echo – the texture and the emotion of the music the artist worked so hard to create," Young said.
Pono claims have the support of major record companies and is "working with independent labels across all genres". The Pono players are expected to begin production in the Summer.
The SXSW presentation was brought to a close when a member of the audience asked: "What's your cut?" Apple takes a 30% chunk from sales made through the iTunes Store. "That's a delicate question, isn't it?," Young replied.
The singer-songwriter had argued that children raised in the digital age are losing out because they have not been "nourished" by the experience of three-dimensional, immersive sound.
He said: "They can identify the name of the song and they can learn the melody from listening to it, but inside their souls they're just not getting what we got because there's just nothing there for them. The human body is so sensitive….when it sees great art, it feels good. (So) with our music, we were deprived and we started getting very little, a minuscule 1/20th of what we listened to."
Register for free to continue reading
Registration is a free and easy way to support our truly independent journalism
By registering, you will also enjoy limited access to Premium articles, exclusive newsletters, commenting, and virtual events with our leading journalists
Already have an account? sign in
Join our new commenting forum
Join thought-provoking conversations, follow other Independent readers and see their replies