The Independent's journalism is supported by our readers. When you purchase through links on our site, we may earn commission.
Nicki Minaj confuses fans with Margaret Thatcher radio shout-out
'Everyone has to express their truth and I have to ruffle a few feathers along the way, I don't care'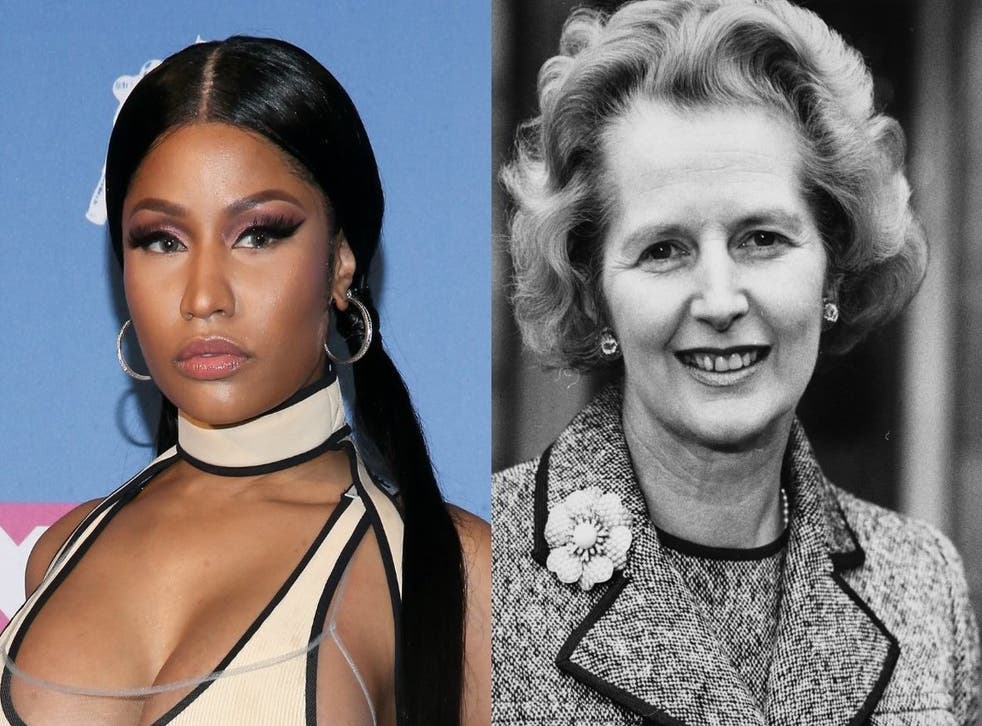 Nicki Minaj has caused a whirlwind of confusion on social media after giving a shout-out to Margaret Thatcher, the late former Prime Minister.
"Everyone has to express their truth and I have to ruffle a few feathers along the way, I don't care," Minaj said on her Queen Radio show. "Shout out to Margaret Thatcher. Sometimes queens and women of power have to do things that even they aren't happy about doing, but they know it's for the betterment of what's to come and who's to come."
Though widely known in the US as the first female Prime Minister of the United Kingdom and by her nickname, "The Iron Lady", there's less consciousness surrounding her political legacy.
One of the most controversial political figures in British history, Thatcher's focus on deregulation and privatisation saw unemployment rise from 13.4% to 22.2% over the course of her governance, with the incomes of the richest in society having risen significantly.
She opposed placing sanctions on Apartheid South Africa and labelled the party of Nelson Mandela as "terrorists". She also implemented the "Section 28" law, which dictated local authorities "shall not intentionally promote homosexuality or publish material with the intention of promoting homosexuality".
Minaj's shout-out came moments after she compared herself to civil rights hero Harriet Tubman, who escaped slavery and then helped free hundreds of others.

The rapper's "Queen Radio" on Beats 1 has seen her utilise the platform to call out others in the industry, including Travis Scott, who beat her in the US album charts after the release of her own Queen.
Follow Independent Culture on Facebook for all the latest on Film, TV, Music, and more.
Register for free to continue reading
Registration is a free and easy way to support our truly independent journalism
By registering, you will also enjoy limited access to Premium articles, exclusive newsletters, commenting, and virtual events with our leading journalists
Already have an account? sign in
Register for free to continue reading
Registration is a free and easy way to support our truly independent journalism
By registering, you will also enjoy limited access to Premium articles, exclusive newsletters, commenting, and virtual events with our leading journalists
Already have an account? sign in
Join our new commenting forum
Join thought-provoking conversations, follow other Independent readers and see their replies