One Direction's credibility will hit new highs after 'dope' scandal, brand experts predict
Footage of band members smoking joint could be the making of a new, mature One Direction, according to PR experts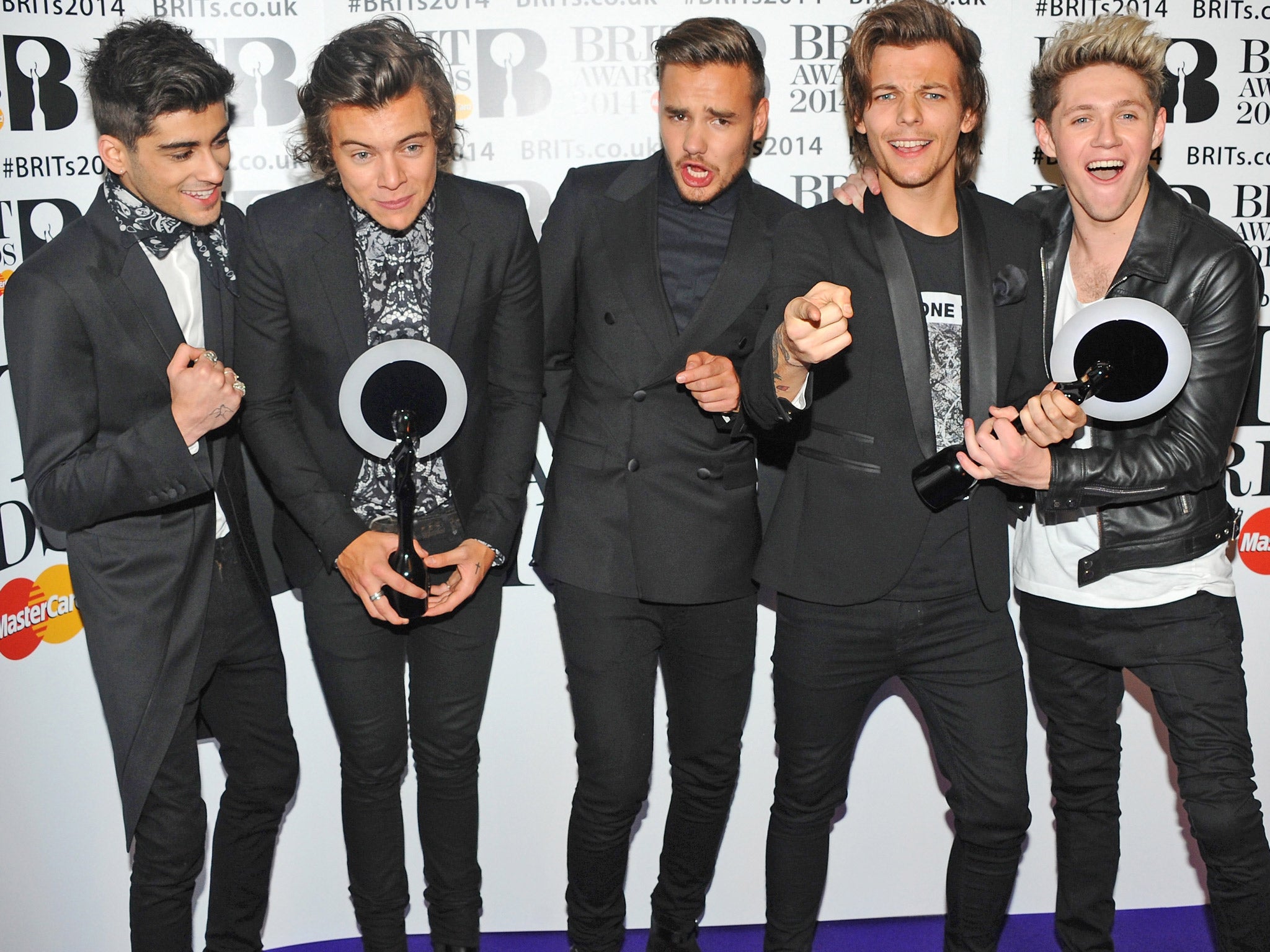 Their clean-cut image may have gone up in smoke. But One Direction's credibility will scale new heights, branding experts predict, following the release of footage showing two members of the boyband apparently smoking dope.
Video footage, leaked to Mailonline, showed Louis Tomlinson, 22, and Zayn Malik, 21, joking about a "joint" and "illegal substances" as they smoke what looks like a rolled-up cigarette in the back of a car in Peru, during their South American tour last month.
The website reported instances of the band's huge global fanbase "ripping up, burning or selling their tickets for the upcoming gigs in the UK, Europe and America," in disgust at their idols' apparent behavioural lapse.
Since their creation in the 2010 series of the X Factor, Simon Cowell's most successful creations have amassed a joint wealth of £70m, boosted by commercial deals with corporations such as Pepsi Co, which would not wish to see their brand ambassadors associated with drugs.
A spokesman for the band, whose UK stadium tour began in Sunderland last night, said: "This matter is in the hands of our lawyers."
1D: Crazy things Directioners say
Show all 20
However the footage, shot in a country where possession of a small amount of cannabis is not illegal, could actually be the making of a new, mature One Direction.
For fellow stars such as Miley Cyrus and Justin Bieber, seeking to outgrow their tween audience, public declarations of marijuana usage has become a rite of passage.
Mark Borkowski, the public relations consultant, said: "It's a good career move considering the sell-by stamp date on One Direction's arse. Surprise, surprise, a band of young pop stars smoke dope. It helps them with the credibility factor."
Borkowski does not suggest that the leak was a deliberate "inside job". The involvement of lawyers clearly suggests the band is concerned by the release of the footage.

Enjoy unlimited access to 70 million ad-free songs and podcasts with Amazon Music
Sign up now for a 30-day free trial
Sign up

Enjoy unlimited access to 70 million ad-free songs and podcasts with Amazon Music
Sign up now for a 30-day free trial
Sign up
"They would probably rather not have this attention but now they need to monitor the fan reaction and ensure they don't let a vacuum build," Borkowksi said.
The reputation management expert said similar scandals had not harmed Kate Moss's career, despite initial outrage. The greatest threat for One Direction would be police involvement. "A conviction can harm visas to travel to the US. But these crises allow everybody to rethink the brand and consider what the band members should be doing next."
Whilst the red-tops might be frothing at a potential "drugs scandal," Tim Ingham, editor of Music Week, said their reaction on social media told a different story: "The fans have responded with humour and taken it in their stride. They are angry with the outrage of the tabloid press.
"We shouldn't be surprised that a group of men in their early 20s are apparently experimenting with the trappings of youth culture, the same as a student working in Weatherspoons. It's probably helpful in making the band appear more credible."
Ingham compared the incident to the 2001 arrest of members of previous teen idols S Club 7 who were caught in possession of cannabis in the West End. The band delivered a fulsome apology after their wholesome image was shattered.
The editor said: "People now see smoking weed as arguably harmless. The band can laugh it off and it will be quickly forgotten by their fanbase. They decide the future of the band through social media now, not the tabloids."
Robbie Williams rebelled against the regimentation of boyband life by partying with Oasis at Glastonbury during a period of drug use which coincided with his departure from Take That.
But One Direction may emerge stronger than contemporaries Bieber and Cyrus, who have alienated many of their original fans with their anti-social outbursts. "The One Direction video is quite sweet. They're just talking nonsense in the back of a car," Ingham said. "Unlike Bieber and Miley Cyrus who flagrantly show off their weed consumption this wasn't intended for public consumption."
For once, the Twitter response to a "scandal" was the most level-headed. "There are still 200 girls missing in Nigeria & you lot are up in arms about One Direction smoking a spliff???," asked one fan.
Many sympathised with the Popjustice ‏tweet: "Imagine being One Direction's driver and having to put up with those two in the back of your car all day."
Yet the impact of the band's experimentation on their brand of sanitised pop may be far-reaching. Ingham warned: "I don't think any of us are ready for One Direction's psychedelic album featuring seven-minute sitar solos."
Join our commenting forum
Join thought-provoking conversations, follow other Independent readers and see their replies