Play it again, Chas: Chas & Dave make their big comeback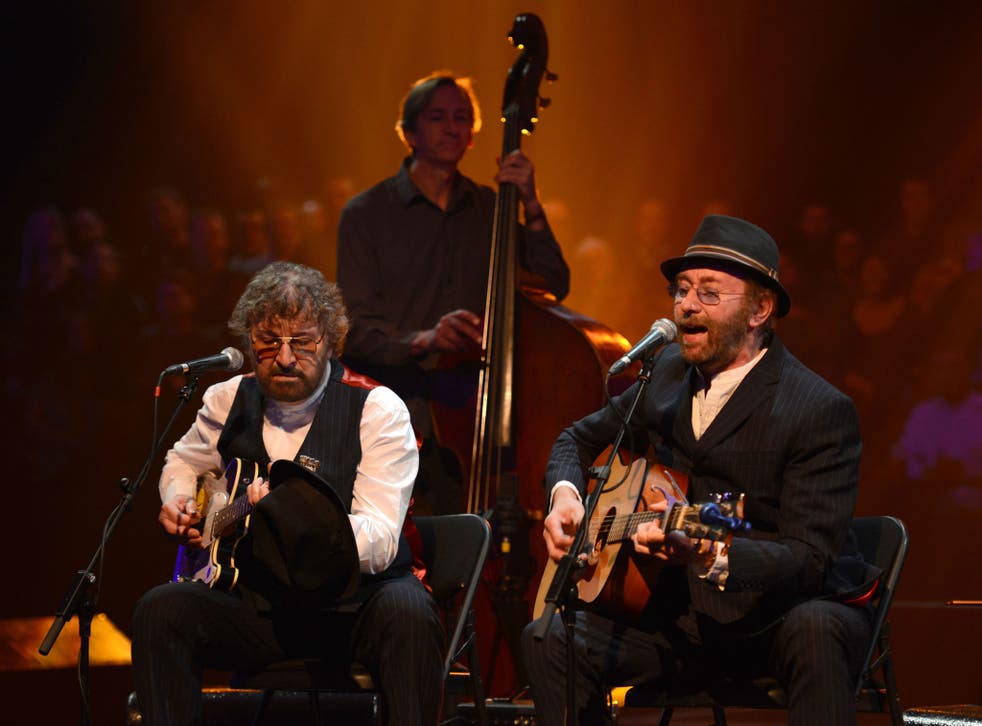 Hits such as Snooker Loopy, Rabbit and Gertcha established Chas & Dave as two of the towering figures of the 1980s light entertainment-pop cross over world. Now, 18 years since their last album the Rockney duo are being re-launched as the credible grandfathers of British rock n' roll.
Record company Warner Brothers, fresh from making House actor Hugh Laurie into a bankable jazz-blues recording star, will release a new album of material next month going back to their roots on the 50s skiffle scene.
Produced by Joe Henry, who has worked with Elvis Costello and Hugh Laurie, That's What Happens, has already been hailed by Jamie Cullum, with whom they have recorded a forthcoming BBC Radio 4 documentary. Cullum describes them as "my musical heroes" and "two of the finest musicians to come out of this country".
Pianist and lead singer Chas Hodges said the duo had long been forced to put up with suggestions that there music was little more than a joke.
"We were dubbed with the novelty tag in a lot of people's eyes years ago which was slightly annoying but then you go along with it. If they can't see that we are great musicians then they are missing something," the 69-year-old told The Independent.
There are some who will always struggle to take Ossie's Dream – a paean to their favourite football team Tottenham Hotspur and its striker Osvaldo Ardiles - or 1986's Snooker Loopy which featured Steve Davis and Denis Taylor on backing vocals, seriously.
According to Hodges however these people are wrong. "To me it's like having a bit of fun along the way. As soon as you start having some fun people don't take you seriously for some reason.
"I suppose that is true in any profession. They think `oh they can't be any good; they are in the studio with a football team'. It was fun and they were good football songs," he said.
Hodges and partner Dave Peacock have a pedigree going back decades before Gertcha made them household names. Both were sought after session musicians and played with Cliff Bennett and the Rebel Rousers, a band that was signed by Beatles manager Brian Epstein
Enjoy unlimited access to 70 million ad-free songs and podcasts with Amazon Music Sign up now for a 30-day free trial
Sign up
Hodges recalls supporting the Fab Four on their final European tour.
"They could have been playing anything literally – that is no exaggeration. As soon as they started it was like a scream machine cranked up to number 11 continually from the start to the finish. That was the whole set," he said.
Having honed his skills playing with Lonnie Donegan, Gene Vincent and his hero Jerry Lee Lewis, Hodges was also in The Outlaws alongside Peacock and his old friend Ritchie Blackmore, who went on to form Deep Purple. In 1975 both Hodges and Peacock appeared on Labi Siffre's Remember My Song which was sampled by Eminem for My Name Is, three decades later.
But the big idea came during a US tour when Hodges decided it was time to stop putting on an American accent and start singing in his true north London voice. He returned to Britain hooked up with his old mate Peacock and Chas & Dave was born.
"It's honesty as far as I'm concerned I thought right we love entertaining, we are good musicians and now I am being honest with myself. It's got to take off – it's got to filter through to people and bit by bit it did," he said.
By the mid-80s the duo were a fixture in the charts and on television – on one occasion appearing on the box seven times in a single day. They were even "too busy" to record the title song to Only Fools and Horses.
The hits dried up in the 1990s. Yet credibility came seeking them out. In 2004 they received a surprising endorsement from then-super-cool Libertines Pete Doherty and Carl Barat. They accompanied the band on tour and were invited to perform at Glastonbury. A new generation found themselves singing along to the Sideboard Song and Ain't No Pleasing You.
But age is proving no impediment to Chas & Dave, now both in their late 60s. There was a brief pause when Peacock withdrew from work following the death of his wife but they are now well and truly back on the road, having just completed a 60 date sell out tour.
"I used to think when I was younger working with footballers it must be really sad  for a footballer to thank that in his mid-30s  he is coming to the end of his career. I though `sod that'. That's one thing as a musician as long as you are able to work and you're fingers are able to be supple you can carry on forever," said Hodges.
Watch video of Chas and Dave performing Gertcha in 1979:
Join our new commenting forum
Join thought-provoking conversations, follow other Independent readers and see their replies