Prince mural surrounded by 'hair' of flowers in stunning natural tribute
Flowers bloomed a week before the anniversary of the singer's death
Lauren Kelly
Tuesday 10 April 2018 12:38 Comments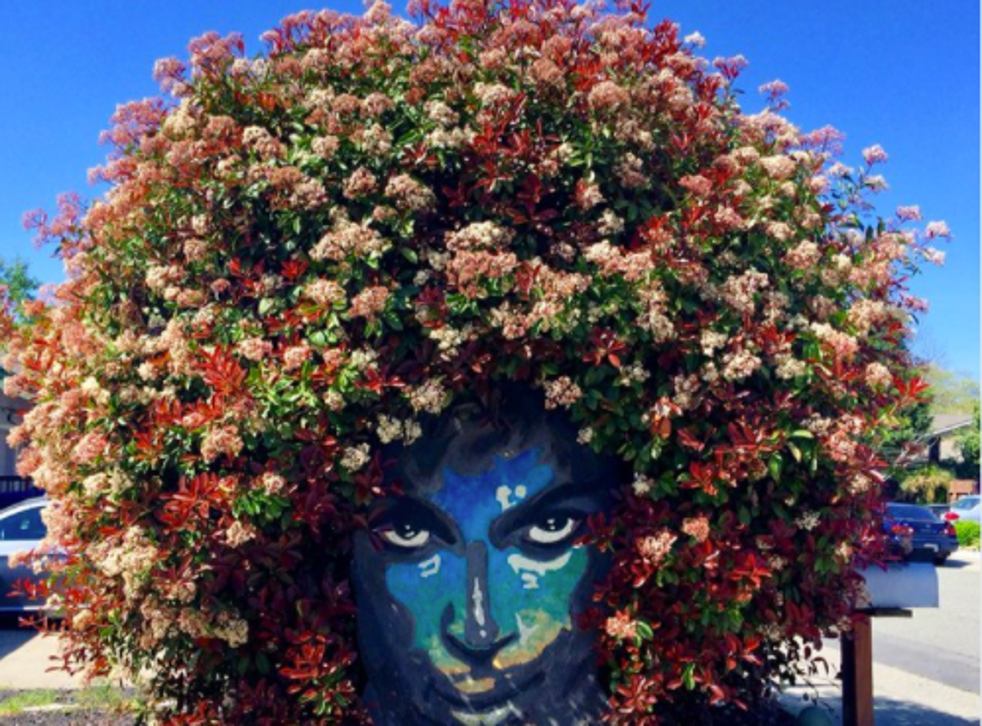 A mural of Prince that was created by a Californian artist after the singer's death has blossomed with a "hair" of flowers.
The "Prince tree" has been planted in Citrus Heights-based Christine Stein's front garden for the past two years, and started flowering after "someone accidentally dropped mulch in front of the mural, bringing extra nutrients to her yard".
Stein chose to plant the tree because of a Q&A that Prince held on Facebook, in which the musician said, "432Hz is the golden standard of music, it promotes healing, and it is the frequency of the universe."
"When he passed on, he re-joined the universe. So, the pastel colours on the mural represent a galaxy in the cosmos, and the only star that lives in that galaxy is Prince. His spirit lives on at 432HZ," Stein explained via Twitter.
A tweet of the picture of the bush has received 41,000 likes, and has been compiled into a Twitter Moment.
Last month it was reported that a toxicology report from Prince's autopsy showed he had what multiple experts called an "exceedingly high" concentration of fentanyl in his body when he died.
The star was 57 when he was found unresponsive in an elevator at his Paisley Park estate on 21 April 2016.
Register for free to continue reading
Registration is a free and easy way to support our truly independent journalism
By registering, you will also enjoy limited access to Premium articles, exclusive newsletters, commenting, and virtual events with our leading journalists
Already have an account? sign in
Join our new commenting forum
Join thought-provoking conversations, follow other Independent readers and see their replies