Pussy Riot duo sacked by 'bandmates' after US TV appearance
Nadezhda Tolokonnikova and Maria Alyokhina, both recently freed from Russian prisons, made an engaging appearance on Stephen Colbert's comedy talk-show
Tim Walker
Thursday 06 February 2014 20:11 Comments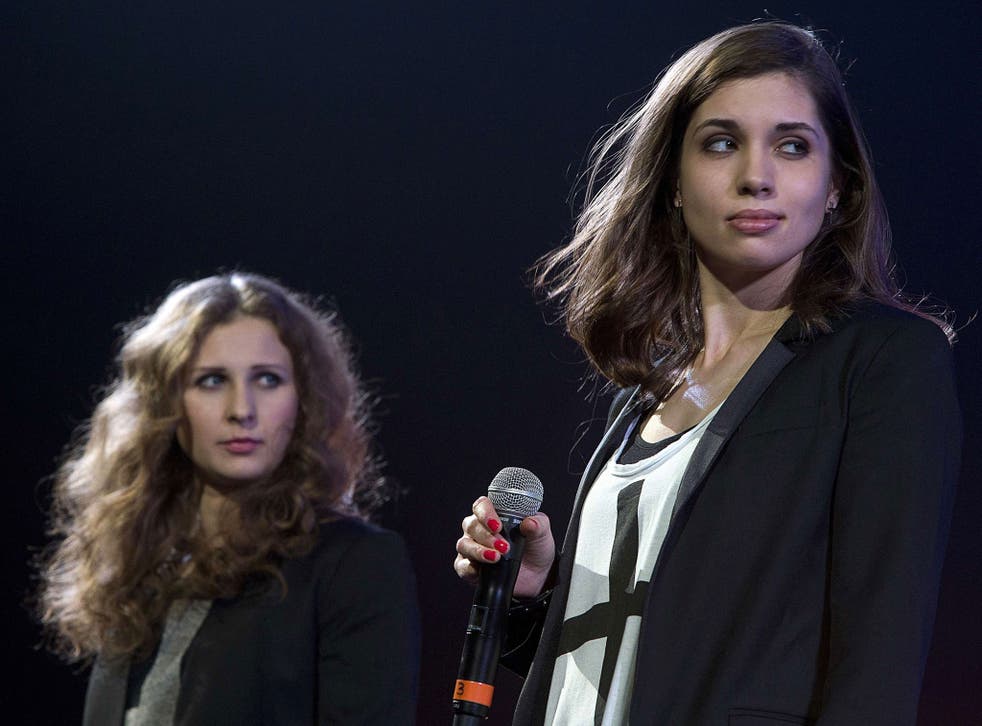 In the past, Pussy Riot would only be interviewed wearing brightly-coloured balaclavas. Now, the two most prominent members of the Russian anti-establishment group are showing their faces on US television, but not without objections at home, and fellow protesters have sacked them from their group.
On Tuesday, Nadezhda Tolokonnikova and Maria Alyokhina, both recently freed from Russian prisons, made an engaging appearance on Stephen Colbert's comedy talk-show The Colbert Report. The following evening, they addressed the Amnesty International concert at the Barclays Centre in Brooklyn, which featured the likes of Lauryn Hill and The Flaming Lips. Tolokonnikova, 24, and Alyokhina, 25, were introduced to the stage by Madonna, where they delivered a speech strongly criticising Russian President Vladimir Putin, and calling for a boycott of the Winter Olympic Games in Sochi.
The pair's visit to the US is intended to draw attention to their new campaign for the rights of prisoners worldwide. But according to a report by AFP news agency, the public nature of the publicity tour has also annoyed their anonymous Pussy Riot "bandmates", who are uncomfortable with their colleagues' apparent involvement in US showbusiness.
In a letter published on the Pussy Riot blog, and signed by six other members – known only as Cat, Garadzha, Fara, Shayba, Serafima and Shumakher – the group said that selling concert tickets using the collective's name was "highly contradictory to the principles of Pussy Riot… We're a female separatist collective… We never accept money for our performances… we only stage illegal performances in unexpected public places."
Tolokonnikova and Alyokhina were jailed for two years for their part in staging an anti-Putin "punk prayer" at a Moscow cathedral in 2012. They were released three months early, in December 2013. The letter said: "They are no longer Pussy Riot. We have lost two friends, two ideological teammates, but the world has gained two brave rights activists."
Register for free to continue reading
Registration is a free and easy way to support our truly independent journalism
By registering, you will also enjoy limited access to Premium articles, exclusive newsletters, commenting, and virtual events with our leading journalists
Already have an account? sign in
Join our new commenting forum
Join thought-provoking conversations, follow other Independent readers and see their replies