Recriminations fly over decision to let Winehouse make final tour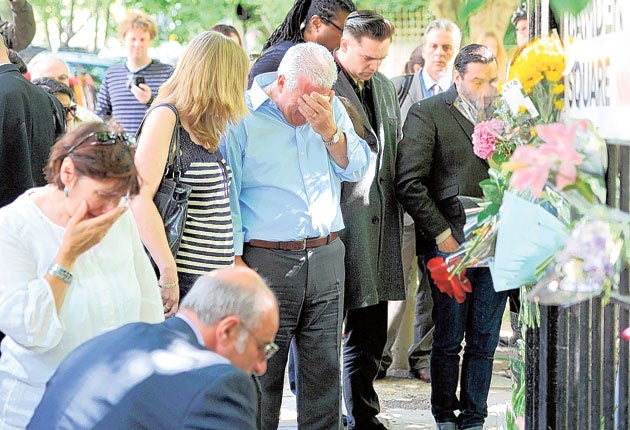 A dispute has broken out between Amy Winehouse's management and her record label in the wake of the 27-year-old singer's death at the weekend.
The singer's management has angrily rejected criticism from her label over the decision to send the troubled singer on a European tour days before she was found dead.
Darcus Beese, co-president of Island Records, her label, is understood to have said it was "mad" to sign up Winehouse for the 12-date tour that was aborted after she gave a shambolic performance in Belgrade. He is believed to have recommended that Winehouse part company with Metropolis, the live-music promotion company that began looking after the singer in 2006.
Raye Cosbert, the singer's manager, is angry about the allegations and is now compiling a dossier of all the personal support and counselling assistance Metropolis provided for the singer. A friend said: "It's very hurtful. Raye is currently cataloguing all the help she did receive. Amy always made the decision to play any show, arrangements were always made in discussions with her doctors and really no one could have done more to support her."
Mr Cosbert became Winehouse's manager after the singer split from Spice Girl svengali Simon Fuller's 19 Entertainment company.
Mr Cosbert was regarded within the music industry as a stabilising influence on the singer; he worked with her family to persuade her to get help. Metropolis provided Winehouse with security and a housemate-cum-minder, renting homes for her to live in and ensuring she attended rehab clinics. Mr Cosbert was travelling to New York with Amy's father, Mitch, who had launched a singing career with Metropolis, when her body was found.
Jazz Summers, a veteran manager of acts from Wham! to The Verve, who has worked with Mr Cosbert, said: "It's easy for record companies to point the finger, but managers today will always put their artists' welfare first. Raye will be hurt by people who criticise him because Amy hadn't really been on a worldwide tour for three years and he had tried to get her straight.
"I've dealt with artists who are addicts. You are dealing with the addiction, not the person. Often it's the artist who wants to go out and perform and they get abusive if you try to stop them. They can appear fine until they get to the dressing room but they can relapse very quickly."
Winehouse's death will provide a sales bonanza for a variety of companies. Amazon and iTunes' promotions of her music have driven Back To Black to the top of the charts, while Universal, which owns Island, is expected to find unreleased tracks, live songs and "duets" for a posthumous "third album".
Join our commenting forum
Join thought-provoking conversations, follow other Independent readers and see their replies