Revealed: the songs you should play during sex: The true sound of seduction? 'Boudoir king' Marvin Gaye tops poll of sexy music
Listen to the top 10 tracks to get 'in the mood' below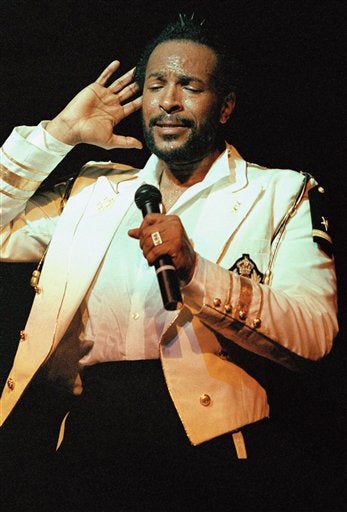 The orchestrated pleadings of Marvin Gaye and the crescendo of Ravel's Balero are the true sounds of seduction, a new study has confirmed. But there is no place for Bohemian Rhapsody in the bedroom, a music psychology expert has warned.
Soul legend Gaye's reputation as the "boudoir king" is justified by the mood-enhancing combination of earthy vocals and lush, circular melodies, argues Dr Daniel Müllensiefen, music psychologist at Goldsmiths, University of London.
Dr Müllensiefen analysed the results of a Spotify survey of 2,000 music fans, which identified the songs most likely to form the playlist for an amorous encounter. Marvin Gaye's Sexual Healing and Let's Get It On were the songs most likely to help a couple get "in the mood".
Ravel's Bolero proved one of the most popular accompaniments to the act itself along with the entire soundtrack to 80s film Dirty Dancing, a sign that women are more likely to control the soundtrack in the bedroom.
"The tracks that get us in the mood all possess the same qualities including a greater dynamic range, more use of the high chest voice, more raspiness in the voice and less use of vocal vibrato," said Dr Müllensiefen, co-director of the Masters programme in Music, Mind and Brain at Goldsmiths. "These specific attributes are strongly evident in the Marvin Gaye tracks, Sexual Healing and Let's Get It On."
The Gaye songs are "smooth and have no distracting orchestration. They possess a circular and emotional quality which goes really well with the voice which conveys passion and emotion. It's very well suited to the bedroom."
The subterranean moans of Barry White, "the walrus of love", also featured strongly as did Donna Summer's combination of throbbing disco beats and orgasmic vocals, I Feel Love.
Dr Müllensiefen admitted he was initially surprised by Bolero's popularity as a musical aphrodisiac. "But it makes sense," he said. "It has the perfect structure – it's 17 minutes long, the right length for a sex episode and it builds in dynamics constantly to a huge crescendo. Rhythmically it is repetitive and features two melodies which spiral over and over."
Bolero's popularity as seduction soundtrack can be traced to its appearance in the 1980 film 10, as the backdrop to a scene in which Bo Derek makes love to Dudley Moore.

Enjoy unlimited access to 70 million ad-free songs and podcasts with Amazon Music
Sign up now for a 30-day free trial
Sign up

Enjoy unlimited access to 70 million ad-free songs and podcasts with Amazon Music
Sign up now for a 30-day free trial
Sign up
The entire soundtrack to Dirty Dancing topped the songs apparently most played during sex. The film's storyline provides a romantic fantasy for many women and the collection of 50s hits culminates with the ideal post-coital outcome, (I've Had) The Time of My Life.
Men are more likely to defer to their partners when choosing a soundtrack. "Much depends on taste," said Dr Müllensiefen. " If a woman doesn't like rock music then it's best to avoid anything with loud guitars."
Queen's Bohemian Rhapsody topped the list of songs least likely to become a bedroom soundtrack. "Anything that is distracting or demands attention, or has elements of the unexpected is not so good for romance," said the psychology lecturer. "Bohemian Rhapsody has too many different parts and breaks. It breaks the concentration. These unexpected turning points do create strong emotional feelings however which can be positive in other contexts. "
Hits and misses: The survey results
Top five songs to play during sex…
1. Dirty Dancing Anything from the soundtrack
2. Marvin Gaye Sexual Healing
3. Ravel Boléro
4. Berlin Take My Breath Away
5. Barry White Anything from his collection
…and the bottom five
1. Queen Bohemian Rhapsody
2. Kings of Leon Sex on Fire
3. Robbie Williams Angels
4. Meat Loaf Bat Out of Hell
5. Bon Jovi Livin' on a Prayer
Top tracks to get 'in the mood':
Source: Spotify study interviewed 2000 people aged between 18 and 91 years old, with an almost equal gender split.
Join our commenting forum
Join thought-provoking conversations, follow other Independent readers and see their replies