Rihanna selfie with endangered slow loris leads to two arrests in Thailand
Two men have been arrested for allegedly peddling the protected animal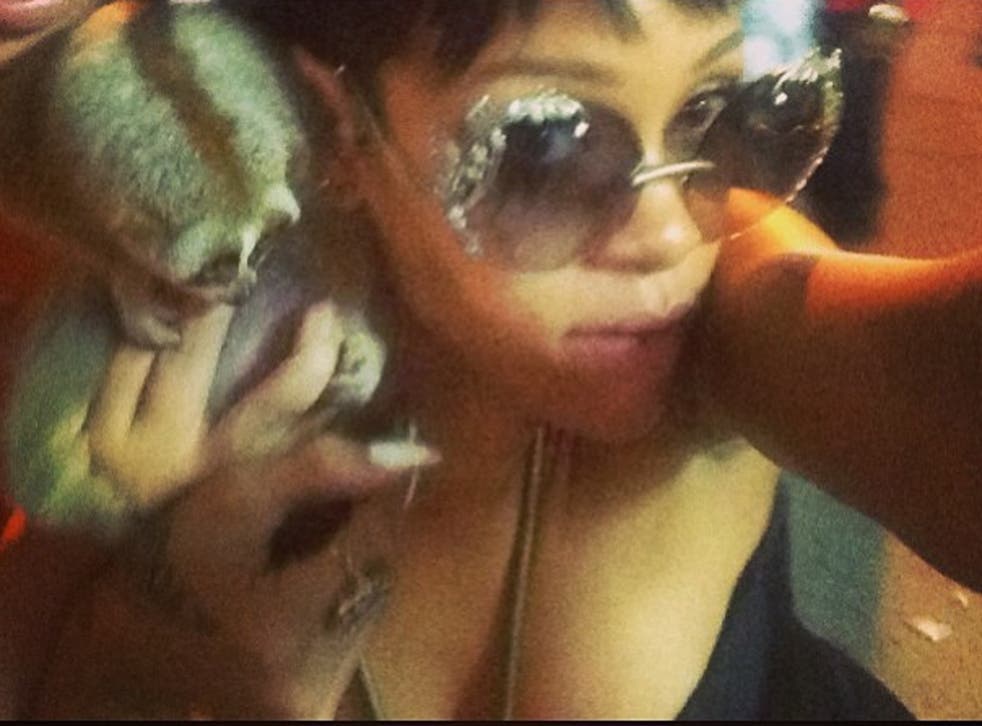 Two men have been arrested in Thailand for allegedly peddling protected animals after police were alerted to a picture on Rihanna's Instagram account.
The singer was taking a break from her Diamonds world tour when she stopped off in Phuket and photographed herself with some local wildlife.
The picture shows the singer in her sunglasses with a primate called the slow loris, a squirrel-like animal with big eyes which is a protected species in South East Asia.
Weera Kerdsirimongkon, a Phuket district chief police officer, said: "Phuket authorities were alerted to the picture [of Rihanna], and last night police arrested the two individuals who brought out the loris as a photo opportunity for tourists."
Police confiscated two lorises from a 20-year-old man and a 16-year-old boy, who could face charges of possession of protected animals.
The charge carries a penalty of up to four years in prison and a 40,000 baht ($1,300) fine.
Kerdsirimongkon said authorities have been trying to crack down on the number of vendors exploiting wildlife for years.
He said: "It's like a cat-and-mouse game. But this time it's bigger because a celebrity like Rihanna posted the picture, and there were more than 200,000 'likes' from around the world."
The Bajan singer continues her Diamonds world tour in Australia, where she is due to play seven dates.
With additional reporting from AP
Register for free to continue reading
Registration is a free and easy way to support our truly independent journalism
By registering, you will also enjoy limited access to Premium articles, exclusive newsletters, commenting, and virtual events with our leading journalists
Already have an account? sign in
Register for free to continue reading
Registration is a free and easy way to support our truly independent journalism
By registering, you will also enjoy limited access to Premium articles, exclusive newsletters, commenting, and virtual events with our leading journalists
Already have an account? sign in
Join our new commenting forum
Join thought-provoking conversations, follow other Independent readers and see their replies