Who is Robert Del Naja? The Massive Attack singer everyone believes is Banksy
Goldie seemed to let a name slip during an interview on a podcast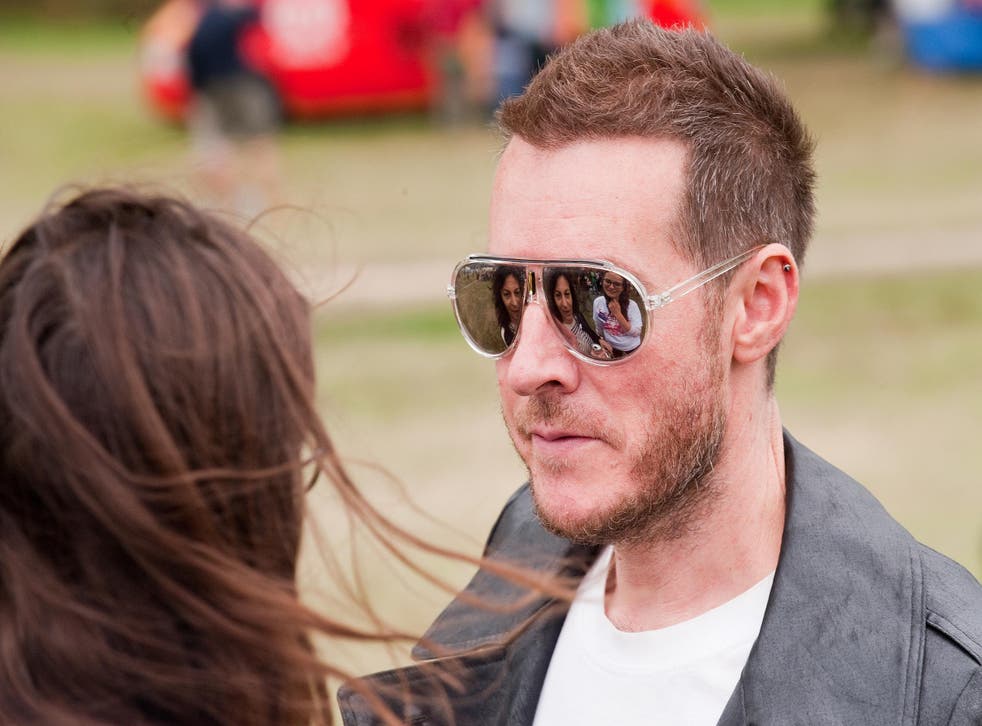 Goldie has managed to fuel long-running rumours that Robert Del Naja, a member of the band Massive Attack who also known as 3D, may be the man behind the mysterious street artist.
Speaking on Scroobius Pip's 'Distraction Pieces' podcast, the DJ appeared to accidentally reveal Banksy's true identity.
"Give me a bubble letter and put it on a T-shirt and write Banksy on it and we're sorted. We can sell it now.. No disrespect to Robert, I think he is a brilliant artist. I think he has flipped the world of art over."
Goldie then paused before quickly changing the subject, as though realising his mistake.
Identity of Banksy 'accidentally revealed' by Goldie
Fans were quick to notice the incident, however, and many claim that this could confirm Banksy is Del Naja – a friend of Goldie's and an artist he collaborated with during the late 1980s.
Here's what you need to know about Del Naja:
Who is he?
Del Naja is a 52-year-old artist, activist and singer-songwriter who was born in Bristol, and is best known as the founding member of Massive Attack.
He was a graffiti artist before he became a band frontman, and his work has been featured on all of Massive Attack's record sleeves. Banksy has cited his work as an influence, and he is credited as a pioneer of the stencil graffiti movement.
When did the Banksy rumours start?
Speculation began in 2013 when De Naja exhibited his second solo show, which spanned 20 years of his work.
Inside Banksy's Dismaland

Show all 13
Then in 2016, Craig Williams, a journalist, carried out a five-month investigation which led him to conclude that Del Naja was the ringleader behind a collective of artists operating under the Banksy moniker.
He noted how Banksy's work tended to crop up in locations where Massive Attack had recently – or were set to – perform.
Enjoy unlimited access to 70 million ad-free songs and podcasts with Amazon Music Sign up now for a 30-day free trial
Sign up
For instance in April 2003 his work reportedly appeared in Melbourne, where the band had played a month before. In 2010, six Banksy murals were said to have appeared in San Francisco on 1 May; Massive Attack had played two shows in the city a few weeks previous.
What about Robin Gunningham?
Arguably one of the most popular theories around Banksy's identity emerged in 2016, when a group of scientists claimed to have 'geo-tagged' the artist – using a technique mostly used to catch serial criminals.
Scientists at Queen Mary University of London identified a pattern between the locations where his artwork appeared most often, along with addresses with a close association to a former pupil at the public Bristol Cathedral School, Robin Gunningham.
Research was delayed after Banksy's lawyers contacted the university with concerns as to how the study would be promoted.
While it seemed to have strong evidence to support the claim, academics made an unflattering comparison to the artwork – which is acclaimed around the world and can sell for sums of up to £500,000 – with acts of criminal vandalism.
"The pseudonymous artist Banksy is one of the UK's most successful contemporary artists, but his identity remains a mystery," they said. "The model takes as input the locations of these artworks, and calculates the probability of 'offender' residence across the study area."
When the Mail on Sunday first reported the rumour in 2008, representatives for Gunningham denied it was him, yet he remains one of the most popular theories.
What has Del Naja said about the rumours?
Responding to Williams' investigation Del Naja said it would be "a good story but sadly not true".
"Wishful thinking, I think," he said. "He [Banksy] is a mate as well. He's been to some of the gigs. It's purely a matter of logistics and coincidence, nothing more than that."
Register for free to continue reading
Registration is a free and easy way to support our truly independent journalism
By registering, you will also enjoy limited access to Premium articles, exclusive newsletters, commenting, and virtual events with our leading journalists
Already have an account? sign in
Register for free to continue reading
Registration is a free and easy way to support our truly independent journalism
By registering, you will also enjoy limited access to Premium articles, exclusive newsletters, commenting, and virtual events with our leading journalists
Already have an account? sign in
Join our new commenting forum
Join thought-provoking conversations, follow other Independent readers and see their replies