The Rockettes will be 'forced' to perform at Donald Trump's inauguration, reports claim
Leaked union email appears to suggest dance group member's jobs are at risk if they refuse to appear at the ceremony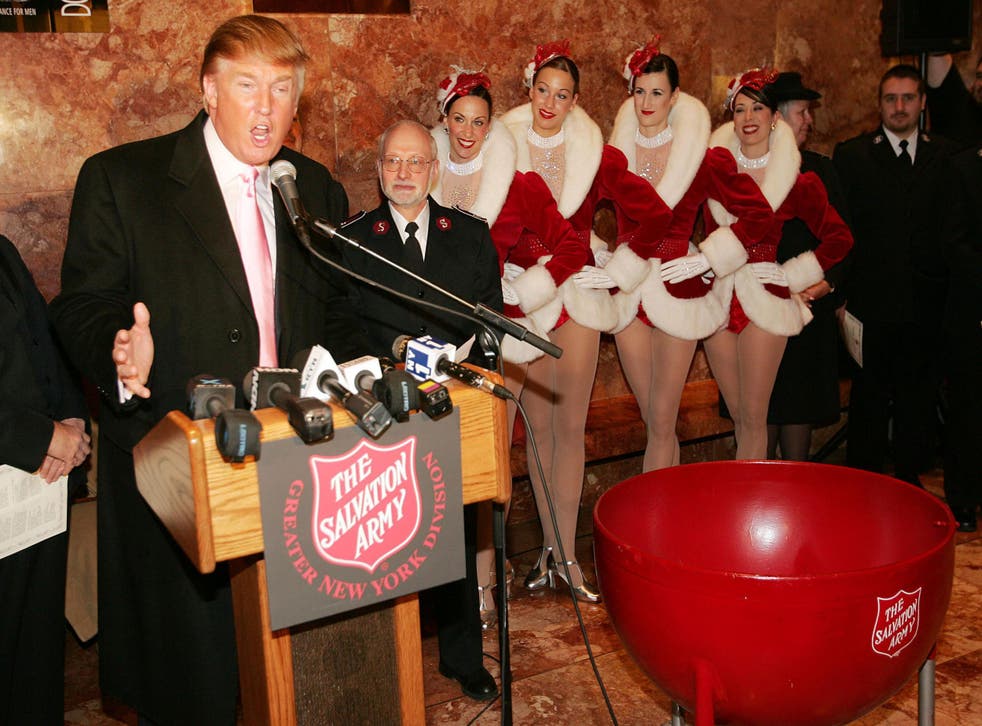 The Radio City Rockettes appear to be rebelling against their booking at Donald Trump's inauguration, amid claims that they are being 'forced' to perform.
On Thursday a spokesman for the presidential inaugural committee announced the news but declined to say whether the dance troupe offered to make an appearance.
The Rockettes, a precision dance company founded in 1925 in St. Louis, Missouri, performed at the inaugurations of George W Bush in 2001 and 2005.
Since the announcement, which was confirmed in a separate statement by Madison Square Garden Company boss James Donald, some Rockettes and members of the Broadway community have denounced the move and claimed that the group is being 'forced' to perform for fear of losing their jobs.
Many have pointed out the irony of a group of women being forced to do something they don't want to do by Donald Trump, whose presidential campaign was blighted by accusations of sexual assault and a leaked video where he himself was heard saying he could do anything he wanted to women because of his star status.
Perez Hilton's website posted what appeared to be a screenshot of Rockette Phoebe Pearl's Instagram.
The post, which has since been deleted, said: "I usually don't use social media to make a political stand but I feel overwhelmed with emotion. Finding out that it has been decided for us that Rockettes will be performing at the Presidential inauguration makes me feel embarrassed and disappointed.
Enjoy unlimited access to 70 million ad-free songs and podcasts with Amazon MusicSign up now for a 30-day free trial
Sign up
"The women I work with are intelligent and are full of love and the decision of performing for a man that stands for everything we're against is appalling.
"I am speaking for just myself but please know that after we found out this news, we have been performing with tears in our eyes and heavy hearts. We will not be forced! #notmypresident."
An individual who worked for the Rockettes told TheWrap: "Forcing dozens of women to go and perform for this man is without a question problematic."
Broadway World claims to have obtained an "authentic" email sent from the American Guild of Variety Artists to what appears to be Rockettes in its union membership, as a response to the news that some do not want to perform.
"We have received an email from a Rockette expressing concern about getting 'involved in a dangerous political climate' but I must remind you that you are all employees, and as a company, Mr. Donald obviously wants the Rockettes to be represented at our country's Presidential inauguration, as they were in 2001 and 2005. Any talking of boycotting this evening is invalid, I'm afraid."
"Everyone is entitled to her own political beliefs, but there is no room for this in the worldplace."
The email was reportedly written and sent by a high-ranking member of the union's administration.
The fact that President-elect Donald Trump has struggled to find any high-profile artists to perform at his inauguration ceremony has become something of a running joke.
Singers such as Celine Dion, Elton John, Andrea Bocelli, and Ice T are among those who have turned down the opportunity to perform.
Apparently becoming frustrated over the lack of star power willing to show face at his party, Trump tweeted: "The so-called 'A' list celebrities are all wanting tixs [sic] to the inauguration, but look what they did for Hillary, NOTHING. I want the PEOPLE."
The Independent has contacted a representative for MSG Entertainment and The Rockettes for comment.
Join our new commenting forum
Join thought-provoking conversations, follow other Independent readers and see their replies